A Christian's Rants and Raves

Last Updated: March 10th, 2019

All ads have been put here by this free web hosting service so, click at your own risk!


I plan to record my insights, observations, revelations, rants and raves here. I look at this as being therapeutic since; it not only helps me sort things out but also, "blow off steam". But there's another reason why I'm doing this page. I'm considering the possibility that there are others out there who are seeing the same things, who might take comfort in that they are not alone. You may not agree with all of the entries but something might speak to you.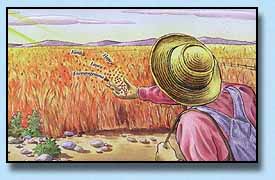 The sower went forth to sow...





INDEX

Both A Funny and A Sad Church Story 3/10/19
Are You Struggling to Forgive? 3/9/19
Who's Your Teacher? 3/9/19
Do You Want to Give Your Money to the Lord? 3/9/19
Put That Sucker Down! 10/4/15
And Yet Another Seminar on Healing 5/26/13
The Feel-Good God and the Feel-Bad God 5/5/13
Keep Thy Heart with all Diligence 4/28/13
Issues of Life 4/28/13
Are You Praying When You Should be Obeying? 3/26/13
"Attack of the Carnal Christians" 3/26/13
Compassion 7/4/12
Pitfalls Awaiting Christians Who Are Eager to Minister 6/4/12
What Would Jesus Do? 5/25/12
Life is Like a High School Reunion 5/25/12
By Their Deeds, Not Their Words 3/29/12
A Proposal to All Christians 1/9/12
Two Righteousnesses Under Two Covenants 1/9/12
How's About Some Sugar? 1/8/12
How Do You Perceive Your Blessing? 9/3/10 and 1/24/11
We Need More "Sinners" in the Pulpits 6/29/10
Temporary Insanity 6/29/10
How to Show Your Love 1/8/10
Work Burned Not the Worker 1/8/10
The Prozac/Feel good "Jesus"/Helium "Christianity" 1/7/10
Beware of Frienemies 1/1/10
The Religious Spirit 1/1/10
The Church Cover 1/1/10
We Want Jesus in This World 1/1/10
Heavens Rewards Are Eternal! 12/25/09
By Faith but, Faith in What? 12/18/09
"I'd Like to Thank the Lord Jesus Christ" 12/16/09
"God Has Been Good To Me" 12/14/09
Merry "Christ"mas aka Happy Saturnalia 11/30/09
Who Ever Said We Had to Like Truth? 11/30/09
How to Survive the Insults 11/30/09
There's Always Help 11/25/09
We Fill Gaps 11/5/09
Where Do You Seek Fame? 11/5/09
Watch at All Times 11/5/09
Well Done Good and Faithful Servant 11/5/09
That None Should Boast 10/10/09
What Chance Do We Have? 10/10/09
Positive Confession or State of Denial? 9/12/09
Jesus Movement 3/17/09
Which is it? 3/17/09
A Little Leaven is All it Takes 3/17/09
Use Your Power Well 8/13/08
Give Expecting Nothing in Return 8/13/08
Pleasing People or Pleasing God? 8/13/08
Do Unto Others... 7/30/08
Have You Sown Your $1000 Seed Yet? 7/30/08
Morta Cristo-Jews or Italians? 7/30/08
Example of Being Blessed 7/30/08
Heaven or Hell? 4/18/08
Only LOVE Can Conquer Slander 2/27/08
You CANNOT Serve God and Mammon 2/27/08
It's Always Something/The Offense of the Gospel 2/27/08
Sons of Sceva 2/27/08
Do You Hate Your Life in this World? 10/6/07
Read Matthew 10 10/6/07
Disappointed in the God of Our Own Making 9/6/07
Romanticizing our Relationship with Jesus 9/5/07
It Ain't What They Say but What They Do 6/24/07
A Great Place to Hide the Truth 6/19/07
To Know Him 6/15/07
The Ping-Pong of Extremes 6/13/07
"Jesus Freaks" 6/11/07
X-ianity 6/7/07
Part-time Sinners 6/7/07
Giving to Get or Giving to Bless? 5/21/07
Don't Confuse Grace with License (at least, not around me!) 5/21/07
Can We Save the World? 5/21/07
God's no Slacker 4/8/07
Show Mercy 4/8/07
Are You Calling Out Your "Prophets"? 1/27/07
Love, not Restriction 10/4/06
The Drama Club 8/23/06
Everything is Subject to Rapture Cancellation 8/12/06/
Heaven's Warm Welcome 7/22/06
"Step Right this Way" 6/27/06
The Pendulum Syndrome 6/26/06
Keepers of the Fire Extinguishers 6/12/06
The Bible Testifies 5/26/06
Lead or Pushed? 5/23/06
Transformation not Rehabilitation 5/22/06
Work Out Your Own Salvation 5/22/06
Top Ten List to Recognize the Fraud Masquerading as Christianity 5/22/06
Those Who Prophesy Out of Their Own Hearts 5/21/06
Rewriting the Word to Suit Ourselves 5/13/06
Hope is Not a Cop Out 5/13/06
Paul's Thorn Sent by God or satan 5/3/06
The "Feel Good" Christianity 4/27/06
Agapao or Phileo 4/11/06
Sent by Christ or Your Denomination 4/7/06
Personal Relationship is Everything! 4/1/06
My People Love to Have it So 4/1/06
You Can't Build Muscle Without Pressing 4/1/06
Honesty is The Best Policy 3/31/06
Heaven is NOT a Reward! 3/23/06
Have You Spoken to the Devil Today? 3/22/06
The Great Debate 3/22/06
Revealed unto Babes 3/14/06
Jesus Is The Way to the Father 3/14/06
Be a Berean 3/8/06
Grace or Works?
Fig Leaf Salesmen
Two Experiences of the Faithful
"Least" of My Brethren
O Ye of Little Faith
Without the Camp "mistaken identity"
Bridges Burned
Are You Special 'Cause You're Loved?
Who's Your Family?
Bearing Witness to All
Talent
Choose Life!
Pitfall Awaiting The New Christian
Unrighteous Judgment
Grow Up!
No More...No Less
Self-Appointed Overseer
"Two" Christianities
Followers of Men
False Teachers Dividing up the Body of Christ
Ecumenism
The Un-"Churched"
Spirit of Truth Will Guide You Into All Truth
Two Kinds of Going Your Own Way
Clark Kent and Superman
We are in a War!
The Ultimate Ego Trip
Devout men
Paul's Words Twisted
Signs and Wonders to Lead Astray
Fear of Pride
Who's Judging You?
Prayer of Fear or Faith?
Keeping up Appearances
Is Gain a Sign of Godliness?
See the Grace Behind God's Blessings
Loving God Unconditionally
I Will Be With You
Obedience is Good for You
Burden bearing
Sales Pitch or Plain Truth
Tradition
God Empowers us to Defeat our Enemies
The Word of the Lord was Rare
Interesting Definitions
Patience is Not Wimpy
Suffering for His Name
Romans 13
Natural Man
Losing Your Saltiness
What Fruit Verifies
The Pains of Death
How Many Times the Ephesians read "Ephesians"





BOTH A FUNNY AND A SAD CHURCH STORY



I saw a great scene in a movie but, can't remember which movie it was. To the best of my memory, this is how it went. But, it's the punch line that says it all.

Ok so, this believer is walking down the road one beautiful Sunday morning and, he hears songs of praise coming from a church building. Eager to join in on what sounded like a beautiful fellowship, he goes to the church door, only to be refused entrance because of the color of his skin. So, as he's walking away with a heavy heart, he said to the Lord: "How can your people treat me like that and not allow me to enter?" Jesus answered: "Don't feel so bad. I haven't been allowed in those doors for 200 years."



Back to Index





ARE YOU STRUGGLING TO FORGIVE?



Some years back, while struggling with forgiveness, I went to the Lord for some extra help. Whatever it was that I already knew about the subject was not enough to do the job. Sure, I've known for a long time that forgiveness was good for my soul, even if the person never changes. But, because of the difficulty of the situation, I needed a "tune up" in my approach. It seems that there was still a bit of an old school religious "saintliness" in the mix, as if, in forgiving them, I was generously letting them off the hook...something that I was finding increasingly difficult to muster up at this point. Especially when you are dealing with an ongoing relationship where, the person is a "repeat offender" because, they never actually asked for forgiveness so, they usually don't have a clue that there even is an offense to begin with. This was one of those times and, I needed more and, I got it! I was lead to look up the word "forgive" in the Greek and was blown away by what I found.

OK so, the word "forgive" in almost all instances in the New Testament, is translated from a word "aphiemi" which has these definitions (among others with the same connotation):

"To bid going away, to depart, to send forth, to let go, to let alone, to let be, to disregard, to neglect, to divorce, to desert, to allow not to hinder, abandon, leave destitute..

I mean: WOW. Not only did it de-religious-ize the word for me but, it took the emotions out of it too because, the people and the hurt they cause are out of the equation now. It made forgiveness: "strictly business" to me. Sure, the fiery darts do hurt and, I'm not ashamed to acknowledge that and, at times learn from it. But, forgiveness is the remedy to overcome that hurt and the power it tries to hold over us as it demands our focus and full attention. Dismissing an evil perpetrated against you as being something worthy to disregard and send away, is just wise warfare. I've got better things to focus on.



Back to Index





WHO'S YOUR TEACHER?



John 13:35
By this shall all men know that ye are my disciples, if ye have love one to another.

One day, as I was thinking about all the infighting amongst Christians and very little love to be seen, I began to look at this truth a different way. In my early days as a Christian, I learned that the Greek word for "disciple" means "student". But, student of what? It's a common viewpont in the Christian world that, if we study the Bible, we are studying the words of Jesus, and therefore, we are being taught by him. But, is it merely in being a student of the Bible that this love would result? Many outspoken Christians are students of the Bible but, it was the very lack of love that got me to ask this question in the first place. I believe the answer is in the teacher at whose feet we sit.

John 14:26
But the Comforter, which is the Holy Ghost, whom the Father will send in my name, he shall teach you all things, and bring all things to your remembrance, whatsoever I have said unto you.

John 16:13
Howbeit when he, the Spirit of truth, is come, he will guide you into all truth: for he shall not speak of himself; but whatsoever he shall hear, that shall he speak: and he will shew you things to come.

Or, how about:

1 John 2:27
But the anointing which ye have received of him abideth in you, and ye need not that any man teach you: but as the same anointing teacheth you of all things, and is truth, and is no lie, and even as it hath taught you, ye shall abide in him.

When I understood Who the Teacher was, I was then able to understand the difference between Christians. All who are taught by the spirit of truth are the disciples Jesus was speaking of since: love is the lesson taught in that "classroom".



Back to Index





DO YOU WANT TO GIVE YOUR MONEY TO THE LORD?



One night, while watching yet another TV preacher ask for money and tell the viewers that, giving their money to him was equal to giving their money to the Lord, this came to me. It was the parable that Jesus spoke about the "least" of His brethren. First, He enumerated various situations that men are prone to despise when they see others in them such as; being hungry, being in prison, not having necessary clothes, being sick, being a stranger. Usually, the inclination is to avoid people in such a state. Certainly this was not Jesus' outlook on the matter but, He was making a point to people who did think like that. And, as love's way was presented and, as those who acted in that love (by feeding the hungry, visiting the sick and those in prison, welcoming the stranger, etc.) were honored, He then said:

Matthew 25:40
Verily I say unto you, Inasmuch as ye have done it unto one of the least of these my brethren, ye have done it unto me.

So, when we want to give our money to the Lord, doesn't this tell us how and to whom?



Back to Index





PUT THAT SUCKER DOWN!



I just came back to this website and noticed that I haven't put an entry here in a while (over 2 years). So, where have I been? Doing my own homework/housecleaning, if you will...expressions I now use to describe a well known saying in the world: "Clean up your own backyard." But, if you were trained in the same fraudulent system that I was in my early days, your emphasis has been on getting out there and "ministering" to others yet, having taken no time to deal with your own demons, as they call it. And NO, as is commonly thought out there, the flesh and the devils that work in concert with it, do not magically disappear once a person gets born again. If they did, then, the exhortation to put off the old man and reckon him dead and crucify him would make no sence, if it was no longer a concern of ours, would it?

So, it's first things first. Our Master instructed us to get the beam out of our own eye so we can THEN see clearly to remove the speck out of our brother's eye. (Matthew 7:5)

And, in the same vein, as our brother Paul wrote:

2 Corinthians 10:6
And having in a readiness to revenge all disobedience, when your obedience is fulfilled.

But even putting a ministry aside for a moment, this is just sound, mental health. Who wants mysterious entities lurking around in the recesses of their mind? I don't. And interestingly, what I have been discovering in this process of flushing things out is that, I have played a part and therefore, have been complicit in most every dysfunctional relationship I've had. But, that's the part I can do something about and, the amazing thing is: once you take care of your end, things change for the better, even if there is no change on the other person's part.

I strongly encourage you to get on this today. The Lord will be so happy to work with you. He will never put you down or condemn you for what is revealed concerning you. And, although the things uncovered in you may surprise you, it's old news to Him. (John 2:24 and 25). He always desires deliverance for us and we should be desiring the same. But we must do our "homework" aka face our flesh and then, put that sucker down! Happy hunting!



Back to Index





AND YET, ANOTHER SEMINAR ON HEALING



Something struck me not too long ago after getting off the phone with a Christian who had been to yet another seminar teaching healing. Well, actually 2 things struck me. The first thing was the old saying: "Those who can't do, teach" (more on that below). The sad reality of this matter is that, after decades of these useless seminars, we are no closer to experiencing our healing than we were when we took our first one. And here was yet another one that, after 3 days of extensive teaching about healing, not one person who attended actually got healed. Turns out, every afflicted person who took this particular seminar (as in all the others I was familiar with) walked away in the same condition they were in as when they came. Well, maybe not the same conditon but, even worse since, on top of everything they were suffering, they were now burdened by these "teachers" with the blame of not having the faith to receive their healing. But, did any of the teachers give a demonstration of healing to these afflicted brothers and sisters, or was it all talk? If a person is qualified to teach a matter, shouldn't they also be able to do what they teach? Would you take guitar lessons from someone that you have never seen play the guitar? I wouldn't. What ever happened to teaching by example? Or is Christianity all talk these days?

Ok so, the other thing I saw in this matter was something that they brought up to these people...something that I've been hearing for years. But THIS time it angered me. Turns out that they are still holding over our heads the faith of people in other countries who are (supposedly) receiving their healing from them (even though there has yet to be one example of this being so) while attesting that we in the West don't have that kind of faith and that's why we are not experiencing healing from them. Well, this time, I saw it as the intimidation technique it was designed to be. It is used as a way to deflect from themselves any fault in the matter since now, they cleaverly get us to investigate OUR shortcomings and failings as to why we are not being healed by steering us to look into the matter as if only we have something to answer for when, STANDING RIGHT BEFORE US are those who are "teaching" matters they have no personal experience in and cannot demonstrate. Did Jesus give them a seminar before He healed the hurting? Well, even if He did, one thing I'm sure of. They would have walked away from that seminar healed!

It always amazes me how long it can take for me to see something as it really is. Honestly, I was surprised that I didn't see this sooner. But, when our minds have been infiltrated with someone else's thought processes, the conclusions we come to are usually THEIR conclusions, rather than the conclusions that an independantly thinking mind would come to. All I can say is, it's a long way out of religious deception. Thank God for the indwelling holy spirit. Nothing gets past it!



Back to Index





THE FEEL-GOOD GOD AND THE FEEL-BAD GOD



In my early days as a Christian, I was influenced by what I now refer to as "The Feel Good Gospel". (If you want to see more on my view of this "gospel", there are plenty of rants on this page discussing it.) But recently, while writing to someone, this came to mind. That, after this false representation of God was exposed, another falsehood popped up in it's place but, in the other extreme. So I went from expecting only good from the doing of God's Word to expecting only bad. Sure, there definitely is persecution for righteousness sake. The Scripture bears witness to that and I have come to understand and accept it. But, since our enemy can tilt and slant just about any truth for his own purposes, he can turn persecution for righteousness sake into a persecution complex. So we can find ourselves accepting things we needn't accept, and things we shouldn't accept, because we have been duped into thinking this is what we must accept as the "cross we bear" when doing His will. There are times when these bad experiences we are having are to be resisted in faith but, when we see them only as "our cross to bear" we will just roll over and take it, and usually, over and over again. (Not good for the soul, I can tell you that first hand.) Hey, sometimes having a bad experiences can reveal that there is a need for change in our life, even indicating that we are not in His Will rather than always indicating that we are in His Will. But, when steered into thinking that bad things will always result from doing God's will, we will not be discerning in each given situation and therefore, may not do what needs to be done (if an action is required) because we have been trained to accept all bad stuff that comes our way as persecution for righteousness sake.

The enemy's perversions of the truth are no match for the exposure of the discerning holy spirit within us, that is, if we are being taught by Christ, who is the Head of that spirit. Thanks to His exposure of this error, I now see more of the balance of both the good stuff I can expect from doing God's will as well as the bad stuff aka persecution for righteousness sake which, come to think of it, will result in good stuff (the rewards given at the bema/judgment seat of Christ:).



Back to Index





KEEP THY HEART WITH ALL DILIGENCE



Proverbs 4:23
23 Keep thy heart with all diligence; for out of it are the issues of life.

I've always loved this exhortation seeing the wisdom of it's instruction. But I just checked it out again and looked up the word "keep" and "diligence" in the Strong's Concordance. Ok, "keep" comes from a word (natsar) that means "guard from dangers, be blockaded". And, the word "diligence" comes from a word (mishmar) that means "place of confinement, prison, guard, jail, guard-house...". And that word is derived from a word (shamar) that means: "to hedge about (as with thorns)". So YEAH, how important our heart must be that it must be kept by that degree of "protective custody"?!.

There is a concept out there that perhaps comes from the romantics. That a person should be willing to give their heart over freely to another and, if they are careful with their heart, it indicates some flaw in their character, as if they are fearful or jaded. Well, giving your heart to another person will most likely produce that result. I know this since I was a person who handed that precious part of myself over much too quickly for love, for friendship, for fellowship, acceptance etc. And, after years of hurt and disappointments, I went to the Lord about it and, as always, when I was ready to learn, He was there to instruct me. Now I understand that, as far as the giving of my heart, the only one capable of the proper handling and care of that precious part is the Lord.

One might ask, (as I did) how then do we love people if we are no longer giving our hearts to them? After thinking about this, I realized that, at those times when I put my heart in another's "hands", it was with the idea that it would be safely handled because I presumed that the person loved me in return. That is not always (and even rarely is) the case. But, the love of God in Christ can love without being loved in return since it is an unconditional love. When we love with that love, we are free to love without conditions so, if they do not love us in return, our heart is safe because, it is kept safe in His love, not in theirs.

Another thing that stood out to me when reading this verse today was that, if we are to keep our heart so very carefully, it's not a stretch to say that the heart must be the enemies main target since, out of it proceeds the issues of life. (see next posting for more on "Issues of Life") So yeah, how important it is to wholly give our hearts to the Lord and not to people, thereby assuring it's safekeeping.



Back to Index





ISSUES OF LIFE



We all have "issues". Deep down issues of the heart that must be dealt with. So hopefully, we get to the point where we stop blaming others for them, and begin to take responsiblity for our words and our actions that have been prompted by these unresolved issues. It's all about "owning it", as they say...even stuff that may have been planted in us by others because, if it's our stuff now, then it's our responsibility as well as our clean up job. If we do not face and deal with our issues, these unresolved issues of life will, even unbeknownst to us, be manipulating us and also, be passed on to others since, it is out from the heart that these issues proceed.

I love God's grace. It is the only atmosphere where we can face things about ourselves without falling into condemnation. We understand that, if not for what Christ did for us, none of us would qualify to enter God's presence. He knew exactly who He was saving, and, He also knew why. Because we could not save ourselves. It was because of what was in man that Christ had to do it for us. So, no surprise to Him about what is in man* (John 2:24 and 25) and, therefore, no condemnation from Him. But no condemnation does not mean that we just continue in darkness. Instruction in righteousness is here for the taking if we will only come to Him for it.

*P.S. To pick up something from the previous posting (Keep your Heart with all Diligence) I want to make note that, in John 2:24 and 25, it says that Jesus did not commit Himself to them because He knew what was in man. He set the perfect example of keeping the heart with all diligence showing that, in Him not committing Himself to them, it did NOT interfere with Him loving them/us since, our Master's love is unsurpassed (John 15:13).



Back to Index





ARE YOU PRAYING WHEN YOU SHOULD BE OBEYING?



There are many instructions in Scripture for the believer to obey. Yes, we are under grace but grace does not exempt us from obedience. Our walk, although also filled with much grace, is a walk of obedience. Simply put: you do this, you'll get that. So, for example, we are instructed, to: cast our care upon Him who cares for us. If we don't, we will carry that care ourselves and be burdened by it. So, instead of obeying the Word which would bring the promised results, we pray to God (and sometimes even complain to Him) about this heavy burden we are carrying asking Him to lift if off of us. A burden we never cast upon Him in the first place as He instructed us to do. If we did our part, He could do His.

How about this? Foolish and unlearned questions avoid because they do gender strifes and the servant of the Lord must not strive. But what do we do? Do we aviod them? No. We do just the opposite. We engage in them. And, what will result? Duh, strife! But then, we go to the Lord in prayer (and even complain to Him) saying: "Lord, lord, All I want to do is share Your Word. Why is my ministry so full of strife?"

So, you see what I mean? Obey His instructions as to how to obtain the promised results and get those promised results. It's pretty simple. But, if we don't obey His instructions, is it fair to keep pestering Him and even, at times, blame Him for not doing His part when we are refusing to do our part? I'll give a very simplistic analogy. It's like looking at an empty glass that was placed under a faucit. You refuse to turn the faucit on as instructed, and then you pray for the glass to be filled, as if the glass was supposed to magically fill itself. Turn the faucit on! In other words: Do the Word!



Back to Index





"ATTACK OF THE CARNAL CHRISTIANS"



While recuperating from yet another hit from my "brethren", (or should I say false brethren), I've been getting some insights the past month that have helped me in this area as God, in His wonderful way, takes an evil experience and turns it into a schoolroom.

A quick synopses: I put a video up at a Christian website that I'm a member of calling the Christians to be more loving when in the debate forum. (see "COMPASSION" just below this entry for more on what I mean.) So, what was the reaction to this message? Not only did they assault my character, but my motives and intents. One after another, they chimed in with the insults. (I felt like I stirred up a hornet's nest there.) Interestingly, they actually validated the message in the video and gave me a deeper meaning of the warning about not casting your pearls before swine or they will, not only trample that precious pearl but will then turn around and rend you (tear you in pieces). But, like I said, the Lord is able to teach you when you go to Him, and here is some of what I learned.

Ok. First off, carnal Christians are very dangerous people who are not to be underestimated. They too are unrepentant since they continue to walk as mere men (in other words, in the old carnal (selfish) ways. 1Corinthians 3:3) even after they get saved. They hate/fear the light just like the unrepentant, unsaved person does but, because they boast being Christians (albeit in name only), exposure of this fact is their great fear. And, since the light exposes and makes manifest, be alert you little light bearers. You are their main foe.

And, because we, as Christians, can be afraid of being judgmental, we find ourselves putting up with and making excuses for behavior we should either be rebuking or should be separating ourselves from. In Romans 16:17, it says to "mark and avoid those who cause offenses contrary to the doctrine of Christ". Am I being judgmental for identifying one of my brethren as such? How can I do the word here (mark and avoid them) if I am not able to identify them in the first place? Not by being judgmental but by being spiritually discerning (discern means: to make a difference).

Another thing I have come to understand in a deeper sense is that there are two kinds of professed Christians. There are those who allows their Christianity to shine it's light upon them to expose whatever in them needs to be repented of as they live a life of repentance. The Greek word for repentance: "metanoeo" means: "to reconsider so as to change one's mind for the better".

And then there are those who use their "Christianity" merely as a cloak, a whitewash to appear righteous before men with their good words and fair speeches that deceive the hearts of the simple (naïve) as Romans 16:18 says. Jesus pointed out in Matthew 23:27 that they, like the whited sepulchre that appears beautiful outwardly, are filled with dead men's bones. How I see this concerning the saved, yet carnal Christian is relating to the old man that was crucified with Christ. They do not reckon the old man and his wicked deeds dead so, it is still at work within them, unrepented of. But now, they do their evil undercover and "in the name of the Lord". Most despicable.

Now, for clarification, I'm not talking about babes in Christ who are still "learning the ropes". Nor am I talking about people who are endeavoring to walk by the spirit. We all screw up, fall and get back up in our pursuit of the truth. I'm talking about "Career carnal Christians". (Yes, you heard it first here :). The "Career Carnal" are people who see no problem with walking in the ways of the old man and have literally "turned it into an art form". Their "fair show in the flesh" can be very deceptive indeed but, no match for holy spirit discernment which will flush it out. These people, as Romans 16:18 says: "...serve not our Lord but their own belly". We are under no obligation to try to keep unity with such but are instructed to withdraw ourselves, (2Thessalonians 3:6) purge ourselves from them (2 Timothy 2:21) and mark and avoid them (Romans 16:17 & 18) among other things. We are to keep the unity of the spirit, not unity with the flesh and those who walk by it. They will always persecute those who walk by the spirit.



Back to Index





COMPASSION



Just the other day, as I was listening to the New Testament letter to the Hebrews on my mp3 player, I saw something that explained a lot to me about what's going on in the Christian forum.

Hebrews 5:1 & 2
1 For every high priest taken from among men is ordained for men in things pertaining to God, that he may offer both gifts and sacrifices for sins:
2 Who can have compassion on the ignorant, and on them that are out of the way; for that he himself also is compassed with infirmity

So true. One has to recognize that they too are compassed with infirmity in order to show compassion to others who are either ignorant or out of the way.

Ok, so, once again I opened up my Bible software to check out a few words in the Thayer's Lexicon and Strong's Concordance. I kind of got "blown away" by the Greek word translated "compassion" here. It comes from 2 words: "pathos" which means "passion" and "metrios" which means: "little", "in due measure", "moderate". Isn't that beautiful? To be of moderate passion. I see so much hot tempered passion flying around in "Christian on Christian" debates as people are full throttle in their rebukes coming from their so called "righteous indignation" in their so called "defense of the Gospel" which results in great harm and upset within the Christian community. The self righteous, those who consider themselves (and are selling themselves) as "holier than thou" are among the most critical.

We all have those times when we think we are beyond temptation in a particular area which can tend to make us more critical of others who have succumb in that area. We'd think to ourselves: "Oh I'd never do this or that". But, if the time should come when we get tempted in an area in which we are most confident and should ourselves succumb, perhaps this "rude awakening" will cause us to gain understanding of how another would succumb and will hopefully result in making us more compassionate in dealing with others. Curbing our passion when reproving others is not a sign of lukewarmness but rather, it is an act of obedience and a sign of a compassion born of honesty, humility and grace.

Perhaps, what is said in verse 4 needs to be mentioned as well.

Hebrews 5:
4 And no man taketh this honour (referring to the ministry) unto himself, but he that is called of God, as was Aaron.

So there you have another factor in this mess out there. People who have taken the honor of the ministry upon themselves. They are neither called of God nor taught of Him and yet they are ministering their unbridled passions to the people of the Lord as if they are speaking in the name of the Lord thus, giving Him a bad name.



Back to Index





PITFALLS AWAITING CHRISTIANS WHO ARE EAGER TO MINISTER



OK so, once again, this is experience talking. In other words: "Been there done that!" And one day, as if I was awoken, I realized that some of the things I was suffering as a result of the way I was carrying out His ministry were being suffered needlessly. I was exhausted, I was wounded, and, in many cases fruitless. So I went to the Lord about it. This was the very FIRST thing that got my attention. Although I read this numerous times, this day it spoke to me. Perhaps I was ready for change and that's what made the difference.

Matthew 11
28 Come unto me, all ye that labour and are heavy laden, and I will give you rest.
29 Take my yoke upon you, and learn of me; for I am meek and lowly in heart: and ye shall find rest unto your souls.
30 For my yoke is easy, and my burden is light.

Rest to my soul? Easy yolk? Light burden? My experience was exactly the opposite of this. That was when I knew something was wrong and that day was when my education process began.

Then, He proceeded to point out the many instructions and warnings specifically dealing with the subject of ministering. Interestingly, they were right in the Bible all along...a book I was reading daily. (Strange how that happens, isn't it?) Here are some of those exhortations.

First and foremost:

John 6:44a
44a No man can come to me (Jesus), except the Father which hath sent me draw him:

We don't draw them. And especially not by enticing (persuading) them with words of man's wisdom. (1Corinthians 2:4) It's the Father who does the drawing and also, the leading.

John 10:27
27 My sheep hear my voice, and I know them, and they follow me:

John 10:26
26 But ye believe not, because ye are not of my sheep, as I said unto you.

So, there are sheep (who hear His voice) and there are those who are not His sheep (aka goats) who don't/won't hear His voice. Let's not waste precious time with a goat. And why would we? Do we think we will be able to turn them into a sheep? Never gonna happen! But you will be laying yourself open to some unnecessary bruises from their "kicks".

1Peter 5:5b
5b ...for God resisteth the proud, and giveth grace to the humble.

So, if God is resisting the proud, how could we possibly have any success ministering to them? Or do we think, that by our ministering to them, we can turn them into the humble? When you think about it, isn't that pride on our part?

2Timothy 2:2
2 And the things that thou hast heard of me among many witnesses, the same commit thou to faithful (trustworthy) men, who shall be able to teach others also.

As faithful stewards, let's commit the truth to faithful men who will teach others also. Not teach everyone, everything, at all times! I'm particularly talking about teaching the things of the kingdom, not proclaiming the word of salvation (even though it is my belief that this too is to be done under the direction of the holy spirit.) But, when it does come to teaching the things of the kingdom, in many cases, conditions will apply. To name a few: trustworthiness (2Tim 2:2), hunger, (seek and ye shall find) humility, (for God resists the proud but gives grace to the humble), and timing. (We don't want to choke a babe by feeding them meat that they are not ready or prepared to receive.)

Luke 10:21
21 ...Jesus rejoiced in spirit, and said, I thank thee, O Father, Lord of heaven and earth, that thou hast hid these things from the wise and prudent, and hast revealed them unto babes: even so, Father; for so it seemed good in thy sight.

Hid from the wise and prudent (sensible) but revealed unto babes. More likely it's saying the things of the kingdom are hidden from those who think themselves to be wise and sensible for, if they truly were wise and sensible, words of wisdom would not be hidden from them.

Also, if you recall, Jesus spoke in parables. A parable is an analogy that one would have to search out the meaning of in order to get the understanding. Usually one would have to be serious about truth to want to search it out. (for more on this: check out the entry below called: "A Great Place to Hide the Truth")

Matthew 7:6
6 Give not that which is holy unto the dogs, neither cast ye your pearls before swine, lest they trample them under their feet, and turn again and rend you.

Ouch! That one really did a number on me 'till I made the correction. (a work in progress). I would speak precious things ...even things that were newly revealed to me but were still in the "infancy stage" of understanding... to a person with a swine like attitude. And, after they got through with it, (trampling it under their feet and muddying it all up on me, making it almost unrecognizable) they'd turn around to tear me apart as well. It's a true word folks. Don't take this lightly.

1Timothy 2:23
23 But foolish and unlearned (ignorant, childish, undisciplined, rude) questions avoid, knowing that they do gender strifes.

If any of you have not avoided foolish and unlearned questions but rather, tried to educate the person asking them, you know first hand the strifes that result. I've seen more stifes on "christian" message boards than perhaps any other type of message board, in part, because this is not adhered to.

P.S.
A few days after I posted this, I looked up the Greek word which is translated to "avoid" in this verse. It's the word: "PARAITEOMAI" which is translated elseware as "to refuse", "to excuse" "to reject".

It comes from 2 Greek words:

1) "PARA", which, in the context would mean: "rather than", "contrary to" and:

2) "AITEO" meaning: "to ask for", "to desire", "to beg", "to call for", and "to crave".

And, of course, those two words together are asking us NOT to beg for or crave it. But lets stop for a second. To beg for? To crave? Can one find themselves "in so deep" in their desire to "minister" that they would actually beg for it and crave it like an addiction? And yeah, yeah, I know that verse in 1Corinthians 16:15 that people like to quote about the household of Stephanas having addicted themselves to the ministry of the saints but that word: "addicted" means "to place something in an order of importance" not to be strung out to minister! Anyhow, see point 5 and 6 below for my experience with this.

Titus 3:9-11

Note: words below that are in parentheses are from Thayers Greek Lexicon.

9 But avoid foolish questions, and genealogies, and contentions, and strivings about the law; for they are unprofitable and vain.

Unprofitable and vain! 'nuff said.

and, it continues...

10 A man that is an heretick after the first and second admonition reject;
11 Knowing that he that is such is subverted, (has been corrupted) and sinneth,(has missed the mark and wandered off) being condemned of himself. (self condemned)

The word "heretick" is the Greek word "hairetikos" which is defined by Thayers Greek Lexicon as: "schismatic", "sectarian", "factious", "one who thinks they are able to choose a thing" which, in this case would be a "truth" that suits them.

Ok so, as far as Paul was concerned, one admonition and two at the most were enough. Then, let it go. It doesn't mean they well stay there "forever" but your part is done. And yet, how many of us have been spending years trying to persuade one who is a heretick? I confess that I did that before I took heed to this admonition in the Word. Which (as I just realized), means that, in this area, I was a heretick. Time and time again I read these exhortations in the Word and yet, I chose to continued in my way of "ministering" until the pains I experienced (aka: consequences of disobedience) caused me to go to the Lord about it and then He was able to teach me.

Romans 16:17
17 Now I beseech you, brethren, mark (to scope as a watchman) them which cause divisions and offences contrary to the doctrine which ye have learned; and avoid them.

Avoid them! Not engage with them. Not teach them. Not even reprove, correct or rebuke them. The Apostle Paul instructs to: "Avoid them!"

How can we ignore the exhortations and instructions of His Word in these matters and expect a successful godly outcome? Not to mention the consequences we will suffer as a result such as: discouragement, frustration, disappointment, fruitlessness, aggravation, even broken heartedness. I hear this complaint often coming from ministers. They talk of the disobedience of God's people because they are not receiving the Word they are ministering to them. But how obedient are the ministers to the instructions specifically given to them as to how, what and to whom they are to minister?

After I started to take these exhortations seriously, it began to flush out fears, motives and spirits, thereby revealing some of the reasons why I "ministered" that way.

1) We have a desire to be productive which, in itself is neither good nor bad. But when our ministry gets mixed up with our sense of self worth or validity as a human being, things can turn bad. Bottom line: Christ is the Head of His ministry, not us. Besides, how productive do we think we will be in His ministry, when we are in disobedience to His instructions concerning it?

2) We have something to prove, namely: that we are not afraid or ashamed of Him. And sometimes, because we have a deep seated fear that maybe we are ashamed of him, in order to prove that wrong, we let that fear pressure us into situations that the Lord is not leading us into.

3) For some of us, our sense of righteousness is directly connected to how productive we are (or think we are) in the "ministry". This is contrary to the truth. Righteousness is a gift. (Romans 5:17) Our ministry is a product of that righteous gift we have been given, not a means to obtain it.

4) We fear inactivity. If we submit to the leading of the holy spirit in our ministering rather than the spirit of anxiety, we may find that we have a lot more time on our hands. That concept terrified me! I thought to myself: "What am I gonna do with all this time?" Hum?! Here's a thought. How about we use all that extra time to fellowship with the Lord and allow Him to minister to us? It could only make better ministers out of us when we are called upon by Him to do so.

5) We've become addicted to that good feeling we get from the sense of accomplishment that "ministering" can give us whether our actions were directed by the Holy Spirit or not. I just saw a Jewish woman on a talk show last week selling her book about what she called "the givers high" showing that human-led actions of non Christians can also result in this good feeling or "givers high". Yes, giving has it's reward. Please, do good and give to those in need by all means! But when you speak in the name of the Lord, that is only to be done under the direction of the Holy Spirit.

6) You are not aware that your actions are being driven by obsession, however virtuously they may have begun. For some reason, technology has a way of bringing out or heightening obsessive behavior. It happened to me. When I first got a computer and went online, I signed up to a forum and engaged in conversations on a "Christian" message board. (Conversations??? It was more like javelin fights :) One day, I went to the website (as was my practice every time I booted up the PC). But the site was temporary shut down for maintenance. They said it would be 2 or 3 days before it would be back up again. I went into a state of sheer panic! "OMG, what am I gonna do now?" That's when the obsession was brought out into the open for me to see and I began my "recovery" process.

Yes, an evil thing can attach itself to a "good" intention. The enemy is a counterfeiter of a good thing as well as a corrupter. But obedience to God's instructions, coupled with spiritual discernment will give us the strength to overcome all the pitfalls.



Back to Index





WHAT WOULD JESUS DO?



I've heard this question asked, usually as a standard of behavior for us to follow in any given situation. A few minutes ago I thought of applying it in this situation: when faced with an afflicted person, how do you handle yourself? Do you show compassion or do you accuse them of evil? What would Jesus do?

Last night I was reading the account of the man born blind in John chapter 9 and it showed this very thing. When confronted with the man born blind, the disciples first thoughts went to sin. Had to be somebody's fault. This is usually where people go. They look for blame on the victim's part and see their affliction as a just recompense for an evil they did. What would Jesus do? What DID Jesus do? He showed compassion and healed the man!

Ok, the fact is that: many (if not most) of us do not have the understanding to minister healing. But, can we at least show some compassion and assistance to a person who is suffering and not add to their affliction by accusing them of evil. especially when it does not apply? What would Jesus do?



Back to Index





LIFE IS LIKE A HIGH SCHOOL REUNION



I came up with this idea recently as I thought of how people almost always present their life in a favorable light whether it's true or not. Kind of like what they do at a high school reunion. They feel the need to give the impression that they made something of themselves, most likely stemming from the fear of looking like a loser or a failure.

I see this behavior often amongst my fellow Christians as they speak about how great everything is, even when it's not. Usually, when people do this, they're selling something, either monitarily or they are simply selling themselves. And sadly, they do this in the face of another brother or sister who is obviously having a rough time of it which, to me, is reprehensible.

I've personally known "ministers" whose home life was a shambles, and yet, on Sunday morning, they have the "happy" wife by their side and the "obedient" children on display for all to see. It's dishonest, plain and simple and brings imbalance as it presents a picture that some are "doing GREAT!!!" while others are struggling. And it can make those struggling believers feel that there struggle is not due to the evil world we live in or the spiritual battle we face daily but a consequence of their own sin or evil or failings. I have found that, when you are struggling, and you find out that others are also struggling, (although people have to speak honestly for you to find that out), it takes the focus away from the personal aspect of whatever you're dealing with and you begin to see it more spiritually. Whenever I recognize it as spiritual rather than personal, I am more equipped to combat it. Peter spoke of this:

1Peter 5:9 and 10
8 Be sober, be vigilant; because your adversary the devil, as a roaring lion, walketh about, seeking whom he may devour:
9 Whom resist stedfast in the faith, knowing that the same afflictions are accomplished in your brethren that are in the world.

In this truth, we see that the same afflictions that you are experiencing are being experienced by your brethren through out the world. There is a camaraderie in this truth, (as well as a call to prayer) showing the believers that these struggles are not just their own but are being experienced by their brethren throughout the world. Well, at least those brethren who are endeavoring to walk in the light. And also that it is a spiritual attack. Not necessarily a lack of faith, a personal failing or some secret sin in their lives as the miserable comforters (read Job) would like you to believe.

Here is what another godly minister said about the tribulations a believer would experience.

Acts 14
22 Confirming the souls of the disciples, and exhorting them to continue in the faith, and that we must through much tribulation enter into the kingdom of God.

The Greek word translated as "tribulation" in this verse is also translated as persecution, affliction, anguish and trouble. What Paul was doing in revealing this to them was confirming their souls. In other words strengthening, establishing and making them firm so, as Peter wrote, they wouldn't think some strange thing was happeneing to them when these things hit.(1 Peter 4:12 )

I know it's not always the thing to do to share your struggles with everyone since some do not walk in love but, don't prop yourself up either. It's not godly at all but very common, carnal behavior. They do it all the time at high school reunions.



Back to Index





BY THEIR DEEDS, NOT THEIR WORDS



The religion of the household I was raised in claimed to be Bible based but what they taught was as far from the truth as any can be. It wasn't until I picked up a Bible for myself that I discovered this. It was also at that time that I had begun my personal quest for truth but, because I was a newbie (as we all are when we start out), when I encountered people who actually did speak what was in the Bible, I thought it meant that they were reliable and even trustworthy, not only as ministers, but also as individuals. I learned, by experience, that this is not altogether true. But recently I saw it as clear as day in Matthew 23. Check it out. Great chapter.

Matthew 23:
1 Then spake Jesus to the multitude, and to his disciples,
2 Saying, The scribes and the Pharisees sit in Moses' seat:
3 All therefore whatsoever they bid you observe, that observe and do; but do not ye after their works: for they say, and do not.

So here, Jesus is telling the people to do all that the scribes and the Pharisees told them to do (which means they had to be speaking the truth right? Jesus wouldn't tell the people to do anything other than the truth.) Ok, then it says: "but ..." (and here's the big but) "...do not ye after their works: for they say, and do not". Then, the Lord goes on to enumerate what they did. Whoa! Their deeds were about as ungodly as deeds can be and yet, these same people were speaking the truth.

A very good warning to us not to be fooled into thinking that a person is trustworthy soley by their words however trustworthy their words may be. By their deeds you will know them, not their words.



Back to Index





A PROPOSAL TO ALL CHRISTIANS



I'm sure you've heard of the expression "Hate the Sin but Love the Sinner" Hopefully you are putting this into practice. So this is what I came up with. How about we "Hate the Doctrine but Love the Christian"? In my years as a Christian, I've seen such awful behavior in Christians as they engage with other Christians in their "defense" of the gospel. They think it's righteous indignation but it ain't. It's just bad behavior. Sometimes even arrogance, pride, hatred. All works of the flesh and in no way godly, however godly the Word they're speaking is. So, if we can afford the unsaved such generous treatment, (hate the sin but love the sinner), why not do the same for the saved as well (hate the doctrine but love the christian)?

A great scripture came up as I was musing this matter.

Romans 11:28
As concerning the gospel, they are enemies for your sakes: but as touching the election, they are beloved for the fathers' sakes.

This was referring to the people of Israel who were rejecting the gospel when it was first being preached. But doesn't the same hold true today concerning the Christians who don't believe what you believe? They may be enemies concerning the gospel but they (we) are, never the less, beloved. Treat them accordingly and love who God loves! Besides, you may find yourself to be an enemy of the gospel in one area or another at some future time. We're all learning. But where we can all excel is in doing the one thing that was asked of us. (Romans 13:8-10) To love your neighbor as yourself. In this we fulfill all the law, even if what we believe is not absolutely correct.

Here's another good one for all who think that correct knowledge, or anything else for that matter, comes before loving with God's love:

1 Corinthians 13:2
And though I have prophecy, and understand all mysteries, and all knowledge; and though I have all faith, so that I could remove mountains, and have not charity, (aka:love in action) I am nothing.



Back to Index





TWO RIGHTEOUSNESSES UNDER TWO COVENANTS



I was looking at Romans 10 a few months back and there it was, clear as can be. Two righteousnesses mentioned. One called the Righteousness of the Law and one called the Righteousness of Faith. The Righteous of the Law, in other words, how righteousness was obtained under the Old Covenant. The rightousness of faith is how righteousness is obtained under the New Covenant.

Then it goes on to contrast the two. "For Moses describeth the righteousness which is of the law, that the man which doeth those things shall live by them." (Romans 10:4) A person had to keep the law in order to obtain righteousness under the old covenant.

BUT: (in contrast)

"BUT the righteousness which is of faith speaketh on THIS wise...
What saith it? The word is nigh thee, even in thy mouth, and in thy heart: that is, the word of faith, which we preach;
That if thou shalt confess with thy mouth the Lord Jesus, and shalt believe in thine heart that God hath raised him from the dead, THOU SHALT BE SAVED." (Romans 10:6,8&9)

This is how righteousness is obtained under the New Covenant. By confession of and belief in the above truth.

In Romans 10:1-3, it speaks of those who would not submit to the righteousness of faith. As a result, it says the righteousness they were going about establishing was not the righteousness that comes from God but their own "righteousness". Romans 9:32 says they missed the mark because they sought to obtain rightousness by works (the Old Covenant's way), not by faith (The New Covenants way). I mean, could it be any clearer?



Back to Index





HOW'S ABOUT SOME SUGAR?



Do you know anyone who has turned bitter? How do you handle a situation like that? Do you flee in terror or do you have compassion for them, understanding how the hard knocks of this life can do that to someone? Well, for all you who have compassion, I have a really good recipe for you. How about giving that bitter person some sugar? I'd lay odds that it will help in their healing process a whole lot more than if you abandon them and give them yet one more bitter pill to swallow.



Back to Index





HOW DO YOU PERCEIVE YOUR BLESSING?



I have no problem with believers living a blessed experience. I wouldn't mind living in a nice area, getting paid nicely for my skills, having people in my life that love and respect me so, how could I begrudge them if they do? But what bugs me is when those who are living that experience have an arrogant attitued towards those who aren't, presuming that they have more faith than you, or are smarter than you, or are more worthy than you, or are more hardworking than you or are more loved by God than you.

Hebrews 11 speaks of two kinds of experiences believers have had in this world. And, to put the two extremes in a nutshell: those who have had their dead brought back to life because of their faith and those who were killed because of their faith. Each situation was experienced by one who believed (as Hebrews 11 testifies) and each person was (and will be) given honor for their faith. Why the different extremes? I don't know the answer to that. But, perhaps these things were written in Hebrews to show both sides of things so as to aid the believers when they are suffering. That they don't think some strange thing is happening to them or that it's some lack of faith on their part but, at times it's BECAUSE of their faith. I know that because that's the comfort that it brought to me amidst the accusations (in my own head and from others). But, maybe if those who are having the blessed experience were more generous with those who aren't, it would not only bring about the equality that Paul spoke of in 2Corinthians 8 13-15, but it would also offer a refreshing and heartening to the soul of the believer who could really use a "pick me up".

Bottom line, if you are living a blessed life, be generous with your blessing as one who is a member of the body of Christ. Don't be a jerk about it by snubbing your nose and looking down on a suffering brother or sister.

As a post script to this entry (which, I believe further makes this point): I had the misfortune of hearing a sermon by a well known celebrity "preacher" last Sunday (January 23, 2011). He called his sermon "Wear Your Blessings Well." He proceeded to speak of the many blessings in his life and said that, in the face of someone less fortunate, someone who isn't having the blessed experience that he is having, he was gonna "wear his blessings well" adding that "This is what brings glory to God". What??? Glory to God??? This is what the scripture says about this matter as to what brings glory to God.

2Corinthians 8:19 .... who was also chosen of the churches to travel with us with this grace, (in context, "this grace" refers to the blessing of abundance the believers who, all chipped in, were sharing with the their brethren in need) which is administered by us to the glory of the same Lord ...

So, it isn't for us to wear our blessings well to bring glory to God is it? No! Glory to God, as well as much thanksgiving to Him will result if we share our blessings well.

Geez, where do these guys get their material? Certainly not from my God. Hey, I got an idea...the next time these people ask you for a donation, how about you, instead, wear your blessings well in front of them. Heh.



Back to Index





WE NEED MORE "SINNERS" IN THE PULPITS



Although I am not a fan of the pulpit/pew dichotomy, for the sake of making this point I am using this term.

With all the self-righteous posers assuming to be the Lord's ministers, how on earth can the "real sinners" get any help in their struggle? They go to these people thinking they will understand and be able to give them some advice to help them to get back on track. But what usually happens is that they end up being treated harshly and are condescended to. Why? Because many of these "ministers" are so out of touch with the battle. Rather than genuinely striving for holiness and thereby experiencing all the resulting struggles, their efforts are more spent on maintaining the appearance of holiness aka: the whitewash. Makes me think of the soldier who has been in the thick of the battle. He returns home and is now suffering from PTSD and goes to a therapist for help. A therapist who, immediately after getting his degree, was put behind a desk having never seen any action. I don't think there would be too much help, understanding or even empathy coming from that scenario.



Back to Index





TEMPORARY INSANITY



From the age of puberty to the age we wake up (could be in our 40's or later but hopefully earlier) we enter into a state I like to call "temporary insanity". We begin as children who for the most part, know what is important. LOVE. Then we hit our teens and the things that become important to us usually result in leading us away from what really matters. We become desperate to be accepted socially, obsessed with becoming attractive to the opposite sex, we struggle to succeed in our careers, acquire material things which, in many cases, is for the purpose of impressing others, we maintain our outward cover because it is so important how we appear in this world, even to the point of becoming out and out hypocrites. Then, if we're lucky, one day we wake up. Some call it a mid life crisis, others: an epiphany, and others: just coming to our senses. We look at our lives, our labors, our standards, our priorities and see them as being vain. We begin to realize that the thing we left behind when we became seduced by this world and all that it promised us was the most important thing of all...LOVE.

The people I enjoy being around the most are the youngsters and the oldsters. For the most part, they know what really matters.



Back to Index





HOW TO SHOW YOUR LOVE



Many of us say we love the Lord. But how do we show our love for the Lord?

John 14
23 Jesus answered and said unto him, If a man love me, he will keep my words: and my Father will love him, and we will come unto him, and make our abode with him.
24 He that loveth me not keepeth not my sayings: and the word which ye hear is not mine, but the Father's which sent me.

Ok. That's plain enough. If you really love Him, you will obey His words. If you don't you won't.

Now, how do we love ourselves? By keeping His words because of the wonderful results obedience to the Word brings into our lives.

And...how do we love our neighbor as ourselves? Yep. You got it. We encourage them to do the Word too for the wonderful results obedience will bring into their lives.



Back to Index





WORK BURNED NOT THE WORKER



I know I covered this topic in various entries but I wanted to point this out. First, the verse:

1Corinthians 3:
13 Every man's work shall be made manifest: for the day shall declare it, because it shall be revealed by fire; and the fire shall try every man's work of what sort it is.
14 If any man's work abide which he hath built thereupon, he shall receive a reward.
15 If any man's work shall be burned, he shall suffer loss: but he himself shall be saved; yet so as by fire.

When will this be (when every man's work shall be made manifest)? At the judgment seat of Christ when the Lord will bring to light the hidden things that are in darkness now. (1Corinthians 4:5) Ok, so what will happen to the person whose work the Lord found worthy to be tossed into the fire? Was he too cast into the fire? No. It says that "he himself shall be saved, yet so as by fire" which is King James speak for: "by the skin of his teeth" :) The NIV put it much better when it said: "...but only as one escaping through the flames."

But it does say that he will suffer loss. Loss of what? Not the loss of his salvation since it says: "...he himself shall be saved" but loss of Heaven's rewards.

With many of the people that I know, Heaven's rewards are not such a "hot topic". Once, when speaking to a saved one about the Crowns that the Lord will hand out in that day for faithfulness to the Word, she replied: "I don't look good in hats." Cute huh? Well, anyhow, I found a simple way to look at how important these rewards are. Think of a soldier who, after an act of valor, is given a medal of honor as appreciation. Whenever he wears that medal, those who see it would know he did a deed worthy of it. So, imagine getting a reward from the Lord who; not only sees the deed done but also, the thoughts and intents of the heart behind the deed and He judges it worthy of honor. Sounds like a pretty big deal to me.



Back to Index





THE PROZAC/FEEL GOOD "JESUS"/Helium "Christianity"



(Ok. Long title, I know. But I couldn't figure out which one to use so I used them all.)

People are so afraid of feeling bad. I mean, yeah. Who wants to feel bad? I get that. But it's the fear of feeling bad that's causing people to do anything to escape it, including making up a "feel good Jesus" that gives them the "high" they're looking for. And all "hopped up" on their helium "Christianity", (sometimes with a high-pitched voice to match) they only want to talk about "happy things". So if you bring up a topic like, for example; the spiritual battle we must fight daily, they act like: "Hey man, you're blowing my head!"

Someone said to me the other day: "I prefer not to think of the devil." Yeah, the roaring lion who seeks to devour us. Let's not think about him and maybe he'll just go away. Our adversary, against whom the Apostle Peter said we must always be vigilant, resisting steadfastly in the faith and of whom the Apostle Paul said we must always be mindful as the spiritual wickedness against whom we wrestle.

I have been plagued my entire Christian experience by Christians who treat persecution and suffering for Christ's sake as if it's a self-inflicted evil. They love their life in this world and thank the Lord for their life in this world and go as far as to accuse the Lord's servants who are being persecuted because of their stand for the truth of having a martyr spirit or a religious spirit saying that they enjoy the attention that their suffering brings them because it makes them look good. (Geez. Talk about your enemies being of our own household!)

Yet Jesus was very clear on the matter. He said, unless you hate your life in this world, you cannot be His disciple (student.) (Luke 14:26).

And Paul, by the holy spirit wrote that all who will live godly in Christ Jesus shall suffer persecution. (2Timothy 3:12)

But their "feel good 'Jesus'" gives them a persecution-free life that they love in this world. And I'm not talking about a love for the things of the Kingdom of God like faith, peace, hope, truth, spiritual wisdom and understanding. No, they love their worldly lives which results in them having no desire at all for the things of the Kingdom of God. And yet, they parade around as those who are living in the blessing of God.

One day, as I was wondering why some Christians were living some high life because of their faithfulness while other Christians were suffering, even to the point of being tortured and put to death for theirs, I thought: "if these Christians really were living the high life in Christ, why aren't they using their many "God-given blessings" to ease the burden of those who are suffering (1 Timothy 6:17 & 18) rather than boasting themselves over them". Maybe that, in itself, is a tell.



Back to Index





BEWARE OF FRIENEMIES



I don't remember what show I was watching where I heard the expression: "frienemy". I thought it well described people who are your enemy in heart, but come to you as if they are your friend so as to do their dirty work undercover. So, under the assumption that they are your friend, you let them into your home where they proceed to tear you apart but, in a very subtle way. Your classic: "wolf in sheep's clothing". Be aware. They do not go unrecognized. Their deeds will betray them and will speak much louder than their flattering words. But, once recognized as an enemy, the choice will be up to you as to whether or not you will allow this evil to continue in your life. But, if you discover that you are afraid to take action because you fear being alone, get yourself a cat ;)



Back to Index





THE RELIGIOUS SPIRIT



This is one tricky devil. The religious spirit is so cunning that it is even in the business of "exposing" the religious spirit!. I have seen people bound in religiosity speaking about this spirit as if they were not it's victim. Some of the most deceiving people are those who are under the influence of this evil spirit yet deceived into thinking that they are free. Only the Lord can deliver one from such a sly deception as this. Let those of us who love the truth seek the Lord continually on this matter.



Back to Index





THE CHURCH COVER



You minister God's Word to a person, of course, with the view to the end of their obedience to it. But they reject the Word of God and refuse to do His will. Then, you find out that they just joined a religious denomination. I ask myself, why would someone who doesn't regard God's Word join a church? One reason...for the whitewash if provides. It gives an appearance of devotion with out the "hassle" of obedience.



Back to Index





WE WANT JESUS IN THIS WORLD



This is an evil world. God, our Father devised a plan and, through the faith and obedience of our Lord Jesus Christ, secured a place in Heaven for all who believe. When Jesus left, he said that He would return to take us to be where He is. He has been waiting almost 2000 years to take us to the place that He has prepared for us and get us all out of harms way. But many Christians don't like the idea of the appearing of Christ to bring us all to Heaven aka the Rapture. They love their lives in this world and would much rather have a "Jesus" that makes this life better. I've even seen revival used by some who were looking for any "good" excuse to keep them here for years and years to come. Although it may have the appearance of concern for the salvation of souls, for many, their hope for this revival takes preeminence over our blessed hope. So, I ask: aren't God and Christ concerned with the salvation of souls? And don't they have the right to make the determination as to when to take the believers out of this world? Yet these people almost "stop their ears" at the mention of Heaven, choosing rather, the idea of their precious "revival" over being brought face to face with the Father and with Christ and the holy angels. Over being given a brand new body that can never get sick or die. Over being brought, with all the other believers (both living and dead) to a place of safety, finally out of the reach of the clutches of the evil one where there will be no more tears or sorrow ever again. What the heck is that but a love for this world hiding behind a virtous thing.

Titus 2:
13 Looking for that blessed hope, and the glorious appearing of the great God and our Saviour Jesus Christ;

When are we looking? Today!



Back to Index





HEAVENS REWARDS ARE ETERNAL!



Unfortunately Heaven's rewards are not such a big topic these days. Partly because many false teachings have turned Heaven into the reward, and partly because people who are saved aren't really thinking about their future. Oh sure, they think about their future in this world but not their eternal future. But these rewards will be eternal. Doesn't that bear even a moment of our serious consideration?

In Revelation 17:14 it says the called, chosen and faithful will ride back with Him at the Second coming. Quite a reward indeed!

And how about in Rev 22:3 and 4 where it says that His servants will see His face. Sounds up close and personal to me. Perhaps the closeness we will have with Him in Heaven will be in direct correlation to the closeness we had with Him and His purposes while here on Earth.

We are admonished to remain faithful so that we may receive a full reward, (2 John 1:8).

Here are some more rewards promised for faithfulness.

Crown of life James 1:12
Crown of righteousness 2 Timothy 4:8
Crown of glory 1 Peter 5:4
Crown of rejoicing 1 Thessalonians 2:19

Even for those who serve themselves down here after receiving Christ as Saviour, there is a word for them about rewards:

1 Corinthians 3:13-15
13 Every mans work shall be made manifest: for the day shall declare it, because it shall be revealed by fire; and the fire shall try every mans work of what sort it is.
14 If any mans work abide which he hath built thereupon, he shall receive a reward.
15 If any mans work shall be burned, he shall suffer loss: but he himself shall be saved; yet so as by fire. (or as one version puts it "as one escaping from the flames)

Notice that he himself will still be saved but he will suffer loss. Loss of what? Loss of heaven's reward.

Our Heavenly Father and His Christ are so generous that, not only have they together secured eternal redemption for us as a free gift, but they also encourage us and strengthen us that we be workers together with them in the grand plan of righteousness because it would give them great pleasure to reward us.

Although I know that the rewards handed out in that day will distinguish who His real servants are, I also believe that these rewards will be how Jesus says: "Thank you for serving Me". Just like our service to Him while here on Earth is how we say "Thank you for saving me".



Back to Index





BY FAITH BUT, FAITH IN WHAT?



I put a rant on this page called "Positive Confession or State of Denial?" about some of the negative effects of the "positive believing" method which is very popular today if you'd like to check that entry out also. But here, I want to present another aspect of this teaching that I take exception to. I once heard it said that God was waiting, as if with hands tied, until His children would rise to the occasion and start believing. Believing what? Believe for our own desires and plans to come to past? Or, perhaps, to believe for what we want God to do in the world today to come to pass?

The other day I was reading Romans Chapter 4, which speaks of the faith of Abraham (the "father of all who believe" as the Bible calls him). In the context, he was being commended for his believing. What stood out to me was that Abraham was given a specific promise by God in which to put his faith. Not the other way around. Abe didn't tell God what He wanted and then God fulfilled it. God told Abe what He wanted and Abe believed it and it came to pass.

And, in Hebrews 11, Sarah is mentioned and commended for her faith in this same promise, (after her initial laugh of disbelief of course. But hey, let's not forget that Abe laughed too. Actually, it says that Abraham "fell upon his face and laughed" at the thought of his 89 year old wife getting pregnant by his 99 year old self. (Gen 17:17) But, in their defence, it was pretty funny wasn't it?)

But the point I'm making is that Abraham and Sarah (and the others mentioned in Hebrews 11) didn't just come up with this stuff on their own...calling the shots (like little gods). They were told what to shoot for by God. And the result was that God's plan was being fulfilled and these faithful believers had the honor of being workers together with Him. Noah, Abe, Sarah, Moses, Gideon, David etc. All believers who responded to direct revelation. Sure they lived lives of faith. But it wasn't willy nilly faith. Believe in what ever you want to come to pass in your life for your own advancement or happiness or gain. No. They put their faith in what God personally revealed, what ever the cost it would be to them. Like Mary who said: "Be it unto me according to your Word". She understood the reproach she would have to bear her entire life when she said those words. And how about the greatest example of all... Jesus, who said to his Father, "Not my will but yours be done." Now that's faith to be admired.



Back to Index





"I'D LIKE TO THANK THE LORD JESUS CHRIST"



I was watching a music awards show a few years back and someone who received an award thanked the Lord Jesus Christ. On the surface this sounded great. I'm always happy to hear Christ get "a shout out". But this time I looked deeper into it and got angry. You see, I had just seen a clip a few days earlier on an entertainment show of the latest video that was being released by this singer. It was soft porn imagery with a story line of a guy in a club who offers to bring the girl he was lusting after into a filthy, smelly bathroom to have sex with her or, as an alternative, offering to do it in public.

So what was He thanking the Lord for? Was this some grand gesture on his part before a world wide audience to acknowledge Christ? Acknowledge Him for what? For being the guiding force in his life and career? For inspiring the content of his songs? For seeing to it that he got an award for what he does? What a real slap in the face that would be to all those who have dedicated their talents to the Lord and to the message of His kingdom. People who have gotten no worldly acknowledgment, reward or gain. Are they supposed to think that the Lord was responsible for seeing to it that he got an award?

These people lower the bar of what it means to be a believer. They live the life of their own desires and then they thank the Lord for it as if He was the author of it.



Back to Index





"GOD HAS BEEN GOOD TO ME"



Have you ever had someone say this to you or, should I say, rub this in your face? In my experience, the attitued behind this statement is usually: "God has been good to me because I am good (or worthy or deserving)." And, there have been times when people have said this to me while I was suffering, as if to tempt with the thought that God could be good to one of His children and not to the other. I would usually respond to this arrogance by saying: "God is good to you because, the only thing God could be is good." But tonight, after I heard someone say this once again, this came to mind.

Matthew 5
45 That ye may be the children of your Father which is in heaven: for he maketh his sun to rise on the evil and on the good, and sendeth rain on the just and on the unjust.

God is good to the good and to the evil, to the just and to the unjust. So much for boasting:)



Back to Index





MERRY "CHRIST"MAS AKA HAPPY SATURNALIA



Christmas is a pagan holiday and not the day that Christ was born. But, even though this knowledge is out there for all to see, Christians will continue to justify their regard for this season by continuing to uphold that they are celebrating the birth of Christ (even when they know better) and none of their "holiday" practices reflect anything to do with Him. They say it's about loving and giving but who do they love and who do they give to? People in need as Jesus would do if He celebrated the day? No. They love their own and give to those they expect to receive something from.

Here's what Christ had to say about that:

Luke 6
32 For if ye love them which love you, what credit is that to you? for sinners also love those that love them.
33 And if ye do good to them which do good to you, what credit is that to you? For sinners also do even the same.

So this celebration of greed, drunkenness and gluttony will continue to bear His holy name thanks to those who love their traditions more than truth.

Christ is in "Christ"mas just about as much as He is in modern day "Christ"ianity.



Back to Index





WHO EVER SAID WE HAD TO LIKE TRUTH?



John came up with a good one tonight after a ministering opportunity. The person we were speaking to didn't like the idea of the appearing of Christ and said to us: "I have a problem with the Rapture". Somehow, in his mind, him not liking it gave him the right/justification to not consider this as truth at all. As a matter of fact, he felt perfectly free to edit this uncomfortable truth out of his belief altogether in the spirit of "You don't like it, toss it!" I've heard Christians be very critical of those who say they have their own truth. You know, the saying heard in new age circles: "If it's truth for you, then it's truth". But aren't they doing the same thing? Each sect has it's own truth and, some Christians actually "shop" for churches to find one that preaches a "gospel" that is a comfortable fit for them and their lifestyle as if shopping for a new pair of shoes.

Anyhow, getting back to the gem that John came up with tonight. He said: "Whoever said we had to like truth?". Inspired!



Back to Index





HOW TO SURVIVE THE INSULTS



It takes courage to minister the Word. I was thinking tonight that there is a counterfeit out there for every good thing and you will bear the reproach that the counterfeit supplies. Example: you seek truth and it's understanding directly from the Lord and they call you a newager. You uphold the truth found in the Scriptures and they call you a narrow minded Bible thumper. You discern good from evil and they call you judgmental and critical. You show grace and mercy when you minister and they accuse you of having a casual attitude toward sin. You are devoted to the Lord and His service and they call you religious. You speak His truth with boldness and they call you arrogant. And, unfortunately, people are being intimidated by these insults and are letting it silence them or they end up watering down the message so as not to "offend".

The best advice I can give to those who are serious about being servants of Christ: you'll have to choose Him over your social life. Then you will stand a chance of surviving the insults hurled at you as you minister His truth.

Paul put it well when he said:

Galatians 1
10 For am I now seeking the favor of men, or of God? or am I striving to please men? if I were still pleasing men, I should not be a servant of Christ.



Back to Index





THERE'S ALWAYS HELP



Why do we hide when going through trials. You'd think that this would be the time we'd want to be with other believers for the comfort, love and encouragement we could receive. Here's what I have learned.

For one thing, Christians can be obnoxious and insensitive at times, acting like every problem can be handled with the use of a bible verse and showing no humanity to the hurting brother or sister. Suffering frightens people. Some even act like it's communicative. So they neatly package your suffering as being a result of your sin or lack of faith, making the hurting person feel like a failed Christian as well, adding even more pain to what they are already suffering. So, rather than subjecting themselves to this kind of heartless treatment, people bear their trials in seclusion.

But I ask you "ministers", have any of you taken into consideration that it's because of the person's faith that they are suffering? Ever hear of it? It's called: "persecution for righteousness sake".

1Pe 4:16 Yet if any man suffer as a Christian, let him not be ashamed; but let him glorify God on this behalf.

Not every trouble is a result of unrighteousness but, even if that was the particular case, we all fall don't we? Don't we want to show the same mercy and grace that we were shown when we fell and the Lord picked us up?

Another reason we hide out: we are concerned about our witness. So, God forbid we are struggling or suffering (like everyone else does in this wickedly oppressive world). We think it will make Christ look bad. But it was Jesus himself who told the disciple what to expect and it certainly wasn't a "party". He told them that they'd be hated by all for His name's sake. That they could expect troubles and suffering of all kinds, physical as well as mental pains and abuse, isolation, and even death for the gospel's sake. He didn't want any surprises up the road for them. Told them plain out what to expect as they endeavored to walk in the light amidst a dark world. We must remember that our witness is of the blessed hope, aka the Kingdom to come, not the hope of a better life in this world.

But, because of the prevalent circumstances mentioned in the first point I made above, we need to be selective as to who we can go to at times like these. People who have proven to be all-weather friends, (not just fair-weather ones). Seasoned with grace and walking in love. Sure, that dwindles down the crowd a bit but they are out there. But, never the less, Jesus is always there for us in our down times. He is touched with the feelings of our infirmity. Having been tempted in all points as we are, He knows, like no one else what it takes to strive against sin and is, therefore, full of mercy and grace. That's why it says in Hebrews that, at times like these, we are to come to Him boldly (openly, plainly, freely, with confidence, with nothing to hide and without shame) to get the help we need.



Back to Index





WE FILL GAPS



We all have our strengths and weaknesses. Our giftings and accomplishments, as well as our short comings and failures. Anyone with any sense of honesty will admit to that. Something that struck me the other day (which inspired this rant) was that it is totally out of line to boast our strengths over another's weakness. Or hold our gifts over another's short comings.

I remember a line from the movie "Rocky" that I always loved and thought it described the beauty of what we are to be to one another. The dialogue:

Paulie: [talking about Adrian] You like her?
Rocky: Sure, I like her.
Paulie: What's the attraction?
Rocky: I dunno... she fills gaps.
Paulie: What's 'gaps'?
Rocky: I dunno, she's got gaps, I got gaps, together we fill gaps

"She's got gaps, I got gaps, together we fill gaps". I thought this so perfectly described God's plan in how the body of Christ was to minister. Being members of the same body yet, each member given it's own special ability, we can "fill one another's gaps" as well as have "our own gaps filled" which produces a perfect sense of equality. What a lovely plan. But, as it is with all of the things of God, this can only be successfully executed in love.



Back to Index





WHERE DO YOU SEEK FAME?



I was in the company of two brothers discussing fame. One of them was focused on his worldly aspirations. He spent many years "paying his dues" and, as elusive as this fame proved to be, as tormented as his fruitless quest made him, he continued to desire it and seek it. The other brother said to him: "But answer me this: are you famous in heaven? Do the angels whisper your name one to another? Do they cheer at the sight of you and say: 'Now there's someone who is not afraid to stand up for truth whatever the cost.' "



Back to Index





WATCH AT ALL TIMES



Do you love Christ's appearing? Do you look for it with anticipation, regarding it as a blessed hope rather than seeing it as an interruption of your plans? Well then, I am sure you have encountered the "no man knoweth the day or the hour" gang. What I mean by that is: the people who, in the face of hope enthusiasm, throw that verse at you like a javelin (out of context of course) in an attempt to shut you up, as if to say: you have no right to look for His appearing. Yet, in its context, this verse is saying just the opposite. That, because we don't know the day or the hour, we are to watch AT ALL TIMES.

Matthew 25:13 Watch therefore, for ye know neither the day nor the hour wherein the Son of man cometh.

Geez. Don't you just hate when words are taken out of context and then twisted to say just the opposite of what they mean?



Back to Index





WELL DONE GOOD AND FAITHFUL SERVANT



At one time in my life, I was obsessed with the desire to hear these words from Jesus. Now I look forward to saying them to Him.



Back to Index





THAT NONE SHOULD BOAST



Someone said to me in jest the other day: "Can't I just believe what ever I want to? Join whatever group I want to that teaches what feels good to me?" We both laughed heartily and then I replied: "You just described today's Christianity in a nutshell".

But I had to ask myself, when presented with the choice of the gospel of grace or the "gospel" of works, if the choice was entirely up to us to choose what ever feels good to us, why would someone choose works?" The answer: ultimately because grace provides no boasting for the flesh.

Ephesians 2
8 For by grace are ye saved through faith; and that not of yourselves: it is the gift of God:
9 Not of works, lest any man should boast.



Back to Index





WHAT CHANCE DO WE HAVE?



First century believers had the gospel ministered to them confirmed with signs following (Mark 16:20 ), the signs of an Apostle were evident with wonders and mighty deeds (2Corinthians 12:12) and they received Christ and the gospel in this atmosphere. And yet, even under these conditions, some were talked out of the grace of God (Galatians 3:1) some lost the blessed hope (2Timothy 2:18), some remained in their carnality favoring the rule of men over them rather than the rule of Christ (1Corinthians 1:12), and, in Asia minor, rather than suffering persecution as a result of association with Paul, they forsook him and, in most cases, forsook what he taught them. Goes hand in hand.

I was thinking of this today in the light of what we, in this generation, are exposed to compared to what they witnessed. If they lost it under those circumstances, what chance do we have of holding to the gospel or even identifying it for that matter? In our day, we are assaulted with a myriad of "gospels" which, in some cases, are in direct opposition to one another, all vying for our attention/acceptance/support and are all presented to us with no accompanying signs to confirm them as being truth.

I'm considering that the answer lies in the heart of the individual. That if a person is a genuine seeker of truth, they will find truth. Since God is no respecter of persons, then the difference must lie with the individual which will determine whether they will find the truth or will be deceived by the spirit of error.

I see this as a practice today. People join a group and that group teaches them their version of the gospel. And, as long as the person is with that group, that is the person's "gospel". Then (for what ever reason) they leave that group and join another; only to adopt the "gospel" of that group as if there is an assortment of gospels we can pick and choose from. But, then again, didn't Paul expose and reprove this behavior in his day too? As was the case with the Corinthians, they were carnal (1Corinthians 3:3-4) aka worldly. So they desired the things of this world rather than the truth. So, a fancy speaker came along, or one who put on a good show in the flesh, or one who maybe "promised them the world" and they then became their follower. And, as for the Galatians, they had it and lost it (Galatians 5:7). But, because they did not make truth their own (Galatians 4:19) and didn't hold it fast (Galatians 5:1), they let it get stolen from them.

Maybe what this goes to show is that signs, miracles and wonders don't necessarily, in themselves, have the ability to hold one steady. That it is the believer's part to seek truth and remain faithful to it what ever the surrounding atmosphere.



Back to Index





POSITIVE CONFESSION OR STATE OF DENIAL?



I was "raised" in the "positive confession" method in my early beginning; Kenyon being one of the main sellers on the point. Even though it was many years ago, it sticks with you and is very difficult to shake. If you're not familiar with it, in short; it claims that confession equals possession either way, whether positive or negative. Sure, it has it's merrits (as all mixed bags do), but I do not believe it is wholly sound. And, as a means of bringing forth Christ and, in particular, healing into the world, this method has not delivered as promised. And people under the influence of this method are too afraid to speak up about what is really going on in their lives, as if it would be a negative confession if they did. So they say that "everything is great" when it's not. They act like they are delivered when they're not. Talk about being in a state of denial! People are genuinely hurting now. But God forbid we speak about it. But, and if we do make our hurt known, we are looked at, not with compassion as Jesus would have, but with contempt by people of this persuasion. It's as if our mouths have been muzzled by fear. And this, in a very sly way, is protecting those who purport this "method" from being exposed. Recently I was speaking to one of those ministers and, when I mentioned the fact that many are hurting now and are in need of comfort and healing, he blew it off as a negative confession, acting as if no one was hurting in his group. Sure, 'cause they're all too afraid to say so for fear of being slammed for a negative confession. Maybe if people spoke up, not only does it have the potential of debunking this method, but it could also help those who are speaking up to not feel so isolated and maybe we could all join forces in prayer for a solution to this "Christianity" without Christ.

I was thinking of this analogy the other day. Let's say I was sold a bottle of shampoo with the promise that it would make my hair shinny but it didn't. If I then say: "This shampoo did not make my hair shinny", am I confessing a negative? Is that the reason why my hair didn't get shinny? Because I didn't positively confess (as if in mantra mode), "My hair is shinny! My hair is shinny!" until it got shinny? Sounds crazy, doesn't it? But this, in my opinion, is the essence of how this positive confession is being used by the powerless ministers. They divert the blame for the failure of their falsely advertised "product" onto the customer. They sell this positive confession "method" as a means to your healing. And, by putting the matter totally upon you and your positive confession, they are able to hide the fact that they have no power to minister healing. So, shifting the blame onto you, they continue to stay in business selling a defective "product" aka their "how to" books on healing.

Just read the biblical accounts of healing. There are plenty of them and, in NONE of them do you see the person ministering healing, when confronted with an afflicted person, sending them away telling them to positively confess "I am healed! I am healed!" in order for them to experience healing. No. They simply healed them for goodness sake!

Matthew 14:
14 And Jesus went forth, and saw a great multitude, and was moved with compassion toward them, and he healed their sick.

Here's another one. The account of the man born lame:

Acts 3:
6 Then Peter said, Silver and gold have I none; but such as I have give I thee: In the name of Jesus Christ of Nazareth rise up and walk.
7 And he took him by the right hand, and lifted him up: and immediately his feet and ankle bones received strength.
8 And he leaping up stood, and walked, and entered with them into the temple, walking, and leaping, and praising God.

Ok, just one more:

Acts 19
11 And God wrought special miracles by the hands of Paul:
12 So that from his body were brought unto the sick handkerchiefs or aprons, and the diseases departed from them, and the evil spirits went out of them.

No positive confession required. (And, in Acts 19, no minister was even required to be physically present.) Just the power of God present to heal, operating in/by ministers sent by the Holy Spirit. I believe if people put down these "How to" books and read the Bible instead, they would, at least, be better off.



Back to Index





JESUS MOVEMENT



I wanted to post this article on Wikipedia, because someone else put up an article that was sooo not real! But in their rules it said: if you don't have any "references" to site, in other words, another person's book or article on the matter, that your article will get pulled. I guess real life experience doesn't count for much. So I thought I'd put what I wanted to say here on my website.

Although the "Jesus movement" is associated with the hippie counterculture, the experience was not limited to just the "hippie" community. Grandparents, parents and children were saved during this time also, Christ dealing on a very personal level. The movement is believed to have begun on the West Coast of the United States in the mid to late '60s. But I believe it went deeper than something that spread from one area to another, or even one person to another. It was a move of the Holy Spirit. I lived in New York and no one from California ministered to me. It was a personal, miraculous confrontation with the truth and with His love that saved me. I later met other Christians who were having this same personal experience.

Unfortunately, as time went on, what is known as "the Jesus Movement" was basically swallowed up by denominational churchianity in its various forms. The naivete of the people, coupled with the unscrupulousness of some religious leaders, who saw a market in our zeal and dedication and used it for their own gain, pretty much turned it sour. Some of us came out, taking many years to recuperate from the deceptive religious spirit we were exposed to as babes, while others fell prey to their wiles, getting roped back into the worldly religious denominational (divisive) structure, the very thing the "movement", or rather, I should say: Jesus was delivering us from. But for those who escaped, we hold fast, by the grace of God, to what He has taught us and is teaching us. It may be a lonely road for us but that's just what Jesus told His disciples it would be.



Back to Index





WHICH IS IT?



I find it interesting that the same people who complain about all the evil in the world and use that as their reason why they believe that there is no God are usually the same people who are totally indignant to the thought of a God who will judge evil. Either you hate Him 'cause you think he "allows" evil or you hate Him for bringing judgment upon it. You can't have it both ways.



Back to Index





A LITTLE LEAVEN IS ALL IT TAKES



For all you bread makers, you know how tiny an amount of yeast it takes to rise a whole loaf of bread. Less than a teaspoon per 3 1/2 cups of flour. And, when all goes well, the yeast permeates the entire loaf so that there is nowhere in the dough where there isn't yeast. This makes for a beautifully risen loaf and a happy bread maker. Leaven in bread...good. Leaven in the gospel...not good!

In Matthew 16:12, leaven is referred to as the doctrine (teaching) of the Pharisees. In Luke 12:1 it's called hypocrisy. I see no discrepancy there. False teaching will always make you a poser because there is no power behind it. So you would have to make a pretense of holiness, soundness, love, forgiveness, deliverance and whatever good thing Christ made available through the new birth.

Paul also used this analogy of leaven to describe false doctrine. In this case, the believers in Galatia were bewitched by the hinderers (false teachers) who were adding works to grace.

So here's the problem. The doctrine we are hearing out there is leavened. How can you tell? For one thing, look at the fruit it's bearing, or should i say isn't bearing. Another point: we have numberous groups who all claim to be getting revelation from God and yet they differ in very basic matters. Are we to believe that God is teaching everyone something different? That, in itself, should tell us something isn't right. I've heard this expression many times from Christians referring to this dilemma. They say: "I'll just eat the chicken and throw away the bones". Sounds simple enough. But, since just a little leaven, leavens the whole lump, (Galatians 5:9) permeating the entire loaf, how can you pick "leaven" out of a "loaf"? You can't! The whole loaf must be thrown away. Scarey huh? Tell me about it! But, until we throw this corrupted loaf away, we will constantly fall prey to the undetected leaven permeated within. And, like a faulty walking stick, when you need it the most and you lean upon it, it will collapse underneath you.

How will we do this? Only the Lord can show us.



Back to Index





USE YOUR POWER WELL



There is a saying: "Power corrupts. Absolute power corrupts absolutely." Sure, being given power can bring out the worst in a person. Hey, I've seen people who were given the littlest amount of authority go on some "power" trip oppressing and hindering others. But I have also seen people use the power they have been given to better help others. It's all in how you use it. Bottom line is that the defining factor is not in the power, but in the heart of the person who's given the power. As Jesus said: "to whom much is given, much is expected". So, use your power well.



Back to Index





GIVE EXPECTING NOTHING IN RETURN



Luke 6:35 But love ye your enemies, and do good, and lend, hoping for nothing again; and your reward shall be great, and ye shall be the children of the Highest: for he is kind unto the unthankful and to the evil.

To continue to do good you must give, expecting nothing in return. The worldly minded hate God's goodness. When we let His goodness reign in us, it bears witness to His existence and they don't want to acknowledge Him. So they call that goodness something else. And then they persecute the one who is doing the good to "make it go away" by disheartening and discouraging the Lord's servant in hopes of shutting them down. So, if you are giving, expecting something in return from them, even if it's just a simple "thank you", you will be backed down eventually. Then they will win and the Lord will lose yet another witness.



Back to Index





PLEASING PEOPLE OR PLEASING GOD?



It is such a delicate balance of speaking the truth but doing it in love. They go together, a marriage of sorts. The truth spoken outside of love can be very harsh and not of God's spirit. But "love" alone (or what is commonly understood as love) when the person you are ministering to needs the truth, can be ineffective in truly helping the person.

It's just so easy for us to please people. It makes them happy and it makes us feel and look good. I think each situation we are confronted with will call us to rise to the occasion. Will we pay the cost of being a disciple and please Him or take the easy way out and please the flesh? Both have their reward. One reward brings the praise of men and the other the praise of God. One reward is temporal, the other is eternal.

Speaking the truth in love is a balance only the holy spirit can teach us. The love of Christ is not like our human love all "nice" and stuff. His love tells the truth and that can be hard to hear at times. But those who love His truth will welcome it. I am sure Peter, after Paul withstood him to the face in the incident mentioned in Galatians, was grateful for what his brother did for him getting him back on track. And in 2 Peter 3:15, Peter mentions Paul speaking well of him and what he taught and called him beloved.

In 1 Corinthians 13:2 it says:
And though I have the gift of prophecy, and understand all mysteries, and all knowledge; and though I have all faith, so that I could remove mountains, and have not charity (the love of God in Christ), I am nothing.

It doesn't make these things nothing, it makes us nothing.

The perfect balance...truth spoken in love.



Back to Index





DO UNTO OTHERS...



Love's command:

Luke 6:31
31 And as ye would that men should do to you, do ye also to them likewise.

This will take discipline for sure because the pattern usually is, you will do to others as it has been done to you. I have seen this so many times. The oppressed become the oppressor and the wrong that was done to them, they then pass on to another. It's as if they became the very thing they hated. And it is especially sad when parents pass on to their children the evil that was done to them when they were kids.

But it can go the other way too. A person who has been oppressed by evil will vow that they will never do to someone else what was done to them but rather, they treat others as they themselves want to be treated.

Why one person reacts one way to pain and one person reacts another is not clear to me yet. Maybe it has to do with believing that there is a way out of the darkness rather than just accepting evil's reign and it's negative effects. But one thing I am sure of: it is only through obedience to love's command that we will stop the vicious cycle.



Back to Index





HAVE YOU SOWN YOUR $1000 SEED YET?



The latest scam... this guy, who looks like a snake oil salesman buys time on the ION network (channel 31 in NYC) which airs his 2 hour beg-athon or should I say con-athon every weeknight and once on Sunday morning. Most likely he is buying the air time with the money he got from the previous $1000 "seed sowers". He, (as many others are doing), laces his message with truth to draw you in. Part-truth can be more deceptive than an outright lie. He misuses scripture and misrepresents God's heart and nature telling the people that God is waiting for them to release their money out of their hand so that He can release His abundance and blessings into their hand. And, of course, you will be releasing your money right into this shyster's bank account. And then, at the end of the show, he tells the people that even though they may be in credit card debt, they should use their credit card rather than a check to "get their seed in the ground quicker". "The quicker you sow the quicker the return" he says. What a crock! If God is waiting for you to release your money so He can release His blessing (as they claim) what matter is it to Him whether it's by check or credit card? Besides, a check means it's money you do have. This creep wants money you don't have on top of the debt you are already in. And, on top of that, there is a disclaimer that runs a few times during the program saying something like this. I don't remember it word for word. " Miracles are an act of God. This ministry (and it names the ministry) does not promise that every one will receive their miracle." But that's what the guy takes two hours to convince us of. That the 1000 bucks that we give to him will buy us a miracle and make us millionaires. And, on top of that: he also offers to the first "obedient ones" who pick up the phone and call right away (can you believe the audacity!), an encyclopedia on how to become financially secure. Hey wait a minute. I thought all I had to do was give him my dough in order to get rich. Now I have to read an encyclopedia too?

What the heck is wrong with us? Have we Christians become the biggest schnooks on the face of the earth? We have the spirit of Christ within us which is full of wisdom and yet we so easily fall for things that people without the spirit can see right through! What a lousy example this is setting. If I was unsaved, would I be looking at this thinking: "I want to be just like these people". Wake up brethren. Satan is making us look like fools and, worst of all, think of Who's name this is reflecting upon.



Back to Index





MORTA CRISTO-JEWS or ITALIANS?



Some years back I was with a brother who was ministering to an old Jewish woman. She was so receptive to the good news and accepted Jesus as her Messiah with open arms. She then proceeded to tell us a story. She said: "When I was a young girl, (she grew up near "Little Italy" in New York City) the Italians in my neighborhood used to taunt me and the other Jewish kids calling us: Morta Cristo" (which means: Christ Killer). She then put up her fists and continued to say: "It made me even more Jewish. If only they had spoken to me the way that you spoke to me, I might have listened". She then said in a sheepish and very sad tone: "Did we really kill Jesus". This loving brother came back with something very beautiful. He said to her: "It was your sin and mine that killed Jesus."

But as for the actual deed, who were the main players? The envious religious leaders in cooperation with the government of the day. And who was the ruling government of that day? Italy! Talk about her accusers not having a leg to stand on.

As for all you finger pointers, especially those of you who call yourselves Christians, let's not forget that the very first believers in Jesus were Jews. And the same envious religious community and government that hated Jesus, also hated His disciples. And those faithful men and women, at risk of life and limb, were the ones who first brought the good news about the resurrected Christ to the Gentiles. Be a lover not a hater.



Back to Index





EXAMPLE OF BEING BLESSED



I was reading something today that mentioned the example that Israel was to set in the world of the blessing that obedience to God would bring. The person defined the blessing as: "prosperity, happiness and everything they could ever want if they would only obey his Everlasting Covenant." Yes, I do believe that Israel under the Old Covenant, was to set this example before the other nations and, at those times when they were obedient to God's word, they did set this example to God's glory. But I have noticed that many today refer to this example as the one the believers under the New Covenant are to set. I can't find this in the New Testament writings. As a matter of fact, I read just the opposite. And, because this concept is not truth based, it is open to all sorts of corruption. But the example that I do see that disciples of Christ are to set is spiritual in nature. The believers under the Old Covenant did not have God's spirit. They were natural men and women and not spiritual. But the believers under the New Covenant, having been born of God's spirit, can now bring forth the fruit of that spirit which is what brings glory to God and to Christ. A bright light shinning in a dark world. Not how big your house is, how new your car is, or how much money you have in your bank account. Hey, even unsaved people think they are among the blessed because they have worldly wealth. That's no criteria for being blessed. But if a Christian does have worldly wealth, it's not for the purpose of showing off how much God loves you or how much you love God, or how "great" your faith is. It's another tool through which we can express love by aiding and easing the burden of others.

As far as the example we are to set, there are references to love, hope, faith, patience, letting your light shine, moderation, service with humility, blessing those who curse you, doing good and everybody's favorite: suffering for His name's sake :) I'll list a few of them below. I'm sure there are more.

Matthew 5:
44 - But I say unto you, Love your enemies, bless them that curse you, do good to them that hate you, and pray for them which despitefully use you, and persecute you

Romans 12:
20a - Therefore if thine enemy hunger, feed him; if he thirst, give him drink: ...

1 Peter 3:
15 - But sanctify the Lord God in your hearts: and be ready always to give an answer to every man that asketh you a reason of the hope that is in you with meekness and fear:

If anyone is asking you the reason of the hope you have, they must be seeing it in your example. It shines out.

John 13:
13 - Ye call me Master and Lord: and ye say well; for so I am.
14 - If I then, your Lord and Master, have washed your feet; ye also ought to wash one another's feet.
15 - For I have given you an example, that ye should do as I have done to you.

Washing feet was the lowliest of jobs back in those days. Jesus was setting an example of humility here.

Philippians 4:
5 - Let your moderation be known unto all men. The Lord is at hand.

1 Timothy 4:
12 - Let no man despise thy youth; but be thou an example of the believers, in word, in conversation, in charity, in spirit, in faith, in purity.

I don't see any houses, cars or bank accounts here :)

Matthew 5:
16 Let your light so shine before men, that they may see your good works, and glorify your Father which is in heaven.

1 Peter 2:
20b- ...but if, when ye do well, and suffer for it, ye take it patiently, this is acceptable with God. 21 For even hereunto were ye called: because Christ also suffered for us, leaving us an example, that ye should follow his steps:

James 5:
10 - Take, my brethren, the prophets, who have spoken in the name of the Lord, for an example, of suffering affliction, and of patience.

All these examples show the very nature of God at work within us bringing Him glory.



Back to Index





HEAVEN OR HELL?



I have a question for you...will you drink of the pure river of the water of life clear as crystal that proceeds out of the throne of God and the Lamb or will you be cast into the lake of fire where the smoke of your torment will ascend up for timeless ages?

Can you imagine that such a choice is in our hands to make? And even more, that some will choose the latter?

Anyhow, for all who have been misinformed concerning the requirements...I will set them out plain and simple.

Whoever believes that Jesus is the Messiah is born of God.
John 5:1

Whoever confesses with their mouth that Jesus is lord (God's appointed ruler), and believes in their heart that God raised Him from the dead, they will be saved.
Romans 10:9

So forget about religion saving you. If it could then Christ died in vain. He would have rather told the people that the detour from Hell was in Judaism or Hinduism or Buddhism or whatever "ism" there was of that day.

Christ has nothing to do with religion except to deliver us from it and it's posings and hypocrisies. So to accept Christ as your Saviour does not mean that you will be joining the religion that calls itself "Christianity." It means that you will be born of the spirit of God thereby becoming a permanent member of the body of Christ which will give you access to God and His eternal Kingdom through faith in His anointed savior Jesus Christ.

Romans 5:
1 Therefore being justified by faith, we have peace with God through our Lord Jesus Christ:
2 By whom also we have access by faith into this grace wherein we stand, and rejoice in hope of the glory of God.

Bow the knee now to Jesus Christ and you will receive the free gift of eternal life. If you don't, you will bow the knee just before you are cast into the lake of fire. (Revelation 20:15) Our default destination has always been hell. God, in His mercy toward us, gave us another choice. And such a simple choice it is. The most important one of your existence. Choose life!

Back to Index





ONLY LOVE CAN CONQUER SLANDER



Have you ever been a victim of slander. You don't know what hit you. One day you are "loved", have "friends", have a job, are a respected member of your community. Then, the next day, you are looked at like you have horns. The people in your life disappear one by one (or all at once in some cases) and you wonder how they could change their opinion about you so quickly after (in some cases) years of knowing you and sharing wonderful moments together. Well, I can answer that with some understanding. First of all, you might find it interesting to know that, in the Bible, the Greek word used for "devil" is defined as: "false accuser" and "slanderer". That explained a few things for me when I first discovered that reading in my Greek Interlinear Bible some years ago. It also helped me to forgive my accusers. Because I knew that they were taken by the devil and only one power would have been able to withstand his wiles. Love. The true godly unconditional kind of love which conquers all. It was their only chance and ours if ever we have the unpleasant experience of having to deal with slander spoken about another. It is very powerful but no match to the love of God in Christ Jesus.



Back to Index





YOU CANNOT SERVE GOD AND MAMMON





Matthew 6
24 No man can serve two masters: for either he will hate the one, and love the other; or else he will hold to the one, and despise the other. Ye cannot serve God and mammon.

Ok, so who's lying, Jesus or the "prosperity gospel" gang who preach a god who is a means to gain? Their message is a kind of "god-sanctioned" mammonism. Real slick how they pull out scriptures to substantiate their corruption of truth. (Seems to be all the rage today. People pulling out scriptures to support just about anything! Even people who don't believe will use a bible verse to spin off from.) But the New Testament shows us a very different picture of what the faithful disciple could expect. (read Matthew 10) We see it in the lives of the Apostles as well as the faithful disciples, that they were not living the "high life" worldly speaking nor were they having a party. Well, actually there is one account I can think of when they did celebrate with great rejoicing! It was right after they got beaten for proclaiming the truth. (Acts 5:41) They rejoiced for being counted worthy to suffer for His names sake. Do we think that these faithful believers, who loved not their lives unto death, all got it wrong but these charlatans and fat cats have it right? Wake up folks.

In 2 Peter 2:18 it speaks of false teachers and, one of the things they will do is to allure (entice, beguile) through the lusts (strong desires, cravings) of the flesh. Many of us crave worldly wealth for all the "comforts" and "perks" it can bring. So that's the allure of this "gospel" and what it's playing to as well as the part we play in this dance.

As a side note, has anyone ever asked these "ministers" where they get their money from? Well then maybe you should follow their example, of extorting and soliciting, convincing the givers that:

1- They are not really giving their money to you but to God.
2- They will be made rich by giving you their money.

OK, back to the point: you cannot serve God and Mammon 'cause while you're serving the one, you are hating the other. While you are holding to one, you are despising the other. (Jesus' words, not mine.) What a crafty accomplishment on the part of our enemy to have his agents lace the gospel with mammonism? What better way to frustrate than this? Don't get me wrong. I'm not an enemy of money. I just don't choose to be it's servant. But if I did, I would serve it 100%! Not justify my love of it with bible verses. So when we ask ourselves why we are coming up empty, in other words, no godly fruit as well as no mass quantities of money, the answer is simple. We are in a pursuit which is in direct disobedience to the teaching of Jesus. You want money, seek and serve it with all your heart. You want God seek and serve Him with all your heart. You can't serve both.



Back to Index





IT'S ALWAYS SOMETHING/THE OFFENSE OF THE GOSPEL





If you've been speaking God's word to people for any period of time, (and I'm not talking about the watered down "feel good gospel" so popular today), I'm sure you've noticed that it won't be long before they head for the hills. It's always something. May not show up immediately but eventually they will be offended by one thing or another. Whether it's the rapture, speaking in tongues, the cost of being a disciple, Mary was the mother of Jesus but not the mother of God, whatever. Sooner or later, if they're not in it for the long haul, they will eventually take offense. It can be very upsetting having spent all that time with someone who then ends up walking away. But there is an upside to all of this. You can look at ministering as a "one night stand" (good one Johnny). No coddling, no diplomacy, no watering down for fear of offense. Just speak the truth in love of course and let the chips fall where they may. If they are serious about truth, and are in it for the long haul, they will cleave to the truth. If not, you haven't wasted your time or theirs.

Remember the account in the gospel of John where Jesus said something that offended many of His disciples? They said "this is a hard saying, who can hear it" (John 6:60) and they ended up walking away from Him. But a small group of His disciples stayed? Those who stayed didn't understand what Jesus meant anymore than the group that walked away but they were in it for the long haul. They were committed. Those are the people you want to spend your time with. At least, that's how I feel.



Back to Index





SONS OF SCEVA





I remember reading this account one day and said: "Oh my God. That's what I've been doing."

Acts 19:13-16
13 Then certain of the vagabond Jews, exorcists, TOOK UPON THEM to call over them which had evil spirits the name of the Lord Jesus, saying, We adjure you by Jesus whom Paul preacheth.
14 And there were seven sons of one Sceva, a Jew, and chief of the priests, which did so.
15 And the evil spirit answered and said, Jesus I know, and Paul I know; but who are ye?
16 And the man in whom the evil spirit was leaped on them, and overcame them, and prevailed against them, so that they fled out of that house naked and wounded.

Now, I don't know what the motive of these guys was but the point is that they took it upon themselves to use the name of Jesus. Yeah, yeah, I know the school of thought that every child of God has the legal right to use the name of Jesus Christ. But I do not believe that every child of God has the legal right to use the name of Jesus Christ in the public ministry without authorization from above. Each has their own function to fulfill and to take it upon yourself to use His name and then, it doesn't produce successful results, I don't care how good your motive is, this will reflect upon His name. As if it's ineffective. Or that it works sometimes and doesn't work at other times. This doesn't build believing in the hearts of the people, but actually builds unbelief. Although usually these people who take it upon themselves to use the Name in ministry will blame the afflicted person who wasn't healed, telling them that they are the one who didn't have the faith. Nice! Pour salt in their wounds, why don't you.

For some reason faith has become such an illusive thing to us today. Especially when self proclaimed "healers" are ineffective in ministering healing to the people and make us feel like a bunch of schlubs who can't muster up the faith. In the biblical accounts, we see people who weren't even saved having the faith to be healed. And yet today, people with the holy spirit don't have the faith to be healed? Something's wrong. Or rather, something's missing. I think it's God-sent healers.



Back to Index





DO YOU HATE YOUR LIFE IN THIS WORLD?



John 12:
25 He that loveth his life shall lose it; and he that hateth his life in this world shall keep it unto life eternal.

Jesus' words, not mine. So why does it seem strange to other Christians you when you tell them that you hate your life in this world? Isn't that where we all should be?

Matthew 16
24 Then said Jesus unto his disciples, If any man will come after me, let him deny himself, and take up his cross, and follow me.
25 For whosoever will save his life shall lose it: and whosoever will lose his life for my sake shall find it.

Why would Jesus say these things? Because in the same way that you can't serve two masters simultaneously, neither can you simultaneously live two lives. The demands of one life will always be in conflict and at cross-purposes with the other. And especially the demands that come from earthly family members.

Matthew 10:
37 He that loveth father or mother more than me is not worthy of me: and he that loveth son or daughter more than me is not worthy of me.

And here is an even stronger statement:

Luke 14:
26 If any man come to me, and hate not his father, and mother, and wife, and children, and brethren, and sisters, yea, and his own life also, he cannot be my disciple.

Earthly family members can have a "lording" power over us. I believe this is what we are to hate. Certainly not the people mentioned but their lordship (rulership) over us. And if we hate our lives in this world, we will not be nurturing it by pleasing people for our own ends. (in other words: to be liked, to be promoted, to get on their good side in order to get what they have, etc.)

To be worthy of Him, (in other words; be in a place where He can work with us) Jesus said that we must hate our life in this world. But, then again, he did speak this to His disciples (students who seek truth at all cost). Maybe that's the difference between Christians. Some are disciples and some aren't.



Back to Index





READ MATTHEW 10



I get so tired of the "get rich quick" schemes coming from the fraud masquerading as Christianity. Sure they use all the right words to make it sound legit like tithing, Abrahamic covenant, more than abundant life etc. But isn't it funny how they tell you that, if you give them your money you will get rich? When did we get so stupid? When did we start looking to the hucksters, cheats and con artists to tell us anything? Are we so desperate to live the "good life" in this world, that we'll follow anyone who tells us what we want to hear? When did they become the examples of living the Christian life with their worldly success, wearing their Armani suits, driving Mercedes-Benz cars, building Multi-million dollar Cathedrals? Read Matthew 10 for a very different view of discipleship.



Back to Index





DISAPPOINTED IN THE GOD OF OUR OWN MAKING



Sometimes it's the god of our own making and sometimes it's a god that was handed down to us by those we trusted in to show us the way but, whichever of the two it is, it was never the true God that ever disappointed us.



Back to Index





ROMANTICIZING OUR RELATIONSHIP WITH JESUS



I've been running across images lately. Very beautiful pictures depicting Jesus hugging women. They are very well done and communicate a lovely sentiment of Him being there, so close to us, especially in times of sorrow and grief. But something about this concept strikes me as misleading. No getting away from the fact that the day of Pentecost changed everything. Since that day, for believers, it has been Christ in us, by way of the indwelling holy spirit. So to hold to the image of Him as a man on the outside, who will hold us and help us will, I believe, have a stunting effect on us. On the more obvious side, it can lead to idolatry. But on the more subtle side, we find ourselves seeking the help of someone we believe is living outside of us, rather than seeking His help from the inside of us which is where He came to abide when we received the indwelling holy spirit which was first poured out on the day of Pentecost (Acts 2).

Paul wrote by the spirit:

2 Corinthians 5:16
Wherefore henceforth know we no man after the flesh: yea, though we have known Christ after the flesh, yet now henceforth know we him no more.

Paul was telling them that, though they previously had known (perceived, understood, experienced and discovered) Jesus after (according to) the flesh, that now, He can no longer be known that way. While Jesus was here on earth, He taught His disciples that He was leaving and that they were to now look to and be taught by the Comforter (holy spirit) (John 16:13 and 1 John 2:27) that He was sending to take His place. He was preparing them (and us) for the new relationship with the Father that He was making available for us who believe. I am sure this was especially difficult for the disciples who did know Jesus according to the flesh to make this transition but they eventually did for the love of Christ.

There is a verse in John 20:17 which, when interpreted (or should I say "twisted") by the "old time religion gang" says that, when Mary first saw and recognized Jesus after His resurrection, He told her not to touch Him because she was a sinner. Geez. Sounds more like how the Pharisees treated the people than how Jesus did.

Anyhow, here's the verse:

John 20:17 Jesus saith unto her, Touch me not; for I am not yet ascended to my Father: but go to my brethren, and say unto them, I ascend unto my Father, and your Father; and to my God, and your God.

Thayer's Lexicon and Strong's Concordance each define this word "touch" and it's derivative as: "to fasten one's self to, adhere to, to cling to." I believe that Jesus was encouraging Mary not to cling to Him in His bodily state. Boy, if I were Mary, and saw Jesus again after thinking that I had lost Him forever, I'd want to hold on to Him too and never let Him go. But it was the beginning of a new era as He had instructed them many times. So, if the believers wanted to move forward and receive the increase, to continue to grow in knowledge and understanding of Christ, they had to get with the new program. The promised holy spirit, the Comforter, as He called it, would be sent to live inside us to take His place and to help us from within by our exercised faith. It's by the spirit now and Christ is the Head of that spirit.



Back to Index





IT AIN'T WHAT THEY SAY BUT WHAT THEY DO



Why are we so slow to use this scrutiny? It's simple enough isn't it? Even a child can use this criteria and often does when confronted with the hypocrisy of a parent. And yet, as an adult, I can't tell you how many times I've had to be reminded of this simple truth when confronted with those who would use cunningly crafted words to deceive. It must be something inherent in deceit. It artfully gains your confidence while putting you off your guard. Probably with a pinch of intimidation added to get you to fear questioning them. Well, whatever it is, it's obvious that we need to be vigilant about examining the words of others with this simple test. Do their deeds correspond with their words? Are they doing what they say? And, while we're at it, let's also examine ourselves using this same measure. Do our deeds correspond with our words? Are we doing what we say?



Back to Index





A GREAT PLACE TO HIDE THE TRUTH



There is something recorded in 1 Corinthians 1:20-29 that appears to be an enigma. That God chooses the foolish, the weak and the despised of this world.

1 Corinthians 1:20-29
26 For ye see your calling, brethren, how that not many wise men after the flesh, not many mighty, not many noble, are called:
27 But God hath chosen the foolish things of the world to confound the wise; and God hath chosen the weak things of the world to confound the things which are mighty;
28 And base things of the world, and things which are despised, hath God chosen, yea, and things which are not, to bring to nought things that are:
29 That no flesh should glory in his presence.

I am sure that God has a strategy in all this. Of course it mentions that it is to the end that no flesh would glory in His presence and also that we would know that all that we have is of Him (vrs. 30) and not of our own genius or power. That part I get. But, if God is choosing those whom men despise, those from whom they expect nothing, to whom will His ministers be able to minister? I mean, honestly, who's gonna go to someone they despise expecting to receive anything from them? This was Paul's dilemma with the carnal Christians at Corinth. They were just like the carnal Christians of today who look to men of wealth, stature and reputation to teach them and to "show them the way". The way to what? Certainly not the way to the Lord but the way to get what these "ministers" appear to have...wealth, stature and reputation.

So I have to ask myself: Is God, by choosing those whom men despise, actually hiding His truth? Jesus, who always ministered in total accordance and harmony with God's will, spoke to the people in parables (a story that a person would have to seriously look into in order to get the truth out of it). And, when asked by His disciples why He spoke to the people in parables, he replied that it was not given to them (those who were not His disciples) to know the secrets of the kingdom of Heaven. It was only given to His disciples to know, in other words, His serious students. (Matthew 13:11).

Sure is a far cry from the "ministering" over-kill many of us operate in today, as we "bend over backwards" elaborating and instructing just about anything that moves! Heh. Maybe we should be thinking more about being faithful stewards of the mysteries of God (1 Corinthians 4:1) and, like Paul instructed Timothy, commit the truth to faithful men who will be able to teach others also (2 Timothy 2:2).

Like I said, God sure found a great place to hide His truth. Those who judge by outward appearance will walk right by those whom God chooses...the foolish, the weak and the despised of this world, thinking there is nothing to be gained from them. It's a perfect "weeding out" process. Gotta hand it to Him. It's brilliant!



Back to Index





TO KNOW HIM



It's good to be learned in the scriptures. There are a lot of folks saying stuff is in the Bible that isn't so knowing what's in there helps. And also, it's good to know the scriptures 'cause you can learn what to "shoot for" in your walk with Him. But I see biblical knowledge as the beginning. Christ is to be experienced, I truly believe. Even Paul, who was very learned in the Old testament and, as far as the New testament goes, he literally "wrote the book" (or should I say "half the book" 14 out of 27 letters.) But all the revelation that he received by the spirit as recorded in his epistles was not enough for him. Neither was all the power he manifested in the form of miracles and healings. His heart cry was still: "to know Him (Christ) and the power of His resurrection." (Philippians 3)



Back to Index





THE PING-PONG OF EXTREMES



There is a very slick game being played by the enemy at our expense. I call it: the ping-pong of the extremes. Religion serves up it's morally restrictive, legalistic hand which, after a period of time in this hypocritical "straight jacket" environment, drives the person right into the arms of depravity (although they are deceived into thinking it's freedom). And, after a while in the decadent environment into which their pursuit of "freedom" brings them, it causes conscience pangs as they fear what they have become and even more so, what will become of them, which, in turn, gets them to run back into the arms of religion for "safety and security".

I remember an experience I had some years ago. I spent some time in the home of a person who was very religious. Their critical judgments of every word you spoke and every move you made, while suppressing any other expression but their own, had me quite agitated. I felt like I was caged and wanted to break free. But, if we look at the objective of the enemy of righteousness, this is a very slick strategy. In one case, the person is the victim of the unreasonable, man-made requirements of religion, and, in the other case, they are a victim of their own fleshy desires. And, bouncing back and forth between the two, they remain in his grasp.

It's a walk by the spirit not by the law. And if we walk by the spirit, we will not fulfill the lusts of the flesh. (Galatians 5:16) And, if you are led by the spirit, you are not under the law. (Galatians 5:18)



Back to Index





"JESUS FREAKS"



Contrary to the media depiction of us, those of us who grew up in the 60's were not all a bunch of anarchistic, hedonistic, revolutionaries. There were some of us who simply felt that the answers we were given were not adequate. We sensed that there was something more to life than what was handed down to us, so we began to seek out what was missing. Sure, some of us got into trouble in the process but that's not unusual with any person on a quest; not knowing where they are headed nor where the answers lie. And, for some of us, we very happily met Jesus in the way. Yes, lets not forget that the 60's were also the time when the Jesus movement began. Sadly, denominations swallowed most of it up, but for those of us who still hold true to what we were given to understand about the personal relationship with God and with Jesus Christ, we continue on the path laid out before us. Yup, some of us "Jesus Freaks" are still around. Heh.



Back to Index





X-IANITY



I saw this word: "X-ianity" and thought it is a great way to describe the religion masquerading as Christianity. It is the greatest fraud perpetrated on mankind. It is dead and yet it bears the name of Him Who is alive. Because of it, the name of God and of Christ is blasphemed among the nations. It makes God and Christ look bad...the very ones they claim to represent. Godliness has power...a power they deny. Religion provides a pretense of salvation, a cover for sin with no power to deliver. So, since sin is never dealt with, this will usually lead the follower into hypocrisy turning them into posers rather than examples of God's deliverance. I've heard it said that the Bible is our script. But is Christianity a part we are playing like actors reading from a script? Are we trying to mimic the walk by the spirit? Are we trying, with our flesh, to do what can only be done by the spirit?

Galatians 3:3
Are ye so foolish? having begun in the Spirit, are ye now made perfect by the flesh?

We are not to act out but to work out our own salvation from the inside out by faith.

Philippians 2:12 &13
12 Wherefore, my beloved, as ye have always obeyed, not as in my presence only, but now much more in my absence, work out your own salvation with fear and trembling.
13 For it is God which worketh in you both to will and to do of his good pleasure.

In other words, let Him live His life in us for, only from Him does true righteousness emanate. Godliness and it's accompanying power glorifies God and the finished work of Christ through the deliverance it brings, not a part that is acted out.



Back to Index





PART-TIME SINNERS



Have you ever run into a Christian who didn't think they were that bad of a sinner before they accepted Christ, you know, in opposed to all those real sinners out there? It's sad for them because they miss the grace of Christ. People don't realize that it was not sins alone that were paid for but the sin nature we all possessed that was put to death. A nature that, under the "right" circumstances, was capable of anything. That was one of the biggest revelations I had at my conversion. That there were no good people/bad people but that we were all in the same "sin-nature" boat. That, we all needed salvation through Jesus Christ. None could count on their own "goodness" to meet God's righteous requirement of holiness and therefore have access to His presence.

But without this understanding, people think that God only saves people who aren't that bad; I guess in the erroneous spirit of "God helps those who help themselves." So they can not imagine that God would forgive someone they believe to be guilty of "real" sins. They don't think that person has a right to peace of mind. So, rather than communicating to one of these "real sinners" that same grace that they received, they look at them with disdain and keep their distance as if they are above it all. Just like the unbelieving scribes and pharisees. False representatives of God's way whose hypocrisy was exposed.



Back to Index





GIVING TO GET OR GIVING TO BLESS?



What an upside down message is coming from those who say they are the ministers of Christ. It's corrupting the whole concept of giving and receiving. In the early days of the Church, according to the will of God, people gave out of their abundance to ease the pressure of their brethren who lacked. Now they get people who lack to give in order to get abundance, turning it into some "get rich quick" scheme rather than the loving exchange between one devoted family member and another.

I was reading the verses in 2 Corinthians and it really got me to thinking.

2 Corinthians 8:12-15:
12 For if there be first a willing mind, it is accepted according to that a man hath, and not according to that he hath not.
13 For I mean not that other men be eased, and ye burdened:
14 But by an equality, that now at this time your abundance may be a supply for their want, that their abundance also may be a supply for your want: that there may be equality:
15 As it is written, He that had gathered much had nothing over; and he that had gathered little had no lack.

These are the pure simple instructions of giving in the New Testament. It became a love thing because we have the spirit of Christ living inside of us. We are a family and in His love we desire to relieve the pressure of our brethren in need. But not to the extent that you are burdened in your giving. Give according to what you have. According as you purpose in your heart to your brothers and sisters who have need so that there will be an equality amongst the brethren.

In 2 Corinthians 8:4 giving was called: "the fellowship of the ministering to the saints". 2 Cor 9:1 also makes reference to contributions as: "the ministering to the saints."

Which brings up another point...who is getting all this money today? Are the needy brethren being ministered to by all these donations?

When the Church was run according to God's way, money was laid at the Apostle's feet, and they made distribution to the believers according as they had need. (Acts 4:34 &35) But today, we see lots of money being laid at the preacher's feet but where do we see distribution being made to the needy brethren? Something's wrong.

Many years ago when I used to tithe monthly, I got word from someone about a believer that I knew who couldn't pay her rent that month. She was a single mother of two who was really struggling. I was saddened and I prayed for her. But here is what happened. That month, while writing out the check to the group I was with at the time, I thought: "Geez, here I am giving money to an organization while my sister in Christ can't pay her rent this month. I'm gonna write the check out to her instead." So simple and yet it was revolutionary! Like I woke up from a stupor. Why was I pumping so much money into this group, when I could be helping my brother or sister who was by me and was in need of the basics, just like the scripture says? Yes I know that Paul and the other Apostles were helped on their way by donations from the brethren, but they were very low maintenance ministers. Not like today when those who call themselves the Lord's servants are using the believer's money to build personal "empires". They use it to pay for expensive media time where they peddle their miracle prayer clothes, their miracle spring water (geez, what are we idiots?!) or spend the paid TV time presenting new ways of extorting your money with their 6 step plan to prosperity (or is it 7?), or, how about the latest: "donate $1,000 to them and become a millionaire!", twisting the bible to make it all look legit. They use your money to fund their exorbitant lifestyles as they live high on the hog while those who donated the money are struggling to pay their bills. One character actually bought a Lear jet for 3 million bucks from another "ministry" and is now asking the believers to foot the bill. Lets stop these little piggies from glomming up the Lord's money and, when you do see your brother or sister in need, give according as you purpose in your heart.



Back to Index





DON'T CONFUSE GRACE WITH LICENCE (at least, not around me!)



Ever hear the spiel of the Christians who don't believe that the sacrifice of Christ was enough to secure salvation for them and that they must work to keep themselves saved? They treat those of us who hold to salvation solely by the grace of Christ as a bunch of licentious sinners. As if we have a very casual attitude towards sin. That we think we have a license to do whatever pleases us because we are assured a place in Heaven. They confuse grace with license. That accusation reflects on our character and is slander plain and simple. The gospel of the grace of God met up with the same opposition in Paul's day and they said almost the same things about him as they say about us today.

Paul, in dealing with this accusation wrote:

Romans 3:
8 And not rather, (as we be slanderously reported, and as some affirm that we say,) Let us do evil, that good may come? ...

Romans 6:
1 What shall we say then? Shall we continue in sin, that grace may abound?
2 God forbid. How shall we, that are dead to sin, live any longer therein?

Our salvation is not something to take lightly or treat carelessly. There is no option for us to live our life as we please. (Besides, isn't that what we were all doing before we got saved and where did that get us?) Our service is a love thing. One that stems from appreciation as well as respect for what He did for us. If we believe that the grace of God leads us to sin, it is an insult to Christ and to the price He paid to obtain this grace for us. As if the salvation He secured for us by grace only has the power to lead us to do what ever we please rather than to lead us to do what pleases Him.



Back to Index





CAN WE SAVE THE WORLD?



If anyone could have saved this world and made it a better place, it would have been Jesus. Don't get me wrong. I'm all for shining your light and being a blessing to all, but to think it will result in saving this world and making it a better place, is like trying to fulfill a pipe dream. Like I said; if anyone could have saved this world, it would have been Jesus. But what did He do? He let the world do it's thing (which, of course, was part of God's plan of redemption). He let someone whom He loved betray Him and deliver Him up to those who hated Him. He let His closest friends forsake Him in His desperate hour of need. He let the envy of the ruling religious body have it's way in falsely accusing Him and seeking His death. He let the corrupt, self-serving political system issue forth a fatal unjust judgment upon Him. And He let Himself fall into the hands of those who hated Him letting all their fury be taken out on Him. This world killed the Prince of Life and desired a murderer to be released unto them. (Acts 3:14 & 15) That's this world in a nutshell.

John, an Apostle of Jesus Christ called a spade a spade when he said the whole world lies in wickedness or, as the NIV puts it, the whole world is under the control of the evil one. (1 John 5:19 ) And if that was God's assessment on the world in the "good old days", multiply that wickedness by 20 more centuries and you have today. And what are people doing? Saving everything but themselves. We try to save the trees by using plastic bags at the market while, at this moment, an unstoppable industry is mowing down entire forests. We try to save the whales and dolphins while they are pouring mass quantities of industrial sludge and pollutants into our waters. What real progress do we expect to make in saving a world that is under the control of the evil one? My heart breaks at what is going on under the sun. This beautiful earth and the creatures are being destroyed right under our noses. I desire change at least as much as any avid ecologist. But the real change will occur when Jesus comes back to rule and reign. He will destroy those who destroy the earth. (Revelation 11:18) He will restore this corrupted planet. Until then, evil men will get worse and worse. And their destructions will increase. If we want to see anything saved, let it be our own selves and our loved ones from this wicked and perverted world.



Back to Index





GOD'S NO SLACKER



I had this question for a long time. Why it was so long before God responded to the cries of his people Israel while they were in bondage in Egypt? For some reason, it is assumed that they cried to God for all those years and he turned a deaf ear to them.

I did get my answer some years ago in Exekiel 20:4 and following, where it speaks of God asking the children of Israel, while they were still in Egypt to give up the Egyptian idols they were worshiping but they refused to obey and this is what brought judgment upon them. And proof of their worship of these idols being that, after the Exodus, when Moses went up to the mountain to get God's law, as soon as they doubted whether he would return to them or not, what did they do? They built the golden calf, an Egyptian idol and had the nerve to give it credit for bringing them out of Egypt.(Exodus 32:4)

Geez, that was quick. They reverted right back to where they were all those years before. Worshiping the idols of Egypt.

But last year, I saw something in Exodus 2:23. Something I had missed for years. It's almost scary how I didn't see this before. It just goes to show how traditions and notions drummed into us over the years can blind our eyes and minds.

The first mention of the children of Israel crying to God was after the king of Egypt died.

Exodus 2:

23 And it came to pass in process of time, that the king of Egypt died: and the children of Israel sighed by reason of the bondage, and they cried, and their cry came up unto God by reason of the bondage.

24 And God heard their groaning, and God remembered his covenant with Abraham, with Isaac, and with Jacob.

25 And God looked upon the children of Israel, and God had respect unto them.

Could it be that up until this time, if they were crying, they were crying to the idols of Egypt that they had become so accustomed to worshiping? And that now that they were crying to God, He heard them and showed respect to their prayers?

Another point: this king that had just died was the Pharaoh that sought to kill Moses, which is why he fled Egypt 40 years earlier. And isn't it interesting that when God sent Moses back to Egypt, He told him that the men who sought his life were now dead (which included this king who had just died). (Exodus 4:19) Wow. How quick was that for God to respond to the cries of His people? The king dies, they cry to God and He sends Moses to deliver them. And yet, God has been taking the rap for being slow to respond. The slanderer busted once again.



Back to Index





SHOW MERCY



Psalms 22:24 For he hath not despised nor abhorred the affliction of the afflicted; neither hath he hid his face from him; but when he cried unto him, he heard.

I read this verse the other day and it stood out to me. This is God's attitude toward the pain of the afflicted. It's just the opposite of what people do. Or should I say; what shallow people do. They do despise, abhor (detest) and turn their faces away from affliction. And sadly, most of the people that I have known do this have been other Christians. Maybe we should follow our Heavenly Father's example rather than our self-righteous attitude which make us feel justified in judging an afflicted person in this manner: "They are afflicted because they deserve it!" as if they are greater sinners than you. You may say: "Huh? I don't say that. I say they are afflicted because they are not believing God's word." Ok. But let me ask you this: does this assessment result in you now despising, detesting and turning your face away from them because, in your judgment, they are not believing God's word? People shallow of life's experiences and lessons (in other words; untried people) can think, because they have not experienced tragedy of some sort, that they haven't because of their own goodness or because of their strong faith.

Jesus, pointed out, while standing before the self-righteous:

Luke 13:
1 There were present at that season some that told him of the Galilaeans, whose blood Pilate had mingled with their sacrifices.
2 And Jesus answering said unto them, Suppose ye that these Galilaeans were sinners above all the Galilaeans, because they suffered such things?
3 I tell you, Nay: but, except ye repent, ye shall all likewise perish.
4 Or those eighteen, upon whom the tower in Siloam fell, and slew them, think ye that they were sinners above all men that dwelt in Jerusalem?
5 I tell you, Nay: but, except ye repent, ye shall all likewise perish.

Now if Jesus, who always spoke God's heart, said that these people mentioned above didn't have this experience because they were the biggest sinners in town, where do we come off making these judgments? And if God, who knows the hearts, doesn't despise, detest or turn away from the pain of the afflicted, where do we come off acting so heartlessly? Could it be fear that makes us behave this way?



Back to Index





ARE YOU CALLING OUT YOUR "PROPHETS"?



If they speak in the name of the Lord and it does not come to pass, are you holding them accountable for what they are telling you? Don't accept vague fulfillments. It won't do you or them any good if you do.

If one prophesies falsely, that does not automatically make him/her a false prophet. We are all learning and we all make mistakes, including prophets. But if one who has spoken presumptuously in the name of the Lord fails to or refuses to admit it, what does that make them?



Back to Index





LOVE NOT RESTRICTION



Once I was observing the rebellion of my lower nature. It's great when I do that in union with Christ because I can be objective about it. I know we all have the same "old man" to put off, which always wars against the leading of the holy spirit so I don't take it personally, like it's only me. I kind of look at it from the outside like an observer saying to the Lord: "Yeah, I can see why you had to put that old nature to death". Of course when I look at my lower nature when I am not in union with Christ, I will most likely end up condemning myself. But I am getting off subject here.

When we view the Lord's instructions as law, our lower nature, which is rebellious to the things of God, will rise up in hostility and enmity towards them seeing them as restrictive.

Romans 8:7 Because the carnal mind is enmity against God: for it is not subject to the law of God, neither indeed can be.

So I was given this analogy. Someone tells you to cross the street at the green and not at the red. If you look at this like something you "have" to do rather than sound instructions coming from love, or, at the very least, good sense, you can feel resentful. So, rejecting it like something imposed upon you to restrict you, you say or rather your lower nature says: "Hey, I'm free to do as I will. I'll do things my way. I'm crossing at the red." Screech, boom!

The whole point of His instructions is to prevent such things from happening; be they small or big matters. And it's not in the old religious guilt way of thinking that if you don't carry them out, God will punish you for not listening to Him. It's like this: God, knowing all things, saw the danger or trouble up ahead and gave you instructions to divert it. If you reject those instructions, you're most likely gonna walk right into it.



Back to Index





THE DRAMA CLUB



We all have problems. That's just the way the world works. It's a troublesome place, especially for those who seek truth. And, for some of us, it can feel like we see more than our share of trouble. But, my question is, are we gonna let our own personal "drama" stifle our ministry to others? I know how sometimes it can feel like we are drowning but we also should be aware that others are going through things and, being a body, we should want to be there for them too. It's just a decision made in the heart, a prayer of sorts before the Lord, to be ready, under any circumstances, to be called upon by Him to minister relief to another hurting soul.



Back to Index





EVERYTHING IS SUBJECT TO RAPTURE CANCELLATION



My best friend has a great outlook. His posture as he awaits the appearing of the Lord Jesus to take the believers out of this present evil world. (1 Thessalonians 4:16-18) is this: everything is subject to "rapture" cancellation.

He puts it like this: "Just picture your best case scenario. Say you met the man or woman of your dreams and it's your wedding day. Or you are an expectant parent awaiting the birth of a beautiful baby boy or girl at any moment. Or you just found out you are in possession of a winning mega millions lotto ticket and it happened to be the grand prize jackpot!

Well, if, under those circumstances, you can still cry from the heart: "Come Lord Jesus!" you're priorities are in the right place, in other words, Hope up front."

In my years with the expectation of His appearing, I have observed that it is something that can easily get buried by the pleasures and/or pressures of this life. Have to be determined to keep it on the front burner or it will drift for sure.

Sometimes I remind myself of how Jesus might be feeling about getting us all up there to safety and it warms my heart.



Back to Index





HEAVEN'S WARM WELCOME



Have you ever judged your own performance as a Christian and then found yourself shrinking back at the thought of the Rapture feeling like a face of disdain was gonna greet you when you get there saying: "I'm so disappointed in you" or something like that?

Recently I have been thinking about how the Lord might be feeling about getting all those for whom He shed His precious blood to safety, never again to be hurt or troubled by this evil world again. He'll be so happy to see us out of harms way and will greet us with such love I am sure! But we will also stand before Him to be judged for services rendered. He will hand out rewards to those He judges worthy.

As I thought about this the other day, a beautiful distinction was made to me. Heaven's welcome will be warm to us all being based upon His unconditional love for us. But Heaven's rewards will be based upon our love for Him. We don't have to serve Him for Him to love us but we have to love Him in order to serve Him and that will be what will be rewarded in that day.



Back to Index





"STEP RIGHT THIS WAY"



"So you say God ain't talkin' to ya. Ya ain't had no revelation lately and you just don't know what your calling or purpose is? Well step right up. We have all you need right here. We'll sell ya books and tapes and courses that will teach you exactly what God wants for your life."

"You say you want to heal people but you just don't know how? Just your luck, we sell that here too! Just buy our books or take our seminars and you'll be out there healing in no time!"

"So you wanna be an Evangelist, an Apostle, a Pastor, a Teacher? Step right this way. What do we care if you have those ministries or not. We got colleges to enroll you in and we'll ordain you, and you'll be out there ministering whatever your little heart desires."

"You say you want prosperity and deliverance. Well that'll cost ya. 10% of all you earn and it's yours."

Is anybody else seeing this??? The utter offense of the merchandising of "Christianity"? Do we honestly think that God would put a price tag on His truth, His ministries, His blessings? Do you really believe you will obtain the knowledge of the mysteries of the kingdom of God with money? And what about those who cannot afford the cost of their material? Are they left out in the cold?

These salesmen are like spiritual black marketeers selling you the things that you are not getting legitimately (in other words, by the spirit).

I site two examples below. The first is a man who wanted to buy a ministry. Read the apostle Peter's response to this evil.

Acts 8:18-20
18 And when Simon saw that through laying on of the apostles' hands the Holy Ghost was given, he offered them (the apostles) money,
19 Saying, Give me also this power, that on whomsoever I lay hands, he may receive the Holy Ghost.
20 But Peter said unto him, Thy money perish with thee, because thou hast thought that the gift of God may be purchased with money.
21 Thou hast neither part nor lot in this matter: for thy heart is not right in the sight of God.
22 Repent therefore of this thy wickedness, and pray God, if perhaps the thought of thine heart may be forgiven thee.
23 For I perceive that thou art in the gall of bitterness, and in the bond of iniquity.

The second is the account of King Saul who had been stiffing God for quite some time and now God was stiffing him. So, rather than asking himself why God wasn't talking to him, repenting and seeking God's forgiveness and mercy, he instead sought council elsewhere...from a woman who was getting her information from an evil spirit.

1 Samuel 28:6&7
6 And when Saul enquired of the LORD, the LORD answered him not, neither by dreams, nor by Urim, nor by prophets.
7 Then said Saul unto his servants, Seek me a woman that hath a familiar spirit, that I may go to her, and enquire of her. And his servants said to him, Behold, there is a woman that hath a familiar spirit at Endor.

Will it come to this for us too? When we are not receiving what we want from the spirit of the Lord, will we try to climb up some other way to get it?

John 10:1&9
1 Verily, verily, I say unto you, He that entereth not by the door (Christ) into the sheepfold, but climbeth up some other way, the same is a thief and a robber.
9 I am the door: by me if any man enter in, he shall be saved, and shall go in and out, and find pasture.

And we are no less party to this thievery just because we paid money for it.

God help us if we think that this marketplace they call "Christianity" has anything other than God's judgment hanging over it's head.



Back to Index





THE PENDULUM SYNDROME



When error gets uncovered, we must be cautions not to become too rambunctious finding ourselves victim to the pendulum syndrome whereby a person takes things to the opposite extreme, yet still missing the mark. For example, I have seen those whose eyes have been opened to God's grace through Christ who formerly had been enslaved under the law through false teaching, go so far over in the opposite direction that they now have a very casual attitude towards sin. The pendulum swinging so far over that it lands outside of truth but in the opposite direction. Then, when this error is recognized, they, in a seemingly "righteous indignation", start to implement laws, rules and regulations to combat this licentiousness. And again, we have the pendulum swinging so far over in the opposite direction that it once again lands outside of truth.

Or lets say you are under the thumb of organized religion, believing it is the pathway to God. Then your eyes are opened and you see it for the fraud that it really is. Feeling duped, the tendency can be to swing so far over that you give up on God and faith altogether thinking now that everything is a fraud and you, once again, land outside of truth.

You can see the pendulum syndrome in effect in the overthrow of worldly governments. A society that is degrading in decadence is a prime candidate to be overthrown by a repressive religious regime which, in turn, may be overthrown by libertarians who in turn may be overthrown by fascists. All opposite extremes with no truth and no remedy.



Back to Index





KEEPERS OF THE FIRE EXTINGUISHERS



I saw a PBS special where they walked you through the various lands mentioned in the Bible. There were many beautiful sights. But something in the show was just too good to pass up. Sometimes material just drops into your lap.

They brought you to a monastery where it is believed that they are in custody of the famed burning bush. You know the one mentioned in the account in the book of Exodus where Moses was called to service by God who called out to Him from a bush that burned with fire but was not consumed?

Anyhow, what I found so very interesting was that right next to the bush the monks keep a fire extinguisher. This just struck my funny bone. It epitomized the job of religion in a nutshell. They love their sacred relics and their traditions but, if God should actually show up, they will be ready with their extinguisher to try to put out the flame.



Back to Index





THE BIBLE TESTIFIES



The idea that the Bible is the only revelation we are to walk by is not Biblical. Isn't it the Bible that shows us how God deals with His people generation after generation in a personal and direct way, revealing specifics to them as needed and making Himself known to them intimately? One would have to honestly say after reading these accounts: "If God did that with them, won't He do that with me too?" I believe that this is the encouragement the scriptures were meant to provide. To motivate us to seek this intimacy and the knowledge that would result. We will absolutely fall short of this experience if we think the knowledge of God is to be gained by book study alone.

Paul's Prayer for the Colossians

Colossians 1:9 &10
9 For this cause we also, since the day we heard it, do not cease to pray for you, and to desire that ye might be filled with the knowledge of his will in all wisdom and spiritual understanding;
10 That ye might walk worthy of the Lord unto all pleasing, being fruitful in every good work, and increasing in the knowledge of God....

Paul's Prayer for the Ephesians

Ephesians 1::16-18 ff
16 Cease not to give thanks for you, making mention of you in my prayers;
17 That the God of our Lord Jesus Christ, the Father of glory, may give unto you the spirit of wisdom and revelation in the knowledge of him:
18 The eyes of your understanding being enlightened; that ye may know what is the hope of his calling, and what the riches of the glory of his inheritance in the saints,

Paul, writing to the Colossians and the Ephesians, prayed that God would give them spiritual wisdom and revelation so that they would gain the knowledge of God. If, as they claim in religious circles, all the revelation is in the 7 church Epistles (which Paul penned), why would he be praying for revelation for them to know God better? Wouldn't he just direct them to his letters for that knowledge like they are doing today when they present the Bible as being all we need to know God? Paul knew his place. He understood that he was simply the minister of God to the people who planted or watered God's Word, but that it was God who gave the increase. (1 Corinthians 3:6 & 7) Only God can reveal truth to a seeking person's heart and "put it all together" for them, in other words, give them the right understanding.

When Jesus spoke to the people in parables, he was showing us something. That he actually hid truth from some.

Matthew 13:10 & 11
10 And the disciples came, and said unto him, Why speakest thou unto them in parables?
11 He answered and said unto them, Because it is given unto you to know the mysteries of the kingdom of heaven, but to them it is not given.

Shocker huh? It's hard to conceive of, when we are so willing to spill out all we know to whomever we meet, that Jesus actually hid truth in the obscurity of the parable. Even Paul wrote about being a faithful steward of the mysteries of God with which he was entrusted. (1 Corinthians 4:1 & 2)

I believe that the knowledge of God can only be known and understood to the seeking heart. And not all will seek this knowledge. So how could the knowledge of God be accessible to all through the study of a book?



Back to Index





LEAD OR PUSHED?



Anxiety is a spirit of the times. Probably more so than ever do we have to resist this pushy spirit. To think this spirit is not operating in the Church today is to be very naive. Many years ago, when I moved around in religious circles, anxiety was at the helm. They make no qualms about forcing you into situations you are not prepared for. No sweat off of their backs. And if you succeed in your endeavor, they get the glory but if you fail, it's because of your lack of faith.

Christ leads with council, not vagary. When we, in anxious desperation, try to manufacture an opportunity to try to "force God's hand", we will end up in a worse situation than we began with. This kind of behavior has gotten many Christians into trouble and even worse, has caused many to fall away out of frustration. Personally I think frustration is one of the worst forms of stress. And to have a strong wind behind you, yet no godly council, can cause great frustration and can provoke you to foolishness.

We've got to "raise the bar" and expect specifics from the Lord and those who claim to speak for Him. Otherwise we have no more than the psychics and palm readers offer. Let's expect more from Christ's Headship than this.



Back to Index





TRANSFORMATION NOT REHABILITATION



Romans 12:2
2 And be not conformed to this world: but be ye transformed by the renewing of your mind, that ye may prove what is that good, and acceptable, and perfect, will of God.

When I hear testimonies of Christians boasting that since they have been saved, they don't smoke, drink, gamble or cuss anymore it just irks me. I mean if they completed a program that helped them stop doing these things, I'd have to say the program did it's job. But to bring the Lord's name into it bugs me. Like Christianity is some rehab that gets us to clean up our act. If we could clean up our act, then Christ died in vain. The whole reason for the offering of His very life was to take our place in judgment because we couldn't clean up our act. As the prophet Isaiah wrote: all our "righteous" acts are like filth stained rags. (Isaiah 64:6) Do we really think that the redemption that Jesus purchased at so great a cost was for the purpose of getting us to stop smoking, drinking, gambling and cussing??? Wouldn't have been worth the effort would it? After all, isn't that what Alcoholics Anonymous, Gamblers Anonymous and Nicorette are there for? Not the precious blood of Jesus being shed for such a tiny salvation as this?



Back to Index





WORK OUT YOUR OWN SALVATION



Christianity is a matter of faith and, by that faith, must be worked out, not worked in. When we legislate Christian behavior using what is written in the New Testament Epistles as law, we rebuild what Christ destroyed...the unsuccessful combination of the law over the flesh. The law made nothing perfect (Hebrews 7:19) because it was weakened by the flesh (Romans 8:3). What results from this will be religion...a cover of the evil lower nature, not an overcoming of it. True Christianity is manifested from the new man, the indwelling holy spirit. This is done by faith, a faith which also reckons the old man (the flesh) dead.

I do believe that the two verses below describe the difference between the two methods of doing righteousness. In Romans 7, Paul describes the frustration of trying to do God's will with the flesh under the law. By this method, he desires or wills to do God's will but can't find the way to do it.

Romans 7:18
18 For I know that in me (that is, in my flesh,) dwelleth no good thing: for to will is present with me; but how to perform that which is good I find not.

In Philippians, he presents the new way. To work it out or energize it from the new man by faith. And the result will be the doing of God's will.

Philippians 2:12
12b ...work out your own salvation with fear and trembling.
13 For it is God which worketh in you both to will and to do of his good pleasure.

The epistles give much insight into the new man and all of it's attributes. To try to do these things with our lower nature under the law will prove impossible and absolutely frustrating. These qualities are manifested by first believing that they are in us, that is in our new man (the indwelling holy spirit) and then energizing or "working them out" by faith. Of course a faith that is motivated by love, for truly God will be glorified by the outcome.



Back to Index





TOP TEN LIST TO RECOGNIZE THE FRAUD MASQUERADING AS CHRISTIANITY



10- "Truth" for sale.
9 - Upholding the traditions of men, thereby laying aside the commandments of God.
8 - Rulership through fear and guilt often threatening the loss of salvation.
7 - Leaders who have been ordained by men and not by God who are esteemed as idols among the people.
6 - Endless array of how-to books and seminars filled with formulas, techniques and hypes but with no power to deliver.
5 - Focus on all things worldly such as politics, monetary gain, and the fair show in the flesh.
4 - The building of outward dependencies whether it be upon their group, their leaders or their weekly meetings rather than a dependency upon God, Christ and the indwelling holy spirit.
3 - Donations taken under the guise of "spreading God's word" which end up being used to build their Empires with nothing left over to distribute to the needy in the Church.
2 - Dividing up of the Christians into sects, cults, denominations, organizations, and store fronts.
1 - Usurping Christ's headship over the individual members of the body of Christ and posing, themselves, as mediators.



Back to Index





THOSE WHO PROPHESY OUT OF THEIR OWN HEARTS



Ezekiel 13 offers a very clear description of the ministry of those who prophesy out of their own hearts. The result of it will be that they will dishearten those on the righteous path while encouraging those who are not.

Ezekiel 13:17 & 22
17 Likewise, thou son of man, set thy face against the daughters of thy people, which prophesy out of their own heart; and prophesy thou against them,
22 Because with lies ye have made the heart of the righteous sad, whom I have not made sad; and strengthened the hands of the wicked, that he should not return from his wicked way, by promising him life:



Back to Index





REWRITING THE WORD TO SUIT OURSELVES



This has been bugging me for a long time. I see simple basic truths in the Bible ignored by Christians and if one should take a stand on these truths, he or she is treated like an inflexible extremest, religious fanatic, narrow-minded fundamentalist or just plain odd. So for example Jesus knowing that you can't serve two masters instructed those who wanted to be His disciples (students) to "leave all and follow Him". But the bad example set by modern day Churchianity shows us that we can have the world and the Lord side by side. It even uses the Lord as a means to gain the world. So, the question is: do you believe what Jesus said is true or do you rewrite the word to suit yourself?

How about one church with no divisions as Paul wrote about so plainly. That's how the Lord wants the believers to operate and how we work together most efficiently. As one body under one Head, Christ, not split into many denominations, all with different leaders and differing teachings. But tell that to your Catholic, Lutheran, Methodist, Church of God, Presbyterian, Greek Orthodox, Episcopalian, Congregational, Pentecostal, Northern Baptist, Southern Baptist, Reformed Baptist, Six-principle Baptists, General Baptists, 7th Day Baptist, Primitive Baptist, Free Will Baptists, (ok. So I'm picking on the Baptists. I couldn't resist). It's gotten so bad that the sects are birthing sub sects. Instead of fusion we have fission. The Church is divided up into so many pieces, it's like Humpty Dumpty after his great fall. All the kings horses and all the kings men couldn't put Humpty together again. But we act like all these sects are perfectly normal. We even boast our membership in our particular sect like it's something to be proud of. Sects that the Apostle Peter speaking by the holy spirit called: "damnable" (2Peter 2:1) And the Apostle Paul, also speaking by the holy spirit described the people who start these sects as being: "grievous wolves" (Acts 20:29 and 30). But, just like the carnal Corinthians Paul was reproving, we are still saying: "I'm of Paul, I'm of Peter, I'm of Apollos" but, of course, using the names of today's church leaders instead. Rewriting the word to suit ourselves.

This is a country where Bibles are still easy to obtain. Over the past few decades I believe more people than ever have been studying the Bible. So why don't they see these things? What is to blame for this nurtured blindness? For one thing, I blame the religious system for offering this watered down version of what God requires setting the bad example of compromise which the people are following. But that does not excuse those who follow their ways. The individual has a responsibility to search out the truth for themselves, not search out places that tell them what they want to hear as if you can shop around for a "truth" that fits your lifestyle.



Back to Index





HOPE IS NOT A COP OUT



The hope of Christ's appearing to take us to be where He is, is the whole point of our salvation as one sister so beautifully put it. (good one Michelle)

1 John 3:3
And every man that hath this hope in him purifieth himself, even as he is pure.

When you are alive with hope, you don't want to be found in some dark place when the Lord returns. So it is quite an incentive to keep yourself in the light...in a pure place.

Hebrews 7:19
For the law made nothing perfect, but the bringing in of a better hope did; by the which we draw nigh unto God.

People do all sorts of things to get closer to God but it says here that when we are in hope, we actually are drawing near to God.

Ephesians 1:18
The eyes of your understanding being enlightened; that ye may know what is the hope of his calling, and what the riches of the glory of his inheritance in the saints

This was in Paul's prayer for the Ephesians. How important was the hope to Paul that he would pray for this understanding to be in the believers there?

1 Thessalonians 5:8
But let us, who are of the day, be sober, putting on the breastplate of faith and love; and for an helmet, the hope of salvation.

To have the hope of Christ's appearing near at heart is the helmet of our spiritual armament. It protects our head and particularly our mind against the enemies onslaughts.

Hebrews 6:18 & 19
That by two immutable things, in which it was impossible for God to lie, we might have a strong consolation, who have fled for refuge to lay hold upon the hope set before us: Which hope we have as an anchor of the soul, both sure and steadfast, and which entereth into that within the veil;

We can actually flee for refuge into the hope of Christ's appearing and find strong consolation there. How valuable is that in such a fearful and dark world. It is both sure and steadfast. So it also keeps us stable.

And how does the hope affect our desire to minister God's word of salvation to people? Doesn't it put a fire in you because you know that at any future moment Christ will appear?

Romans 5:5
And hope maketh not ashamed; because the love of God is shed abroad in our hearts by the Holy Ghost which is given unto us.

Those of us who hold His appearing close at heart have nothing to be ashamed of. As a matter of fact, as far as Jesus is concerned, it is something for which He will offer heaven's crown.

2 Timothy 4:8
Now there is laid up for me the crown of righteousness, which the Lord, the righteous Judge, shall give me at that Day; and not to me only, but also to all those who love His appearing.

I don't see a cop out here. Do you?



Back to Index





PAUL'S THORN SENT BY GOD OR SATAN



In 2 Corinthians chapters 10-12 Paul, writing to the disrespectful Corinthians, had to foolishly boast before them saying things that they should have been saying about Paul, in admiration and support of him. But because they were carnal, they instead praised those who had worldly stature and success while thinking little of Paul. In his self-admitted foolish boasting, he recounts details of his service to God and the resulting persecution he endured. In Chapter 12 he speaks to them of visions and revelations he received from God when he was taken to the third heaven and earth. Then it says in some Bible versions:

2 Corinthians 12:7
And lest I should be exalted above measure through the abundance of the revelations, there was given to me a thorn in the flesh, the messenger of Satan to buffet me, lest I should be exalted above measure.

Even today I hear this from Christians. They believe that God sent the messenger of satan to humble Paul because he was proud. That doesn't make sense. I mean if the revelation God gave to Paul was lifting him up with pride, wouldn't that be playing right into the enemy's hands? Wouldn't satan be encouraging Paul in that pride rather than "humbling" him? And are we to believe that our loving Father gave Paul revelation and then sent satan to attack him to make sure he didn't get a big head? How creepy an idea is that?

I believe that this word "exalted" is mistranslated. Many bible versions affirm this. (Revised Standard Version, Weymouth, Murdock, Montgomery, Diaglot, English Standard Version, the Common Edition and possibly others). These versions use the words "too elated", "over elated" or "uplifted" rather than "exalted" or "lifted up with pride". Now read it.

2 Corinthians 12:7
And lest I should be uplifted or too elated through the abundance of the revelations, there was given to me a thorn in the flesh, the messenger of Satan to buffet me, lest I should be uplifted or too-elated.

Now that makes sense. The enemy attacked Paul to try to take away the joy and elation he felt as a result of the wonderful things he was shown through the abundance of the revelation God gave to him.

All I can say is that Paul must have done something right because over 1900 years have passed since his death and he is still being slandered. Great is your reward in Heaven brother Paul.



Back to Index





THE "FEEL GOOD" CHRISTIANITY



That's what people want, so they follow those who encourage this "feel good" experience. They turn from those who are experiencing the trials, reproach and persecutions for Christ sake as if they have it all wrong. When you speak to them about waiting on the Lord to train you, raise you up and send you, they don't want to hear it. Like you're some kind of kill joy trying to cool their thunder. They just want to do what makes them feel good and they want to do it now (I smell anxiety here). They go out on their own to preach and to heal because it makes them feel productive. They ordain themselves to minister whatever they want to whomever they want in whatever way they want irregardless of their function in the body of Christ. A big part of why things are the way they are in the church today. Looks like lots of stuff is going on but of what spirit?

I remember something I heard some years back. I will recount it as best as I can remember it. A brother from China was visiting America. You have to be sturdy of character to be a true Christian in China. Many are persecuted and killed because they do not submit to the State-run church. So after visiting various congregations around the U.S., someone asked him: "Well what do you think of the ministry going on here in America?" He responded: "It's amazing how much they get done without the holy spirit."



Back to Index





AGAPAO OR PHILEO



Something I stumbled upon many years ago that really got my attention. On one of my excursions into the Strong's Concordance, which breaks down the meaning of the words used in the Bible, I found this. The definition of phileo and agapao, two Greek words translated as "love" in many Bible verses. Here's what it said:

Phileo: to be a friend to, fond of an individual or an object, that is, have affection for denoting personal attachment, as a matter of sentiment or feeling; being chiefly of the heart

Agapao: is wider, embracing especially the judgment and the deliberate assent of the will as a matter of principle, duty and propriety: being chiefly the head.

I was a bit shocked having thought that agapao aka "Christian love" was something that just flowed from us. But when you think about it, it begins to make sense. Jesus asked us to love our enemies. Does loving your enemy come easily? It would have to be a determined sense of duty on our part to love an enemy.

Many years ago I was awoken to the fact that phileo was passing off for agapao among Christians, myself included. It made me sad to think that I was loving with such a shallow love yet thinking I was loving with Christ's love. In a world where the love of many is growing cold, where people are even lacking in natural affection, phileo can shine real bright. But it is a weak love. If you love with phileo love, you will only love your own, those you are fond of or have affection for.

The big bust is: can you love your enemy? I mean really love them. If you can, that's agapao at work and you worked it out by making the conscious choice, out of a sense of duty and obedience to Him, to do what you really didn't feel like doing. Something that would end up being a glory to Him as well as offering great reward to you. Loving your enemy has the ability to warm their heart, while empowering you in the situation by keeping your heart in a good place when confronted with evil.



Back to Index





SENT BY CHRIST OR BY YOUR DENOMINATION?



Mark 16:
15 And he said unto them, Go ye into all the world, and preach the gospel to the whole creation.

A classic mistake which leads to error in understanding the Bible is that people don't notice to whom the words were written or spoken and they then attempt to apply everything to themselves. So they take instructions specifically given to others and move on these. What are we saying? That the Lord does not interact directly with His people anymore so now we have to "borrow" someone else's revelation? Let's expect more of Jesus' Headship than that. He is alive!

So, who were these words in Mark 16:15 spoken to? To you? To me? To every Tom, Dick or Harry that wants a ministry or wants to preach? No. They were spoken to the 11 Apostles to whom Jesus had taught the true doctrine; something Christians have yet to agree upon.

In my experience, I too had been pressured to go out and "preach". They conveyed this verse in Mark as a general command from Jesus to all Christians. The "Great Commission" they call it. But do we really think that the Lord would send us all into a dangerous spiritual battlefield to preach irregardless of our God-given calling, stage of growth, or level of understanding? And how about all the varieties of "doctines" people are being sent to "preach" making the message of Christ look as diverse as the amount of sects there are?

I remember one day reading the next verse in Romans 10 and it confronted me exposing this erroneous concept.

Romans 10:
15a and how shall they preach, except they be sent?...

Can't get any clearer than that. Certainly the sending mentioned here is not done by organizations who have mishandled Mark 16:15 to their own advantage but by the Lord. And the more I thought about this, the more angry I got at these pseudo-sendings done by those who not only get God's people to go out and "preach" their sectarian doctrine, but they send them out with no spiritual training, no armament and no godly authority.

When Jesus sent out the 12 and then the 70 to preach, He gave them authority, power and the true message to preach.

Luke 10:
17 And the seventy returned with joy, saying, Lord, even the demons are subject unto us in thy name.

Matthew 10:1,7&8
1 And he called unto him his twelve disciples, and gave them authority over unclean spirits, to cast them out, and to heal all manner of disease and all manner of sickness.
7 And as ye go, preach, saying, The kingdom of heaven is at hand.
8 Heal the sick, raise the dead, cleanse the lepers, cast out demons: freely ye received, freely give.

Why did He empower those He sent out to preach?

Matthew 10:
16 Behold, I send you forth as sheep in the midst of wolves: be ye therefore wise as serpents, and harmless as doves.

If Jesus defined these men whom He sent out with such great power as: "lambs amongst wolves", how would you define someone who doesn't have a clue about the enemy they are about to encounter, who has been sent into the midst of wolves by some organization? And even worse, how would you define those who would put a believer in such jeopardy for the sake of recruiting for their organization? I remember those who pressured me in my early Christian days. They actually led me to believe that if I didn't speak to people, their blood would be on my hands. Shame on them.

Yes, we all can bare witness to His goodness from day one! And, as we continue to grow in Him, we will understand what our specific function is in the body of Christ. Then let us carry that out with all our heart. But one thing I am absolutely sure of, none of us have been called of God to recruit for any organization.



Back to Index





PERSONAL RELATIONSHIP IS EVERYTHING!



Our personal relationship with the Father and the Son is everything. Without it we have nothing from which to minister. We have no effective witness. And you can't compensate for the lack of a personal relationship with biblical knowledge. Our lives are to bear witness to the accomplishments of Christ, not our mouths. Either He is a living, active presence or it's all just talk.

What separates Christianity from all the other beliefs in the world is the evidence of Christ in the senses realm. Not the "inerrancy" of the book about Him.



Back to Index





MY PEOPLE LOVE TO HAVE IT SO



Jeremiah 5:30 & 31
30 A wonderful (astonishing, appalling) and horrible thing is committed in the land;
31 The prophets prophesy falsely, and the priests bear rule by their means; and my people love to have it so:...

I'll never forget the first time I read this. It shocked me! This describes what is going on today too but, for some reason we have accepted this as the norm but to God this is appalling and horrible. Prophets get away with prophesying falsely and the people aren't calling them out when their prophecies fail. Man-appointed leaders, posing as priests, are ruling by their own means. They claim to speak for God and yet how could they be if they all disagree? And saddest part of all, it says "My people love to have it so."

Back in those days, as God was awakening me to the oppression of self appointed rulers, I used to think that people were in these prison camps (as I call them) just like I was at one time, because they didn't know any better and all they needed was someone to give them a helping hand out. But to think it was a cooperative effort makes the "rescue" attempt a bit tricky. Some people are being serviced in some way by this ungodly rule and it wasn't up to me to take it upon myself to randomly rescue them. This kind of helped me understand the reason for the fruitless tug-a-war I had been in for so long.

Anyhow, the point is, save yourself from the debates because some folks are there because they want to be and have no desire to leave. God has promised to set the captives free and only He knows who they are and only He can open their eyes, not us. We may be called upon to plant and to water but it is God who will give the increase.



Back to Index





YOU CAN'T BUILD MUSCLE WITHOUT PRESSING



The first time I really understood that I was gonna be engaged in spiritual warfare, it frightened me. I don't like it any better than you do. But them's the facts ma'am! There ain't no victory without a battle. And in our pursuit of the fullness of Christ, we will be engaged in one battle after another. But, if we press forward in each battle, we will experience the promised victory, and will be made stronger. But, during these times of trial, remember to let our blessed hope comfort your soul. There is an end to this battle.



Back to Index





HONESTY IS THE BEST POLICY



Can't hide anything from God. He knows everything. And, in spite of everything he knows about us, even our darkest secrets, He still loves us. If we truly desire to grow; honesty is the best policy! Our righteousness is a gift from God through Jesus Christ our Lord. God will never condemn us ever again so we can feel free to open our heart to Him who already knows everything and "come clean". He will actually commend us when we approach Him in honesty fessing up to our evils with the desire to change. But if we cover our sins, deceiving ourselves that we are in the light when we are really in darkness...like it says:

Matthew 6:23b
...If therefore the light that is in thee be darkness, how great is that darkness!

That's a real darkness when we think we are in the light when we are not. And a sure way of stunting our growth and staying right were we are. Open up your heart to Him and see how compassionate He can be.

James 1:5
5 If any of you lack wisdom, let him ask of God, that giveth to all liberally, and upbraideth not; (won't make you feel ashamed) and it shall be given him.



Back to Index





HEAVEN IS NOT A REWARD!



Eternal life is the gift of God through Jesus Christ the Lord. Our citizenship in Heaven is based solely upon what Jesus did, not what we do. It was only the sacrificial offering of Christ that was acceptable to God...the righteous for the unrighteous. If our sacrificial offering to God would have been good enough to gain citizenship into Heaven, then Jesus never would have had to do what He did.

Hebrews 10:14-16
14 For by one offering he hath perfected for ever them that are sanctified.
16 This is the covenant that I will make with them after those days, saith the Lord, I will put my laws into their hearts, and in their minds will I write them;
17 And their sins and iniquities will I remember no more.

Hebrews 8:6
6 But now hath he (Jesus) obtained a more excellent ministry, by how much also he is the mediator of a better covenant, which was established upon better promises.

Jesus brought in this NEW COVENANT and by doing this, the OLD Covenant was done away with. Let's stop resurrecting it by putting ourselves back under a law for righteousness which made nothing perfect!

Hebrews 7:19
19 For the law made nothing perfect, but the bringing in of a better hope did; by the which we draw nigh unto God.

Christ is the end of the law for righteousness (Romans 10:4) for if righteousness comes by the law, then Christ died in vain. (Galatians 2:21)



Back to Index





HAVE YOU SPOKEN TO THE DEVIL TODAY?



Although we don't like to admit it, I am sure there isn't anyone reading this that hasn't, at least once in their life, complained to God about things not going the way He promised. Maybe because of prayers we feel haven't been answered or because of the infrequency of uplifting spiritual experiences in our lives. Maybe even because of the time we have put in pursuing the things of God. But one day, as I was troubled and complaining to Him, I had this thought: that we are talking to God about things we should be talking to the devil about. It's the devil who has been responsible for hindering us from realizing our full potential in Christ. He is at the heart of every failure we've experienced as we attempted to attain to the things that our Jesus shed His own blood to make available to us.

Romans 8:32
32 He that spared not his own Son, but delivered him up for us all, how shall he not with him also freely give us all things?

God is not holding these things back from us. It's the devil who's been standing in the way and blocking us from what is rightfully ours.

So, I ask you, have you spoken to the devil today? Have you rebuked his interference? Have you called him out as being the hinderer and are you aggressively rejecting and destroying that evil work in your life?

1John 3:8b
8b...For this purpose the Son of God was manifested, that he might destroy the works of the devil.



Back to Index





THE GREAT DEBATE



I believe the Bible is saying this and you believe the Bible is saying that. I quote this verse and you counter it with that verse. (dueling bible verses I call it.) But what gets settled in this great debate? Nothing. It only causes contention and strife. Like it says:

Galatians 5:15
But if ye bite and devour one another, take heed that ye be not consumed one of another.

And now they have a new word for this debate. They're calling it "dialogue". "Let's dialogue" they say. Sounds so harmless doesn't it?

The word "dialogue" is defined as: "A discussion intended to produce an agreement". But is that really what's going on? Isn't it more honest to say that you want to come to an agreement by convincing the other to accept what you believe? I remember being approached by someone who wanted to "dialogue" with me. And when I would not accept what he was spouting, He accused me of not being humble. Not being humble to dialogue? Hum! Another such one implied that if during the dialogue, the other person does not accept what he's saying, that person was being obstinate. Obstinate to a dialogue? Does that sound like a dialogue or a dictate?

Hey, I have absolutely no problem with a bold declaration. If you truly believe you have God's Word and have a heart to proclaim it, great. But please, don't call it dialogue OK?



Back to Index





REVEALED UNTO BABES


Luke 10:21
21 In that hour Jesus rejoiced in spirit, and said, I thank thee, O Father, Lord of heaven and earth, that thou hast hid these things from the wise and prudent, and hast revealed them unto babes: even so, Father; for so it seemed good in thy sight.

It's so easy to be intimidated looking at Christianity as something to be understood in a scholarly manner. How many of us think we have the education to make the grade? But look at this statement our Master made. He rejoiced and thanked the Father that these things are hidden from the wise and prudent. What things? The understanding of the things of God. The things of God are spiritual not intellectual. It's a heart thing, a love thing, not a head trip.

Huh??? You mean we have been looking to the wise and the prudent to show us these things and yet Jesus said that they are hidden from them?

But we have a great promise here. Though these things are hid from the "wise and prudent" (learned and intelligent according to Strong's Concordance), Jesus said they are revealed to babes. I believe this "babes" is an attitude.

Luke 18:17
Verily I say unto you, Whosoever shall not receive the kingdom of God as a little child shall in no wise enter therein.

If we want to enter into the understanding the things of God, we have to approach it with a child-like heart and attitude.

When the Apostles stood before the Pharisees (a.k.a. "the wise and prudent") after performing a miracle in Jesus' name it says:

Acts 4:13 &14
13 Now when they saw the boldness of Peter and John, and perceived that they were unlearned and ignorant men, they marvelled; and they took knowledge of them, that they had been with Jesus.

I guess the question here is, when we grow up, do we want to be Pharisees or do we want to be men and women that they know have been with Jesus?



Back to Index





JESUS IS THE WAY TO THE FATHER


John 14:6
6 Jesus saith unto him, I am the way, the truth, and the life: no man cometh unto the Father, but by me.

Jesus is the way to the Father. But I do not believe this ends with salvation. He is the continual way to the Father.

Luke 10:22
22 All things are delivered to me of my Father: and no man knoweth who the Son is, but the Father; and who the Father is, but the Son, and he to whom the Son will reveal him.

It is the Son who makes known the Father. Not ministers. Even true ministers can only help you to see this and encourage you to look to Christ your Head, but they cannot reveal the Father to you. Only the Son can. And isn't that the knowledge we all seek? To know our Heavenly Father intimately?



Back to Index





BE A BEREAN


Acts 17:10-12
10 And the brethren immediately sent away Paul and Silas by night unto Berea: who coming thither went into the synagogue of the Jews.

11 These (the Bereans) were more noble than those in Thessalonica, in that they received the word with all readiness of mind, and searched the scriptures daily, whether those things were so.

12 Therefore many of them believed;...

So what can we learn from this? That you can be willing to receive the Word with all readiness of mind, but at the same time, be cautious enough to search the scriptures to check out whether those things you're hearing are so or not. It is very important for us to take the responsibility for what we believe.



Back to Index





GRACE OR WORKS?



1 John 5:1a
Whosoever believeth that Jesus is the Christ (Messiah) is born of God...

Romans 10:9
9 That if thou shalt confess with thy mouth the Lord Jesus, and shalt believe in thine heart that God hath raised him from the dead, thou shalt be saved.

John 3:16
For God so loved the world, that he gave his only begotten Son, that whosoever believeth in him should not perish, but have everlasting life.

How could this be? There's gotta be a catch right? Maybe that's why so many are adding works to this grace. Because they are trying to understand something so wonderful by human standards and they're not going to the Lord for the spiritual understanding. So they propound false teachings which say we can only keep our salvation if we remain faithful.

If Adam taught us anything, it was that under the most perfect conditions, outside (Garden of Eden) and inside (a sinless nature), he could not hold on to God's spirit. And he was asked only one thing to do. "Don't eat of the tree of the knowledge of good and evil." (Gen 2:17) So depending upon the rules of the group you are adhering to for doctrine, you will have anywhere from 10 to 10,000 things to do to keep your salvation. Get real! Do we honestly think in our present condition and the present condition of the world, that we will do any better than Adam?

Besides, since the judgment that came upon us all through the disobedience of Adam was so sure that there wasn't anything we could do to reverse it; wouldn't the judgment that came upon us through the obedience of Christ be at least as sure that there wouldn't be anything we could do to reverse it?

Romans 5
19 For as by one man's disobedience many were made sinners, so by the obedience of one shall many be made* righteous.

This word made* in the Greek means "to place down permanently!"

But one thing that has given grace a bad name is that some confuse it with license as if "anything goes" now, which plays right into the hands of the legalists. Grace is undeserved kindness and, when whole-heartedly received and understood, will inspire the good works that God has ordained for us to walk in, (Ephesians 2:10) not works of the flesh done to "make ourselves worthy of" or, to "hold on to" our salvation.

The good that we do will be duly rewarded on that day when we stand before Him but will not qualify us to stand before Him. The good that Jesus did qualified us!

We have to stay razor sharp on this matter...with His help of course.



Back to Index





FIG LEAF SALESMEN (good one Johnny)


I thought this was such a good description of religious "Christianity" that I couldn't resist. Actually someone else coined this phrase when we were discussing how the religious approach provides nothing more that a cover for sin, much in the same way that Adam and Eve sewed fig leaves together to cover themselves after they sinned.

So these "fig leaf salesmen", presenting themselves as leaders and teachers of the way of righteousness, provide a very cunning derailment from the godly path as they deceivingly come in Christ's name offering us a convenient cover for sin rather than ministering deliverance from it. But Jesus was never deceived by their "fair show in the flesh" and when calling them out said:

That on the outside they appeared to be righteous to the people but on the inside were full of hypocrisy and iniquity.(Matthew 23: 28)

That they were so busy cleaning the outside up but on the inside they were full of extortion and excess.(Matthew 23:25)

That they were blind guides who strained out a nat but swallowed a camel. (Matthew 23: 24). These blind guides of the people would be very conscientious in small matters but very careless in big ones. So, for example, they would be ever so careful not to eat with unwashed hands, but they would have no problem plotting to kill God's Messiah.

They had no desire to enter the kingdom of heaven but shut the door up to try to prevent those who wanted to from entering in. (Matthew 23:13)

That they persecuted and murdered the faithful servants of God (Matthew 23:37) because they wanted the flock all for themselves. (Matthew 21:33-42)

That those who they trained up were made two-fold more the sons of hell than they were. (Matthew 23:15)

Yikes! That's not where we thought they were gonna lead us when they promised to help show to us the way in our early Christian days.

It never ceases to amaze me the debilitating affect they have on "their" people. They like to keep them in the dark about spiritual things, especially by getting them to focus on the good and/or evil works of the flesh, because the last thing they want in "their" flock is someone exercising spiritual discernment because they fear exposure.

To me religion as "the way to God" is nothing more than an extended foot stretched out to trip us when we are babes and don't know any better. I was tripped by this foot in the beginning but take heart, that doesn't mean you will be condemned to a life sentence. If you really want to move forward spiritually and are willing to pay the cost of being a disciple; God can open your eyes.



Back to Index





TWO EXPERIENCES OF THE FAITHFUL



We rejoice in the things that Hebrews 11 tells us that faith can do and we desire to experience these great victories in our lives as well. For example, obtain promises, get the dead raised back to life, stop the mouths of lions, escape the edge of the sword, put to flight the armies of the enemy, etc.

But have we considered the other side of the experience of the faithful mentioned here? The trials of cruel mockings, beatings, being put in restraints, imprisoned, wandering about in deserts; being destitute, afflicted and tormented, tempted, stoned, slain with the sword, and cut in two.

By today's standards, the judgment call on believers who are experiencing such things because of their stand of faith, would be that they are people who aren't exercising their faith. After all, if they were, they would not be in such a state.

But the testimony of the truth stands sure that: these also obtained a good report through faith. (Hebrews 11:39)



Back to Index





"LEAST" OF MY BRETHREN



Matthew 25:
40 ...Verily I say unto you, Inasmuch as ye have done it unto one of the least of these my brethren, ye have done it unto me.

In this context, Jesus was speaking about those who did acts of kindness to those who were in need. The hungry were given food, the thirsty were given drink, the naked were given clothes, the sick or imprisoned were visited, the strangers were given a place to stay.

Does Jesus regard these people as being "the least of His brethren" because of their need? Absolutely not! But that is how the world judges people in these circumstances and He was using their own judgment system to make this point. That the way we treat those regarded as "least" in this world, those from whom we think we have nothing to gain, will show the degree of love we have for Jesus.



Back to Index





O YE OF LITTLE FAITH


In Matthew 16:6-12, when Jesus said "Oh ye of little faith", he wasn't talking about the size of their faith being little. Jesus told them in another place (Matthew 17:20) that if they had the faith the size of a mustard seed (which is very little) it was powerful enough to move mountains. So He couldn't have been reproving them for having a faith that was little in size but little in duration. That it was a brief faith which didn't stand the test of time.

In the context, the disciples were reasoning among themselves about not having brought enough bread with them and Jesus had to remind them of the provision of the awesome miracle of the loaves and the fishes which they had recently experienced TWICE! He was reproving them for having a faith that was little in duration, not for having a tiny faith.



Back to Index





WITHOUT THE CAMP "MISTAKEN IDENTITY"


The tent of meeting was set up without the camp. This is where people went to inquire of the Lord. (Exodus 33:7)

But the place where the unclean were sent to purify themselves was also without the camp. (Leviticus 13:46)

I have noticed that those who have left the camp to inquire of the Lord are sometimes mistaken for the unclean.

Hebrews 13:

12 Wherefore Jesus also, that he might sanctify the people with his own blood, suffered without the gate.

13 Let us go forth therefore unto him without the camp, bearing his reproach.



Back to Index





BRIDGES BURNED



When your bridges are burned behind you and you enter a period of persecution and/or tribulation, you can't retreat to escape it. The only escape from it is to go forward. That's a good thing.



Back to Index





ARE YOU SPECIAL 'CAUSE YOU'RE LOVED?


It's a misconception that if a person is loved, that means they're special, as if they are worthy of that love. True love is unconditional. So when a person is loved with this love, they are loved by someone who loves all, be they the high or the low of this world. They love for the sake of love. For the beauty of love. So if anyone is special, it's the one doing the loving not the one who is being loved.

It goes the other way too. If you find yourself in the category of the "unloved", don't let this reflect upon you as if there is something wrong with you. You're simply among unloving people.



Back to Index





WHO'S YOUR FAMILY?


Answer it quick. What did you say? Your husband/wife and kids? Your parents, brothers and sisters? Your Aunts, Uncles and cousins?

Well what about your brothers and sisters in Christ? Where do they stand in order of importance? Are they just a pretend family but not really thought of as close because they're not you're flesh and blood?

When Jesus described who His family was, He said:

Matthew 12:50
For whosoever shall do the will of my Father which is in heaven, the same is my brother, and sister, and mother.

Why isn't this our answer too?

There are just too many families that come before the family of God.



Back to Index





BEARING WITNESS TO ALL



We like to bear witness to those who will believe but there are times we will be called upon to witness to those who will not believe also. I know we prefer to speak to those who will accept Christ for the joy that it brings but those who will not accept Christ get to hear the Word too so they will be without excuse in that day.

In 1 Peter 3:19 & 20 it says that after His resurrection, Jesus preached to the spirits that were in prison who had been locked up in the days of Noah. No way these evil spirits were gonna repent. But God wanted Jesus to bear witness to them never the less. I saw a connection between this and our bearing witness to those who will never repent.

Remember the parable of the sower? (Matthew 13) He sowed his seed upon all the grounds mentioned, not just on the good ground.



Back to Index





TALENT


Talent...how are you gonna use it, to serve or be served. In the world, a person who is recognized for their talent is usually praised and served and, with a worldly frame of mind, this person will most likely think that their talent has set them above the rest. But when God has His way, a person's talent or ability will be used to serve others. So, for example, a strong man will not be greasing and flexing his muscles but will be using his strength to lift another up, being grateful for the God-given ability to do so.



Back to Index





CHOOSE LIFE!



Whether you choose to live in the darkness or in the light, you won't be the master of either realm. People think that if they choose darkness, they will be calling the shots but this is part of the deceptive lure. The reality is that you will be a slave in either realm. If you choose the light, you will find a benevolent Master who seeks your good always. If you choose the darkness, you will find a cunning and cruel master who hates your very breath and seeks your destruction. Choose life!



Back to Index





PITFALL AWAITING THE NEW CHRISTIAN



One of the pitfalls awaiting the new Christian, or any Christian for that matter, is religion ready and waiting to swallow up your God-given service and make you it's captive. I was it's victim in my early days and didn't recognize the bondage I was in because it was so cunning. To this day, I am still shaking off it's effect on me.

Although the word "religious" is often mistaken to mean "godly" it is quite the opposite. Religion is an outer cover or as Paul put it: "a fair show in the flesh". Godliness is an inside change. A religious-minded person will be more concerned about how they appear before people whereas a godly-minded person is more concerned about how they appear before God.

But be aware. The godly are not immune to the seduction of religion. It is one of the enemies most effective tools to derail you. But and if you do succumb, the Lord can turn this into a schoolroom for you and, once delivered from it's grasp, you will deeply understand and be fortified against it's lure as only one can who has been to hell and back.

When reading the Scripture one day I noticed something profound. Jesus healed many forms of blindness but, when referring to religious blindness, he instructed his disciples to:

Matthew 15:14
Let them alone: they be blind leaders of the blind. And if the blind lead the blind, both shall fall into the ditch.

And when confronted with these blind people Jesus said:

Matthew 9:12b
...They that be whole need not a physician, but they that are sick.

You see, a big part of that kind of blindness is that they think they are whole and don't need to be healed. And here was Jesus THE PHYSICIAN standing right before them and they rejected Him as those who thought they had no need of Him.

But on the upside lets remember; the Apostle Paul was among this group of people and yet, as a testimony to God's grace and power, he was delivered from it's grasp. I believe that is another important thing the record of Paul's life was meant to teach us.



Back to Index





UNRIGHTEOUS JUDGMENT



John 7:
24 Judge not according to the appearance, but judge righteous judgment.

So wouldn't it be safe to say that judging by appearances is unrighteous judgment? We judge by appearances all the time and don't give a second thought as to how ungodly it is.

If you look at the context in which this verse is set, you'll see what erroneous conclusions this unrighteous judgment can come to. Jesus was being judged as being an evil doer!



Back to Index





GROW UP!



A few years ago, I watched a show that presented the findings of a study they did with infants to understand how they responded to the world at that age. They presented a stranger to the infant to see what it's reaction would be. What they discovered was that the reaction of the child was, in almost all cases, entirely based upon their mother's reaction. The baby would look at the mother and if the mother smiled at the stranger, the baby would smile. If the mother looked threatened, the baby looked threatened and so on.

This so reminded me of what is going on in the Church today. Christians are not maturing. It's as if they are infants and their leaders are their "mothers" telling them how to react. They are not thinking for themselves but have committed decision making over to their leaders. Rather than letting the holy spirit lead them and teach them as well as help them discern good from evil, they are looking to their "mothers" to tell them how to react, what to think, who to receive, what to believe, etc. I'll also tie this in with a great definition of the word "cult" I heard once. "Group thinking". I thought that nailed it!



Back to Index





No More...No Less



All that He expects of us to do is what He asks of us to do: no more...no less. Doing "more" can be as bad as doing less. Although doing "more" may appear to be virtuous, it can be a waste, a drain and result in discouragement because it bears no godly fruit. Not to mention the fact that we could find ourselves "in over our heads" being out there on our own. He equips us for the jobs He asks us to do. He is love, not a slave driver. But, if we take it upon ourselves, in our over zealousness, to do "more" than He is asking of us, you can pretty much count on it being something that was "inspired" by the flesh, no matter how "good" it may appear or make us appear. Perhaps it is insecurity concerning His unconditional love for us, so we find ourselves trying to earn it through service. Or maybe we want to feel useful and productive, having a sense of accomplishment. Or maybe we are going for that "feel good" feeling that comes from thinking we have just helped someone. Or maybe we're just plain bored and want to keep active. So, while we are busy doing things that make us feel useful, productive and helpful; we just might be so busy that we won't pick up on the very thing that the Lord will be asking of us to do that day.



Back to Index





SELF-APPOINTED OVERSEER



1 Peter 4
15 But let none of you suffer as a ....busybody (meddler) in other men's matters.

Some years ago, while reading this verse, it stood out to me in that wonderful way the holy spirit has of saying: "Let's consider this today." I mean, even normally speaking, when someone sticks their nose in your business without being asked, it can be irritating enough. But, when I looked the word "busybody" up, the definition from the Greek word it was translated from was striking indeed and very revealing. It was defined as "a Self-Appointed Overseer". Boy was that a wake up to me. You see, I have been on both ends of this. I have been a meddler and I have been meddled with and frankly, it's not a pretty site. It's annoying, intrusive and just plain offensive no matter how "well meaning" the intent is. It usually disguises itself as "ministering" but, if your ministering is not under the direction of the holy spirit, you, as a self-appointed overseer, will be meddling in other men's matters plain and simple. This has helped to keep me alert so I can be more cautious when the urge to meddle comes over me;) Not to mention, it says that there is a suffering resulting from meddling. Hey, I'm no glutton for punishment.



Back to Index





"TWO" CHRISTIANITIES


I read so many scriptures in the New Testament that speak of the cost of being a disciple. That we could expect to suffer (Phil 1:29 and Luke 6:22 & 23) and be hated of all men for His name's sake (Matthew 10:22). That all who live godly in Christ Jesus will have to endure persecution (2 Timothy 3:12) and endure hardness as good soldiers of Christ (2 Timothy 2:3). That we can expect much tribulation as we endeavor to enter the Kingdom of God. (Acts 14:22)

But I see another Christianity that mocks the sacrifice you make as it flaunts its fulfilled "Christian" experience before you. A "fulfillment" that is a result of compromise.

Paul wrote to the compromised of his day so I guess it's nothing new:

1 Corinthians 4:8 and 10
8 Now ye are full, now ye are rich, ye have reigned as kings without us: and I would to God ye did reign, that we also might reign with you.
10 We are fools for Christ's sake, but ye are wise in Christ; we are weak, but ye are strong; ye are honourable, but we are despised.

It's really tough being belittled by your own but it too is part of the hardness we must endure for His name's sake.



Back to Index





FOLLOWERS OF MEN



In 1 Corinthians 2-4 Paul was confronting their glorying in men (3:21). He told them that all things are ours (3:21-23) including the ministers by whom we believed, (3:5-7) men and women who plant and water the Word but it is GOD who gives us the increase (understanding).

We don't need men to put it all together for us because we have received the spirit of God which gives understanding to those who seek it in order "that we might know the things that are freely given to us of God". (2:12)

So stop boasting in men, picking and choosing your favorites, vaunting one over the other. Utilize your direct access. That's what it's there for and remember, it was purchased at a very high cost!



Back to Index





FALSE TEACHERS DIVIDING UP THE BODY OF CHRIST



2 Peter 2:1a
1 But there were false prophets also among the people, even as there shall be false teachers among you, who privily shall bring in damnable heresies, even denying the Lord that bought them...

This expression "damnable heresies" is defined by the 2 Greek words it comes from as "destructive sects" also: "dissensions arising from diversity of opinions".

In Acts 20:29 &30 Paul spoke about those in his day who were going to rise up after he left and draw away disciples for themselves. Some of them would even arise of their own people.

Paul also wrote to Timothy:

2 Timothy 4:3
For a time is coming when they will not tolerate wholesome instruction, but, wanting to have their ears tickled, they will find a multitude of teachers to satisfy their own fancies;
(Weymouth)

It is still baffling to me that new sects are appearing daily slicing up the body of Christ like it's a pie "up for grabs" yet no one stops to recognize that these are the destructive sects that Peter was speaking about. And that this is the work of the grievous wolves that Paul warned the church of in Acts 20 and what he reproved the church for in 1 Corinthians Chapter 3. "I am of Paul", "I am of Cephas" or "I belong to this group", "I belong to that one." They accept sectarian "Christianity" without question as if it's perfectly normal and then they "glue" the whole divided mess together with their spirit of ecumenism...the counterfeit unity.

Another point: how are they "denying the Lord that bought them"? By usurping His headship over the individual members of the body of Christ which they are holding captive...the Church whom He bought with a price.

We are one body with one Head- Christ!

What God has joined together, let not man put asunder.(tear into pieces).



Back to Index





ECUMENISM



Ecumenism is nothing more than a fancy word for compromise sold to us under the guise of being more "loving" to one another. Jesus NEVER sacrificed truth in order to love. A true minister of God will expose error not tolerate it, which, when you think of it, is the perfectly loving thing to do since people are held captive as prisoners by erroneous beliefs.

This ecumenical "unity" is not the "unity of the spirit" Ephesians 4 speaks of but is a counterfeit. Speak boldly in the face of a person who has been seduced by this deception and you'll be sure to get the "you're not being loving" speech from them. I guess when Jesus confronted the religious community, calling them out for their wickedness, deceitful practices, hypocrisies and blindness he was not being loving either. (Matthew 23)

Someone once said to me: "Well none of us have the truth. So who do we think we are telling another Christian what they believe is error."
Ok, so none of us have the truth and it is arrogant to think that we do have the truth. Well then; what does that say about taking a stand for truth? If none of us have the truth, then there is nothing for which to take a stand. And why endure persecution for truth's sake if none of us have the truth?

I am noticing that those who are endeavoring to take a stand for truth are being persecuted by their own who have fallen for the counterfeit "unity" that ecumenicalism offers. It's the easy way out. No fuss, no muss.



Back to Index





THE UN-"CHURCHED"



The worldly church - which appears to have a monopoly on legitimacy - intimidates people into thinking:

"in church=faithful", "un-churched=unfaithful".

You don't meet too many active believers who are not, in some way, connected to the organized structure so it can be a very lonely experience for the un-"churched" believers. They are held in suspicion by their own and looked at as illegitimate, uneducated, unsupervised, rebellious renegades.



Back to Index





SPIRIT OF TRUTH WILL GUIDE YOU INTO ALL TRUTH




John 16
12 I have yet many things to say unto you, but ye cannot bear them now. 13 Howbeit when he, the Spirit of truth, is come, he will guide you into all truth: for he shall not speak of himself; but whatsoever he shall hear, that shall he speak: and he will shew you things to come.

I remember hearing many years ago that the "all truth" that Jesus was speaking about here was what was later to be revealed and what we now know as the 7 church epistles, namely: Romans through 2 Thessalonians. I remember thinking when I heard this: "It looks like God loved the 1st Century believers more than He loves us today?" After all they got the 7 Church epistles "hot off the presses". But we have numerous versions of translations of copies of those original letters, many of which differ in one point or another. Boy did we get the short end of the stick! And then there are hundreds of figures of speech which we must learn (or so they tell us). Not to mention the customs and idioms of the time, some of which the meanings have been lost all together. And last, but not least, to add to the confusion, we have myriads of so-called teachers, who are "interpreting" these epistles and yet all coming to different conclusions as to what they are saying.

I was taught that the "you" in this verse (as in "he will guide you into all truth") was not referring to you or me per say but was meant just for the people present (the 11 original apostles) and it was their job to now pass this "all truth" on to us. So how do you explain the fact that the 7 Church Epistles were penned by the Apostle Paul who was not present when these words were spoken by Jesus. As a matter of fact, Paul mentioned one of the men that had been present (Peter) (see Gal 1:16-18) and said that he did not receive the gospel from him or any other man.

Galatians 1:
11 But I certify (guarantee) you, brethren, that the gospel which was preached of me is not after man.
12 For I neither received it of man, neither was I taught it, but by the revelation of Jesus Christ.

Those who perpetuate the power structure of hierarchy and laity (in other words: clergy and everyone else) treat the people like they are blind and need to be lead by their hand. But take heed whose hand you grab to lead you. There are blind guides galore out there. And as Jesus said, these blind guides are the leaders of blind followers and the result of this leadership will be that both will fall into the ditch. (Matthew 15:14)

Don't get me wrong. I'm not trashing all leadership. I do believe that there are true God-appointed ministers out there. But don't be fooled by appearances and don't be fooled by titles. You might find that God's ministers will be found in the most unlikely places and therefore must be sought out by faith; not by sight. And remember, a true minister of Christ will minister the headship of Christ, not a dependency upon themselves. And only Christ, as Head over the indwelling holy spirit, can guide you into all truth!



Back to Index





TWO KINDS OF GOING YOUR OWN WAY



I was wondering: will there be a difference made between those who went their own way after getting saved and those who went their own way but brought the Lord's name into it? The religious mind brings such harsh judgment against people who get saved and then go back to their old life and don't follow Christ. But I was thinking about those who get saved and then go the way of religion rather than following Christ. Haven't they gone their own way also? But what's worse to me about the latter group is that they bring the Lord's name into it, erroneously presenting Him as the author of their coldhearted, legalistic judgments, religious rituals, and hypocrisy.



Back to Index





CLARK KENT and SUPERMAN



I was thinking of the Superman character as an analogy for those called to God's service. His "disguise" was Clark Kent, the mild mannered yet, bumbling weakling. Pretty much every boy wanted to be Superman when he grew up. But who wants to grow up to be Clark Kent? And yet, the complete Superman character had to include Clark Kent. As Kent, he was regarded as useless. No one expected anything from him, which was a perfect cover while he investigated injustice and, when it was time to move, he moved in power (as Superman).
As Superman, he got a lot of respect and recognition but as Clark Kent, he was laughed at and mocked, yet he was secure enough in who he knew he was and what his purpose was to endure the ridicule. If you remember, he was Clark Kent a lot more than he was Superman.

When the children of Israel wanted a King, they picked Saul, a man head and shoulders above the rest. And we all know how that turned out. But God's choice: David, a man after His own heart, was a man whose own family didn't consider for a second.

1 Corinthians 1

26 For ye see your calling, brethren, that not many wise men after the flesh, not many mighty, not many noble are called:

27 But God hath chosen the foolish things of the world to confound the wise; and God hath chosen the weak things of the world to confound the things which are mighty;

28 And base things of the world, and things which are despised, hath God chosen, and things which are not, to bring to naught things that are:

29 That no flesh should glory in his presence.



Back to Index





WE ARE IN A WAR!


We must maintain a soldier's mentality in this spiritual battle. Otherwise we will be weak in our defenses when the enemy attacks. A soldier on the front is not surprised when he hears the cry: "Incoming!" He doesn't go to his commanding officer and say: "Why are they shooting at me? What did I do to deserve this? I thought you were gonna protect me." No, he or she is poised for battle, even during a lull knowing that it ain't over till it's over.

Anyhow, after having been reminded of this today, it got me thinking about some of the objectives of these enemy attacks:

1- To distract us, as we become overwhelmed by the particulars of an unexpected assault.

2- To stress us out as we try to deal with it on our own.

3- And, I believe, the main objective is to try to separate us from the only One who can help us at a time like this by tempting us to question Him, His love and His care for us.

Don't be deceived. It's not a sign that the Lord has left us just because we are experiencing an enemy attack. We just might find (like the poem "Footsteps" says) that; those were the times when the Lord was carrying us.

Trust!



Back to Index





THE ULTIMATE EGO TRIP


This one is definitely a rant. Sometimes I am astounded at how the ruling religious body gets over on the people. They're like performers gone wild! I mean, if you decided not to attend a performance of a singer, a dancer, a comedian, a musician, a lecturer, whatever; you're not usually gonna be threatened with death. But don't show up in the audience of their weekly meetings, be it Sunday or any other day, and you'd better be watching out for that next bus barreling down the street. It just might have your name on it! Very sad indeed, especially when deliverance from this sort of manipulation has been offered to us.

Heb 2
14b ...that through (His) death he (Jesus) might destroy him that had the power of death, that is, the devil;
15 And deliver them who through fear of death were all their lifetime subject to bondage.

Thank you Jesus!



Back to Index





DEVOUT MEN



Acts 2:5 describes these men gathered together for the feast of Pentecost as devout and God fearing men and yet they were among those who crucified their Messiah.

Acts 2:23
Him, being delivered by the determinate counsel and foreknowledge of God, ye have taken, and by wicked hands have crucified and slain:

They blindly followed their leaders into this. The leaders delivered Jesus up out of envy (Matthew 27:18, Mark 15:10) but these devout men did it ignorantly. If you delete the "man-added" italicized words, (which I put in bold text) the following verse reads more clearly.

Acts 3:17
And now, brethren, I wot (know) that through ignorance ye did it, as did also your rulers.

An observation...these devout men, when they converted, became the devout fellowship of Christians we read about in Acts 2:42-47.



Back to Index





PAUL'S WORDS TWISTED



2Peter 3:
15 ... even as our beloved brother Paul also according to the wisdom given unto him hath written unto you;
16 As also in all his epistles, speaking in them of these things; in which are some things hard to be understood, which they that are unlearned and unstable wrest (twist), as they do also the other scriptures, unto their own destruction (ruin or loss).

Interesting. This is the statement of the Apostle Peter referring to the writings of the Apostle Paul. That some of the things he wrote are hard to be understood and also that the unstable twist his words to their own loss. It was happening then too, not just today.



Back to Index





SIGNS AND WONDERS TO LEAD ASTRAY



Deut. 13:1-3 speaks of prophets performing signs and wonders to lead the people astray. I guess that puts an end to the idea that anyone performing signs and wonders has the message of God. Be discerning. Not everyone who comes "in His name" has been sent by Him.

But don't get me wrong. I am not of the school of thought that believes that all power is of the devil. What I am saying is: don't be gobbling up every show of power as being from God. We must rely on holy spirit discernment to determine the genuine from the counterfeit. If we don't, we will be deceived plain and simple.



Back to Index





FEAR OF PRIDE



I have seen Christians mistake the fear of pride for humility. We dare not reach our full potential of greatness in Christ because we are afraid we will become proud. But for us to believe to see God's miraculous power in us and to us is God's will and pleases Him as well as brings Him glory. Let God's greatness come out of you and let God take care of keeping you humble.



Back to Index





WHO'S JUDGING YOU?



Nabal, who was an unbeliever, judged David as a lowlife (1 Samuel 25:10 & 11) but Abigail, who was a believer, saw him as a righteous man (1 Samuel 25:28-31) believing God's promise to David that he would be King of Israel. Same man viewed from two sets of eyes.



Back to Index





PRAYER OF FEAR OR FAITH



There is a prayer...even a continual prayer (Job 1:5 & 3:25) that can issue forth out of worry and fear which is not answered and then there is a letting go of something that may not even be accompanied by prayer which does get answered. Let go and let God!



Back to Index





KEEPING UP APPEARANCES



Slander can have an intimidating affect on you and can get you to live your life defensively, becoming consumed with the need to prove it wrong. In this very sly way, it becomes your master. It is also one of the many tools of the devil that can get us off track if we let it.
(Just a note, in the Bible, the word "devil" comes from a greek word meaning: "false accuser" and "slanderer".)

They called Jesus the prince of devils. Can't get any worse than that! And He warned us that if they said it of Him, they would also say it of us but, not to fear because God will bring all things to light so, just trust in Him. (Matthew chapter 10) This is also the context where it speaks of loosing your life in this world so that we can find our life in Him. We don't have to be concerned with "keeping up appearances" in a world that we have no life in. Very liberating indeed.

Besides, I have learned that there is absolutely nothing you can do to change people's minds. If the Lord chooses to clear your name then it will be cleared. In the mean time, just grow in Him and let His purpose reveal itself.



Back to Index





IS GAIN A SIGN OF GODLINESS?



Can we agree that the Apostle Paul was a faithful and devoted servant of Christ who was sent to preach the gospel? That he had a fervor, faith and love for the things of God that was admirable? Do we look enough at the life of Paul when we want to consider the cost of being a disciple? In my early Christian days, when I read the things Paul experienced as he carried out his service, I was terrified at the thought that I could expect such things as well. And when some of these things began to happen to me, initially I was greatly troubled not fully understanding or accepting the persecution for righteousness sake that we must endure. After all, such a worldly mindset has infiltrated the "Christian" psyche and, when judging my life by that standard of "success", my experience didn't even come close. But neither did Paul's. And one day in great turmoil, as I read these things again, I finally found the comfort it was meant to give.

He, when reprimanding the carnal Christians in the city of Corinth said this to them:

1 Corinthians 4:8-13 & 16
8 Now ye are full, now ye are rich, ye have reigned as kings without us: and I would to God ye did reign, that we also might reign with you.
9 For I think that God hath set forth us the apostles last, as it were appointed to death: for we are made a spectacle unto the world, and to angels, and to men.
10 We are fools for Christ's sake, but ye are wise in Christ; we are weak, but ye are strong; ye are honorable, but we are despised.
11 Even unto this present hour we both hunger, and thirst, and are naked, and are buffeted, and have no certain dwellingplace;
12 And labour, working with our own hands: being reviled, we bless; being persecuted, we suffer it:
13 Being defamed, we intreat: we are made as the filth of the world, and are the offscouring of all things unto this day.
16 Wherefore I beseech you, be ye followers of me.

"Be ye followers of me?" Are you kidding? These Christians had it made! They reigned as Kings without his help. They were honored, full, rich, strong and wise. Why would Paul ask them to follow his example? Because he knew that what they had was not real. That it was a worldly success not a godly one.

I used to think that materialistic Christianity was a product of the modern church but we can see the same attitude in the first century among the carnally minded who supposed that gain was a sign of godliness.

1 Timothy 6:
5 Perverse disputings of men of corrupt minds, and destitute of the truth, supposing that gain is godliness: from such withdraw thyself.
6 But godliness with contentment is great gain.



Back to Index





SEE THE GRACE BEHIND GOD'S BLESSINGS


God blesses because He is good not because we have been good.

Matthew 5:45b makes this point well.

...for he maketh his sun to rise on the evil and on the good, and sendeth rain on the just and on the unjust.

If we don't see the grace behind God's blessings, we will most likely be seeing the blessing as a reward for our own goodness, or solely a result of our own faith/faithfulness, obedience etc. resulting in a prideful boast and we'll end up, (I think) missing the whole point.



Back to Index





LOVING GOD UNCONDITIONALLY



Why would God ever need to be loved unconditionally by us? During times of temptation.
Temptation tries to get us to question God's love for us which can affect our love for Him. But when we love Him with unconditional love, we'll handle the storms much better knowing He is with us, no matter how dark things may seem at the time or how alone we may be feeling. Besides,

James 1:12
12 Blessed is the man that endureth temptation: for, when he hath been proved, he shall receive the crown of life which God hath promised to them that love him.

This is the love that will cause us to stick with it "for better or for worse." Hey, we make that pledge in marriage vows. Why not offer God the same kind of loyalty?

It goes on to say:

James 1:13 & 14
13 Let no man say when he is tempted, I am tempted of God: for God cannot be tempted with evil, neither tempteth he any man:
14 But every man is tempted, when he is drawn away of his own lust, and enticed.

What I find so amazing here is that even though, when we are tempted, it is a result of our being enticed because of our own lust, nevertheless, God is offering Heaven's reward to us if we continue to love Him through it all. Hows about a nice big hand for God's Grace? I mean "Wow huh?"



Back to Index





I WILL BE WITH YOU



Gideon was being sent to do a job and, looking at himself, he thought he was not qualified. He said "I am the weakest in my clan and the least in my family". But God's answer to him was: "I will be with you..." which did not mean that he was now gonna be the strongest in his clan or the greatest in his family but rather that God was going to equip him to successfully carry out the job he was being asked to do.



Back to Index





OBEDIENCE IS GOOD FOR YOU



I had a humorous experience that helped me understand this. I was carrying out something the Lord told me to do and felt real good about myself like a little obedient one :) But, in the process I saw that the instructions I was given were for my benefit to make the job easier and to bring success on the scene. I understood in a deeper sense that obedience to Him is for our good because it allows Him to help us. It is not meant to show forth our goodness but His goodness to us by the results He is able to bring on the scene which cause us to know Him and His ways better. The blessing of obedience is described very simply by our Master. He said that if we love Him we will keep His commands and, in doing so, He will be able to make Himself known to us. (John 14:21&23)
It's funny but this is nothing new to me. I have believed and shared this for years but, when you have an experience like this, it can really drive it home for you.



Back to Index





BURDEN BEARING


Burden bearing brings no glory to God. Deliverance from burdens does. Burden bearing only brings glory to the flesh.



Back to Index





SALES PITCH OR PLAIN TRUTH


I entered into this experience very naive as many did. I thought the hard times were over when I got saved. Of course that is "the sales pitch" out there in many Christian circles so what is a new Christian to think? So, "armed" or should I say "disarmed" with this understanding, when persecutions and afflictions arise for the Word's sake, we are more likely to stumble and fall away having been misinformed on what to expect. But when Jesus spoke to His disciples, He told them the plain truth. He said that we can expect to be hated of our own, despised, rejected, reproached, slandered, cast out from their company as evil doers, and even killed by them. He told His disciples this so they wouldn't stumble when it did happen and also so they could consider the cost before they embarked upon the long hard journey ahead. He didn't sugarcoat it. He wasn't selling them something. He was inviting them to share in His sufferings as well as His glory.

And the Apostle Paul's experience tells us that even though you are sent by God, ministering in the power of the holy spirit, you can be despised, disrespected and hunted down by your own. That the more you love them, the less they love you. And that a whole group of people you minister to can fall away just like that! (as was the case with all of Asia Minor).

Salvation is a gift of God's grace and comes with the greatest of promises...an everlasting life in His glorious presence. The beauty of this can not be stressed enough. But when you are talking about discipleship, tell it like it is! Don't sugarcoat it. It's not gonna be a party but spiritual warfare. And, no, I am sorry to say....we are NOT one big happy family all standing together against the forces of darkness. I only wish we were. But, unfortunately just the opposite will be found...that our enemies will be of our own household. It will be better off for people to know the score before the start. It's only fair.



Back to Index





TRADITION


Tradition is a very powerful force. It can rule you without you even recognizing its presence, that is until it gets challenged by the spirit of the Lord. We truly are blind until He opens our eyes.

Over the centuries, there have been men and women with God's calling in their lives who rejected the traditional dogmatic interpretation of Scripture, which suppressed the truth and held it captive for centuries. They dared to let the Scripture speak for itself as they read, trusting in God for its interpretation. As time went on, more and more of their findings were publicly presented to the dismay and indignation of the ruling religious community and were (and still are) met with hostility as they dub them "heresies". Some of these brave-hearts even died as a result of their courage to make known what they found. Can we take a moment to respect their effort and possibly learn from and follow their good example?



Back to Index





GOD EMPOWERS US TO DEFEAT OUR ENEMIES



In Scripture time and time again we see that God empowers His people to defeat those who are stronger and more numerous than they. It is not being negative to accept the fact that a foe is too strong for us to defeat but rather an honest assessment that causes us to seek God's help.



Back to Index





THE WORD OF THE LORD WAS RARE



1 Samuel 3:1 & 7
1 And the boy Samuel ministered before the LORD under Eli. In those days the word of the LORD was rare; there were not many visions.

7 Now Samuel did not yet know the LORD, the word of the LORD hand not yet been revealed to him.

What Word was this talking about? The written Word? Of course not. They had the Law of Moses. Samuel was under Eli's tutelage at the tabernacle and ministered unto the Lord under Eli. How did he minister unto the Lord without knowing the Law? This "Word of the Lord" that was rare was referring to revelation. You know, when God talks to His people as He interacts with them directly. To relegate the Word of the Lord as solely being what is between the covers of your Bible is to limit God and His purposes greatly.



Back to Index





INTERESTING DEFINITIONS



I looked up a few biblical words in my handy Greek Concordance and Lexicon to the Bible and found some very interesting definitions. Helped to broaden these words to me and take some of the "religious spook" out of them.

REPENT: to think differently or to re-think.

SIN: to miss the mark and not share in the prize.

WORTHY: meaning: "suitable" or "adequate". To meet the requirements or hold up to a task.

DISOBEDIENCE: There are two Greek words translated as "disobedience" in the King James Version New Testament. One of them is the Greek word "apeitheia" where we get our English word: "apathy". But the word that I found interesting was the other Greek word: "parakoe" derived from a word that means "inattentive hearing". Remember Jesus saying; "Take head how you hear..." Luke 8:18

CHASTISEMENT: education, instruction, or training.

BUSYBODY (from 1 Peter 4:15) - Self-appointed overseer or, "one who takes the supervision of affairs pertaining to others and in no wise to himself". (good one!)



Back to Index





PATIENCE IS NOT WIMPY


Patience is steadfast, consistent and endurant. It has fortitude in the face of much ridicule and loyalty in the face of trials and sufferings. And, when it's work is complete, there is great reward. (Hebrews 10:36, James 1:4)



Back to Index





SUFFERING FOR HIS NAME


"God being with us" does not mean that we will not experience evil at the hands of this world but rather that we will emerge triumphant! Classic examples of this are Joseph, Moses, and David to name a few.

Although initially instigated by evil, as in the lives of these 3 men who were all separated from God's people by a threat of death, it was in these times of separation that God taught them and made them fit for His purpose. And each of these men, at God's appointed time, where sent back with God's blessing for the people, even the very people who tried to destroy them!

Genesis 50 (Joseph said to his brothers;)
20 And as for you, ye meant evil against me; but God meant it for good, to bring to pass, as it is this day, to save much people alive.

Amazing!

If we are truly determined to find the truth as well as our purpose in God's overall plan, we will have to face the fact that slander, reproach and isolation come with the territory. There is persecution for His name sake and, once we accept that, we won't be shaken by it, or at least we won't be greatly shaken by it. And, if we faint not and see it through, we will be a witness to God's miraculous power and love...how He can take something meant for evil and turn it into good to His glory and our awe!



Back to Index





ROMANS 13


Some years ago I read a book put out by one of the many "teaching" organizations and, in it, they discussed their interpretation of Romans 13. They, like most of the organized church, see these "higher powers" aka "the powers that be" as the governments of the world. Below are a few points that contest this opinion.

But first, here is Romans 13:1-5 as it reads in the King James Bible:

1 Let every soul be subject unto the higher powers. For there is no power but of God: the powers that be are ordained of God.
2 Whosoever therefore resisteth the power, resisteth the ordinance of God: and they that resist shall receive to themselves damnation (spooky King James word for judgment).
3 For rulers are not a terror to good works, but to the evil. Wilt thou then not be afraid of the power? do that which is good, and thou shalt have praise of the same:
4 For he is the minister of God to thee for good. But if thou do that which is evil, be afraid; for he beareth not the sword in vain: for he is the minister of God, a revenger to execute wrath upon him that doeth evil.
5 Wherefore ye must needs be subject, not only for wrath, but also for conscience sake.

Paul wrote this letter to the Romans. So according to their interpretation of Romans 13, that would mean that Rome's persecution and "murder for sport" of Christians was ordained of God and was ministering God's will to these faithful men and women who wouldn't bow the knee or make sacrifice to the gods of Rome?

It is commonly understood that during the great tribulation, the anti-christ will come to power and eventually rule the world. He, at that time, will be "the powers that be" who, along with his false prophet, will force all the people in the world to receive his mark. And yet, in Revelation 14 it says that the angels who will preach the everlasting gospel will strongly warn the people NOT to receive his mark.

Ok, back to the present. In America, there are different laws governing each state, varying one from the other. One sanctions issues that another does not. Which rulings are we to be subject to as the ordinance of God? Is our subjection dependent upon which state we live in?

And, if resisting these is equal to resisting the ordinance of God, why are so many "Christian" groups who hold to this interpretation of Romans 13 fighting court rulings that they believe are contrary to God's Word? Wouldn't that make their fight against the powers that God has ordained?

The murder of Christians in China is a known fact. Many are believers who want to remain faithful to God's truth and will not submit to the government run "church" where speaking about the return of Christ (among other things) is against the law. Are these Christians being tortured and executed by the powers that God has ordained?

What about some of the fundamentalist Islamic states where they have murdered Christians just for being Christian. Is this the sword of God executing wrath on those who are doing evil?

Let's take the obvious. Stalin and Hitler. They were the "powers that be" of their time. Were they the ministers of God to the people for good? Were they a terror to evil works and rewarders of those who did good?

And how do they explain the many accounts in Scripture which speak of the godly resisting corrupt rulership and not only was God with their actions but He also delivered them from the resulting judicial sentences. Here are just a few examples.

1- Daniel disobeyed the decree signed by King Darius. He was thrown in the lions den and God delivered him.

2- Shadrach, Meshach, and Abednego disobeyed the decree of King Nebuchadnezzar. They were thrown in the fiery furnace and God delivered them.

3- The Apostles disobeyed the command of the ruling religious authorities who told them not to speak at all or preach in the name of Jesus. (Acts 4:18) They were imprisoned but the angel of the Lord came and opened up their prison cell and commanded them to "Go and speak all the words of this life". When brought before the council on this matter, and when reminded what they had been commanded, they answered: "We ought to obey God rather than men." (Acts 5:29)

The Apostle John wrote:
1 John 5:19
"And we know that we are of God, and the whole world lieth in wickedness."
or, as another version puts it: "the whole world is under the control of the evil one."

So tell me, how are these worldly governments gonna be a terror to evil works when they are under its control? What is satan divided against himself now?

Ok, obviously you can see I do not subscribe to this view. Then who are the "higher powers" aka "the powers that be"? I will answer this question with Romans 13. Argue with the Apostle Paul and then ultimately, with God.

1- The higher powers that Paul was speaking of are ordained of God.
2- Resisting this power is equal to resisting the ordinance of God.
3- Those imbued with this power are ministers of God to us for good, ministers who execute wrath on those who do evil.
4- They will praise good works and will be a terror to evil works.

Now does this describe the government rulers of this wicked world? Just read what it says for goodness sake!

Hebrews 13:7-9a & 17
7 Remember them which have the rule over you, who have spoken unto you the word of God: whose faith follow, considering the end of their conversation (behavior).
8 Jesus Christ the same yesterday, and to day, and for ever.
9a Be not carried about with divers and strange doctrines...
17 Obey them that have the rule over you, and submit yourselves: for they watch for your souls, as they that must give account, that they may do it with joy, and not with grief: for that is unprofitable for you.

Ephesians 4 goes into further detail about those exercising this power:

8 Wherefore he saith, When he (Jesus Christ) ascended on high, he led captivity captive, And gave gifts unto men...
11 And he gave some, apostles; and some, prophets; and some, evangelists; and some, pastors and teachers;
12 For the perfecting of the saints, for the work of the ministry, for the edifying of the body of Christ:
13 Till we all come in the unity of the faith, and of the knowledge of the Son of God, unto a perfect man, unto the measure of the stature of the fullness of Christ:
14 That we henceforth be no more children, tossed to and fro, and carried about with every wind of doctrine, by the sleight of men, and cunning craftiness, whereby they lie in wait to deceive;
15 But speaking the truth in love, may grow up into him in all things, which is the head, even Christ:
16 From whom the whole body fitly joined together and compacted by that which every joint supplieth, according to the effectual working in the measure of every part, maketh increase of the body unto the edifying of itself in love.

Jesus led captivity captive and, to prevent the believers from being brought into captivity again He gave these gifts to men (Apostles, Prophet, Evanglests, Pastors and Teachers). Believers who, as they minister by their God-given ability (in love. of course) not by domination as the princes of the world rule, (Matthew 20:25-27) and not as "Lords over God's heritage" (1Peter 5:3) but as examples unto edification, they will help the believers grow up into Christ. And, as we hold fast to our Head (Christ), we will count upon Him for discernment and understanding and leading so that we won't be like children, carried about with every wind of doctrine by the sleight of men and their cunning craftiness whereby they lie in wait to decieve. They also will encourage the believers in their own respective giftings so that they too will be involved in the work of the ministry and the edification of the body of Christ. These are the ministers of God to us for good, who are ordained of God, who will praise good works and will be a terror to evil works.

In my early Christian days, many people I knew had not ever opened a Bible. I would happily tell them what the Bible said, particularly when what their religion taught them was in direct conflict with what was plainly written in Scripture. Sure, I got some arguments but others were relieved and comforted by what I showed them in print. But, what do you do with people who read the Bible daily yet let their leaders tell them what they are reading? It reminds me of the commentators who follow a Presidential debate or speech. They tell you what you should be thinking about what you just saw as if you couldn't hear or see it for yourself and make your own decision.

I think of the men and women over the centuries who risked their lives, and some who even died to get the Bible into the hands of the people so that they would be able to read it for themselves rather than letting it be monopolized by religious organizations.

And how much more Jesus, whose sacrifice, for one thing, enabled us to receive the promised holy spirit, whose job it is to lead us into all truth.

John 14
26 But the Comforter, even the Holy Spirit, whom the Father will send in my name, he shall teach you all things, and bring to your remembrance all that I said unto you.

John 16a
13 Howbeit when he, the Spirit of truth, is come, he will guide you into all truth: for he shall not speak of himself; but whatsoever he shall hear, that shall he speak...

More people have access to the Bible today than ever before and, even more, the indwelling spirit of Christ, and yet they continue to let others lead them. Very sad.



Back to Index





NATURAL MAN



1 Corinthians 2
14 But the natural man receiveth not the things of the Spirit of God: for they are foolishness unto him: neither can he know them, because they are spiritually discerned.

In my early days, I was taught that in this verse "the natural man" referred only to "unsaved" man. But as I looked closer, doing my own reading, I noticed that in the context, Paul was addressing the carnal Christians in the congregation and their lack of spiritual maturity. He made a difference by saying that he was able to speak spiritual wisdom to the mature believers among them (1 Cor 2:6) but he had to talk to the carnal ones as if they were still babies. (1 Cor 3: 1-3) The carnal Christian still thinks the old way using the old judgment system they had before they received the spirit from God and does not discern things spiritually. They cannot receive the things of the spirit of God. They are foolishness to them.

I now understand the words "natural man" in this verse to be referring to carnal Christians as well as the unsaved since they are in the same mindset.



Back to Index





LOSING YOUR SALTINESS



One day I was reading Matthew 5:13 about losing your saltiness and saw it in context. I believe that the loss of saltiness is a result of not keeping our eyes on Heaven's reward through the persecution as mentioned in verses 10 and 11.

Matthew 5
10 Blessed are they which are persecuted for righteousness? sake: for theirs is the kingdom of heaven.
11 Blessed are ye, when men shall revile you, and persecute you, and shall say all manner of evil against you falsely, for my sake.
12 Rejoice, and be exceeding glad: for great is your reward in heaven: for so persecuted they the prophets which were before you.
13 Ye are the salt of the earth: but if the salt have lost his savour, wherewith shall it be salted? it is thenceforth good for nothing, but to be cast out, and to be trodden under foot of men.

We have to continue to let our light shine (Matthew 5:16) even under these conditions. The only way we can do that is by keeping our eyes on the prize :)



Back to Index





WHAT FRUIT VERIFIES


When we speak the Word of God to someone and it bears fruit in their life, this fruit does not verify that God's Word is true. Neither does it validate the effectiveness of your ministry. It simply means that the Word fell on good ground.



Back to Index





THE PAINS OF DEATH



Acts 2:24
Having loosed the pains of death?

What are the pains of death? It couldn't be a pain that we would be feeling. We'd be dead.

Ecclesiastes 9
5a For the living know that they shall die: but the dead know not anything...

Psalm 115
17 The dead praise not the LORD, neither any that go down into silence.

Psalm 6
5 For in death there is no remembrance of thee: in the grave who shall give thee thanks?

But, I was wondering, could the pains of death be a pain that God is feeling because the lines of communication have been cut until the resurrection from the dead? I really don't think that we spend enough time considering how much our fellowship means to the Father. Just a thought.



Back to Index





HOW MANY TIMES THE EPHESIANS READ "EPHESIANS"?



Was just wondering, in the first congregation...how many times they read the epistles addressed to them compared to how many times we all have read them? Hum?!



Back to Index



Here is a link to another web page you might find interesting:
Christ is Coming Again